Best Business Hotels in Vilamoura, Portugal
Heading to Vilamoura for work? On-site business facilities and Wi-Fi costs are two things to keep in mind when looking for a hotel. Oyster reporters visited hotels all over Vilamoura in order to make this list of the most business-friendly hotels in the area.
See All Vilamoura Hotels
1
Just a short walk from the marina, the beachfront Crowne Plaza is one of the most luxurious hotels in the area. The 323 stylish rooms have elegant beach decor in neutral tones and with wicker accents, and feature free Wi-Fi, upscale bathrooms, and furnished balconies with great views. The grounds are sprawling and beautiful, with a large lagoon-style pool, big lawns dotted with loungers, and several restaurants and bars with outdoor seating. There are also three meeting rooms with audiovisual equipment, a business center, and free on-site parking. Free shuttle service to several nearby golf courses is also available.
2
Attached to the renowned 27-hole Vila Sol Golf Course, the 189-room Pestana Vila Sol is an upscale resort geared mostly to golfers. Its rooms are sunny and spacious, and have small flat-screen TVs, balconies, and minibars. The hotel's extensive meeting space includes a 400-guest ballroom and five smaller boardrooms. There's also a buffet restaurant with outdoor seating, a cozy bar with a pool table, and a small fitness center with a handful of cardio and strength-training machines. On-site parking and Wi-Fi in the main building are both free.
3
The 266-room Dom Pedro Golf Resort is an upper-middle-range hotel a short walk from the beach and the lively Vilamoura marina. Rooms are clean and have expansive views, stocked minibars, and flat-screen TVs, but decor is dated, and extra fees for Wi-Fi and safes may be annoying to some. The hotel has a large outdoor pool, several restaurants, a private area on Vilamoura Beach, and five meeting rooms with audiovisual equipment. On-site parking, Wi-Fi in the lobby, and shuttle service to local golf courses are all free. Airport transfers are available for a fee.
4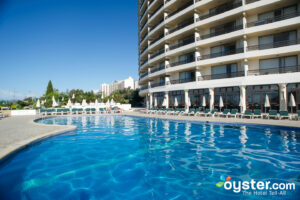 Right across the street from Vilamoura Beach and adjacent to the bustling marina, the 375-room Vila Gale Ampalius has one of the best locations in Vilamoura. The upper-middle-range hotel's sunny rooms have air-conditioning, flat-screen TVs, and mini-fridges, and many feature panoramic ocean views, but decor is a little plain and dated, and bathrooms could use an update. The restaurant serves a varied buffet and tasty a la carte options for all three meals. The hotel also features two meeting rooms with audiovisual equipment and catering services, three tennis courts, two pools, and a putting green. On-site parking is available for a fee, and Wi-Fi is free in public spaces.
5
The 156-room Dom Pedro Marina is a mid-range hotel with a great location between the marina and the beach. It largely caters to golfers, with free shuttle service to local courses, and a golf desk where guests can book tee times at special rates. The hotel is older and more functional than stylish, but common spaces are cozy, and the outdoor pool is a pleasant spot for a quiet day in the sun. The hotel also features an Italian restaurant and lobby bar, both with outdoor seating, and six meeting rooms for up to 150 guests. Simple rooms have flat-screen TVs and fully stocked minibars, but some units don't have balconies, and soundproofing is generally poor, especially due to the terra-cotta floors. Also, Wi-Fi is free in the lobby but comes as an extra charge in rooms.
6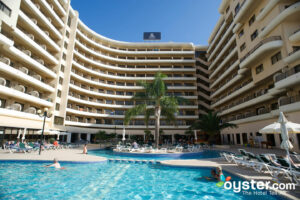 The 243-room Vila Gale Marina has a great location a block from the lively marina and a short walk from the beach. Rooms have flat-screen TVs, mini-fridges stocked with water, and air-conditioning, but decor is tired and outdated. Wi-Fi is free throughout the hotel -- a rarity in Vilamoura -- but it can be patchy. Outdoor spaces are especially nice here, and there are a small but pleasant pool, a seasonal bar, and a hot tub. The small indoor pool -- complete with a sauna, a whirlpool, and a steam bath -- is convenient for the cold months, and free shuttle service to local golf courses is a great perk for golfers. The hotel also features three meeting rooms, all with natural light and audiovisual equipment.