Best Zanzibar Beach Hotels
Not all beachfront resorts in Zanzibar are equal. Drastic tides affect some of Zanzibar beaches far more than others, sometimes carrying the water out as far as 200 meters offshore. Our picks for the top beach hotels in Zanzibar feature white-sand shorelines and beautiful blue (and mostly swimmable) waters.
See All Zanzibar Archipelago Hotels
1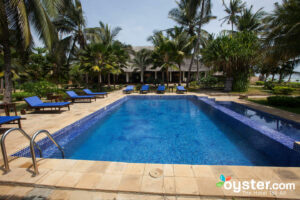 The Palms is located on the particularly picturesque southeast coast of Zanzibar. The adult-only boutique hotel overlooks Bwejuu Beach, one of world's finest white-sand beaches. All six of its villas have modern amenities like flat-screen TVs, air-conditioning, and minibars, plus private plunge pools and views of the Indian Ocean. The beach is genuinely stunning, and each villa has a private seafront "banda," or thatched palapa, with waiter service and sun loungers. Palms guests are welcome to use the gym, floodlit tennis court, windsurfing, snorkeling, and scuba diving center at neighboring Breezes Resort, a sister property of The Palms. The Water Club, which is about a five-minute walk away, offers a range of water sports, including kite-sailing, kayaking, and paddle-boarding.
2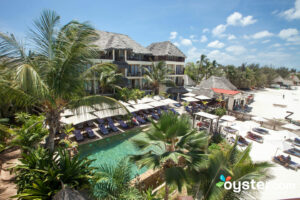 The boutique Z Hotel is on the northwestern tip of Zanzibar on Kendwa Beach, one of the most popular beaches on the island for its width, white sand, and pretty blue swimmable waters. Beach hawkers can be a nuisance here, but the tradeoff is that this beach is not as susceptible to Zanzibar's extreme tides as other beaches. The hotel lacks the many features found at its larger neighbors, but its attention to detail here that keeps everything sharp and romantic. Note that the rooms here are much more compact than the villas at The Palms. The pool area feel a little tight, too, but the bar, rooftop lounge, and two on-site eateries provide plenty of other places to relax (beyond the massive beach).
3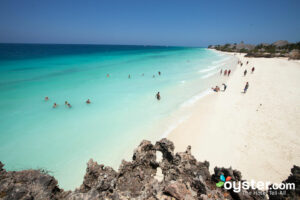 The upscale Royal Zanzibar is one of the largest and most popular beachfront resorts on the island, with expansive grounds and an immaculate, powder-sand beach and turquoise sea. The resort is set on the northwest tip of Zanzibar island, overlooking the Indian Ocean. The beach is public, like Z Hotel's, so expect to encounter locals selling various items. Royal Zanzibar has an enormous lagoon pool several sections, tiers, and bridges, plus another infinity-edge pool directly over the beach. An on-site dive center offers PADI-certified training.
4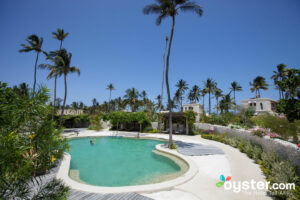 This luxury boutique resort is set in a secluded spot on the southeast coast of Zanzibar's Unguja island -- the main island in the archipelago. Zanzibar White Sand's huge, private powder-sand beach is especially famous for kite-surfing. A few palapas are spread out generously far from each other on the white powdery sand, and kite- and wind-surfing equipment are available, as well as lessons on how to master the sport. However, there is no dive center, like Royal Zanzibar. There's little within walking distance -- though guests can take pleasant strolls on the beach, and a few restaurants are a five-minute drive away in Paje, a sleepy fishing village.
5
Unsurprisingly, the crowning feature of this luxurious 67-room resort is its long stretch of white sand with palapa-shaded lounge chairs available to guests. Diving, snorkeling, and fishing excursions are offered by the resort for a fee. Should the hawkers on the beach become tiresome, there's also a huge outdoor pool with lots of room to swim laps or sunbathe. Another spot to relax is the Balinese-style spa with treatment rooms and peaceful thatched-roof pavilions. In addition to two restaurants, Gold Zanzibar has a beach bar, which serves snacks and tropical drinks right on the sand, and a stylish cocktail bar that has great sunset views.
6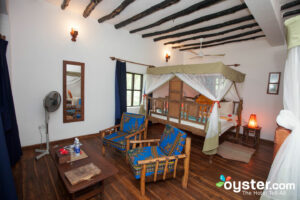 Pongwe Beach Hotel is perched on a secluded beachfront, in scenic cove at the back of a coral lagoon. The superb beach features calm waters, soft and rich white sand, a shady grove of coconut palms, and an offshore reef that keeps waters calm. Guests spend time hanging out here in the hammocks or woven sunbeds (he hotel offers gear for fishing, snorkeling, and kayaking), or lounging around the ocean-facing freshwater infinity pool, where drink service is available. The restaurant and bar, which also overlooks the ocean, has a mellow atmosphere that's kicked up a notch in the evening. The resort draws leisure travelers who like unspoiled nature, a relaxed environment, and unplugged accommodations (travelers wanting in-room amenities might prefer Zanzibar White Sand, where free Wi-Fi, mini-fridges, air-conditioning, tea- and coffee-making facilities, and flat-screen TVs with movies on demand all come standard).
7
An all-inclusive and family-friendly hotel, Melia Zanzibar features lush grounds and a big white-sand beach. Recreation activities include kayaking, beach volleyball, tennis, table tennis, and aqua aerobics. The property has its own stretch of white-sand beach with towel service, Balinese sun beds, lounge chairs, and parasols. Guests who want a more active coastal experience can take a free golf cart ride to the nearby Gabi Beach Club, where kayaking and kite surfing lessons are available.
8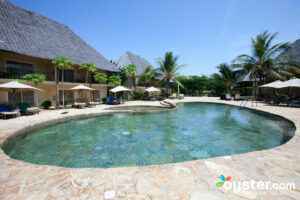 Dream of Zanzibar is a family-friendly all-inclusive with a relaxed luxury vibe throughout its extensive grounds. The beachside resort on Zanzibar's quiet northeast offers tons of on-site activities, from beach volleyball to water aerobics and the atmosphere throughout -- from the beach to the open-air restaurants -- is laid back, and lacks the stuffy pretentiousness that can come with so many luxury resorts. Dream's adjacent white-sand beach gets plenty of shade from palapas and palm trees, and beachside drink service is available.
9
The resort is set on a quiet and unspoiled stretch of white-powder beach on the northwest tip of Zanzibar island. The location feels fairly isolated, as there's nothing within walking distance, though guests can take pleasant strolls up and down the beach. The long, infinity-edge pool overlooks the gorgeous beach (which disappears at high tide). There are stairs that lead down to the sand, where a lower-level beach bar provides loungers and umbrellas on the sand at low tide. (At the Royal Zanzibar Beach Resort, in contrast, loungers and sturdier palapa-style umbrellas are up on a small platform.)
10
Sun, sand, and tranquility are key ingredients for a romantic beach getaway -- three things Next Paradise Boutique Resort provides in spades. This romantic beachfront boutique resort has a secluded atmosphere and an ideal beachfront location on the northeastern coast. The property is within a kilometer of a lovely coral reef, which is accessible at specific times of the day depending on the tides (While Pongwe's offshore reef keeps its waters swimmable when the tide is low, Next Paradise's tides often mean that swimming is not an option). The hotel provides beach towels, as well as a few canopied daybeds and tiki huts for much-needed shade. Honeymooners can even request a romantic dinner on the beach (at no extra cost), complete with flowers and candlelight -- all of it comes with a perfect view of the sea.