Best Business Hotels in Zurich
Tech start-ups, engineering firms, banks, insurance companies, and — yes, chocolate brands — all call Zurich home. Switzerland's largest city is famous for its high quality of life, strong economy (it's one of the most stable in the world), and thriving business culture. For travelers in Zurich for work reasons, here are the top business hotels in the city.
See All Zurich Hotels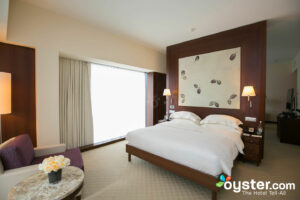 The Park Hyatt Zurich is a luxury business hotel set in Zurich's financial district, but within walking distance of the major tourist sights. The rooms are some of the city's most spacious, with refined style, excellent amenities, and especially good soundproofing. Dining and drinking options are also impressive, though the hotel does lack a few features one might expect from this level of property (like a pool), and rates are sky-high, even by Zurich standards.
The Radisson Blu Hotel, Zurich Airport is a 330-room luxury hotel and the only airport hotel in Zurich actually attached to the airport. Geared especially toward business travelers, the hotel maintains a professional vibe with chic, sophisticated decor and tasteful, eclectic accents. The centerpiece of the hotel is a spectacular 50-foot wine tower in the lobby. The hotel also has 52 meeting and board rooms of vastly different styles and sizes. These range from the fun "Brain Box" room with a bright pink wall, large chalkboard, and colorful bean bag chairs to a ballroom that can accommodate up to 600 people and is ideal for conferences or conventions. Really, the hotel has everything busy business travelers could need on-site: a fitness center, sauna, restaurant, bar, and more -- not to mention the attached airport.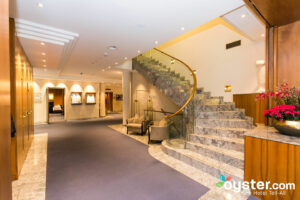 Located in central Zurich's business district, this eco-friendly hotel has 62 modern, corporate-style rooms that feature Airlux mattresses with adjustable firmness, on-demand TVs, minibars, and free Wi-Fi. Free breakfast buffets use fresh eggs from the hotel's own chicken farm as well as a mix of local produce and fair-trade items. The Glaernischhof Restaurant also serves regional specialties at lunch and dinner, while Le Poisson is considered one of the city's finest fish restaurants (and guests receive a discount). Guests also have free access to the gym next door -- Luxor -- which has a sauna, steam room, and a whirlpool tub along with excellent cardio and weight-training facilities.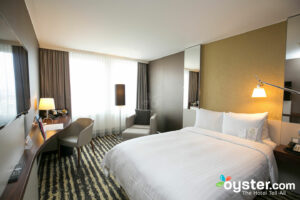 The Zurich Marriott Hotel is an upscale business property set in a towering block overlooking the River Limmat. The 264 rooms are sleek and modern with good amenities, though in-room Wi-Fi can be expensive. On-site eating and drinking options are decent (and there's a great martini menu) and unlike many Zurich hotels, the Marriott has a fitness room and sauna. Overall its a solid choice for business travelers.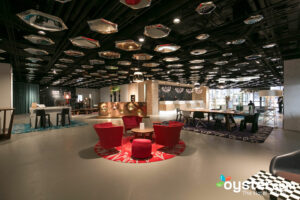 Swissotel Zurich is an upscale business hotel that towers over part of Zurich's Oerlikon district, a short drive from the city center. While the spacious lobby area is hip and funky, the 347 rooms have understated modern decor and run small. The views from the 32nd-floor swimming pool can't fail to impress, and the spa and health facilities are better than expected this caliber of hotel. This is a great value for an upscale property, but the tradeoff is location (though there is quick and easy train access to the airport and city center).
The Central Plaza Hotel occupies a prime location in the heart of Zurich, right along the Limmat River, near dining, nightlife, and public transportation. In the hotel's cellar, the King Cave Grill Restaurant looks like a leftover from the Middle Ages and serves grilled game and steaks alongside vintage wines. The 101 rooms are simple, but modern, with amenities like flat-screen TVs, Nespresso machines, safes, minibars, and free Wi-Fi, but be aware that not all rooms have air-conditioning and have been previously occupied by smokers. There are three meeting rooms (the largest can fit 50 people) and a 24-hour business corner with a printer. Wi-Fi is free throughout the hotel.
An all-suite hotel geared to self-catering guests, EMA House Hotel Suites has 23 modern, stylish suites with amenities like Nespresso machines and Blu-Ray players; many have full kitchens suited for long stays. There isn't a restaurant, but an in-room breakfast is included in rates. Common laundry facilities are available for guests in suites without washer/dryers. Well-suited to business travelers, the hotel has three small but modern meeting rooms and a multi-purpose hall that can accommodate up to 60 people, along with a small internet corner and a printer. Wi-Fi is free throughout.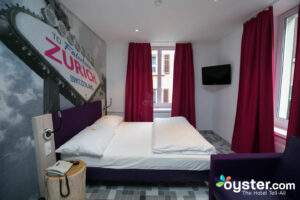 The 48-room Walhalla Hotel is a mid-range property conveniently located in central Zurich, within walking distance of the main train station. Clean and bright guest rooms are well-maintained and offer a few punchy decorative details and snazzy amenities like tablet computers uploaded with useful tourist information. Guests can make use of the free coffee and business center in the lobby. The hotel has six conference rooms and free hotel-wide Wi-Fi.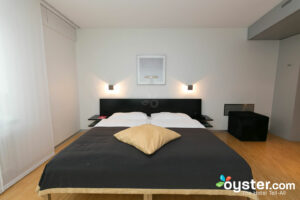 Sorell Hotel Seefeld is a 64-room mid-range hotel in the up-and-coming Seefeld neighborhood near Lake Zurich, just south of the city center. Located on a busy thoroughfare and well connected to the city's tram network, this chic-but-simple hotel caters mostly to business travelers. The contemporary-style guest rooms are sparse and minimalist, and some of the Single Rooms are small. Be aware that few rooms are air-conditioned. Wi-Fi is free throughout the hotel and there is a meeting room that can accommodate up to 10 people.