Best Albufeira Apartment Hotels
Going on vacation often means eating three meals out, but travelers who want the option of homemade meals should look for apartment-style hotels with in-room kitchens. Here are our favorite aparthotels in Albufeira, a beach town (and party central) on Portugal's Algarve coastline.
See All Albufeira Hotels
1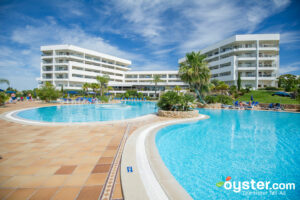 Alfagar II Aparthotel is a modern all-apartment property popular with families. The upper-middle-range aparthotel is set in attractive gardens in the peaceful resort village of Balaia just east of Albufeira. The 90 apartments are all bright and modern one- or two-bedroom units. Open-plan living rooms include dining and lounge areas with flat-screen TVs, as well as modern kitchenettes with ovens, small fridges, kettles, toasters, and coffee machines. Glass doors slide open to spacious furnished balconies or terraces. Superior Apartments tend to have better views and include free Wi-Fi. The hotel's large main pool has fountains and plenty of loungers, and there are also an indoor pool and water park. Dining options are a little limited and some guests complain apartments can be noisy, but most find the property excellent value for money -- especially families who don't mind being a bit far from area nightlife. For better sea views at lower rates (but less modern apartments), take a look at the sister property Alfagar Aldeamanto Turistico.
2
Grande Real Santa Eulalia Resort is a large, family-friendly resort complex with a gated-community feel. The 344-room property overlooks the scenic Santa Eulalia beach and offers extensive on-site facilities: four outdoor pools, two tennis courts, multiple dining options, a kids' club, playground, and large spa. Rooms and apartments come in various configurations, including Standard Rooms, Studios, One-Bedroom Suites, and Two-Bedroom Suites. Standard amenities include free Wi-Fi, minibars, and flat-screen TVs with satellite channels, while apartments come with simple but fairly well-equipped kitchen areas. All accommodations open to furnished balconies or terraces, with many rooms providing superb sea views. Dated decor and signs of wear and tear put Grande Real's units below those at Alfagar II, but all in all, rates are competitive for everything on offer.
3
Hotel Apartamento Brisa Sol's big, striking, and visibly dated exterior puts all of its cards on the table immediately: this is a property that feels stuck in a time warp, with a hodgepodge of styles that span decades. Datedness aside, this is a solid mid-range option with an excellent, walkable location between the old and new towns and near a beach. The 174 self-catering studios and one-bedroom apartments come with small kitchenettes, semi-private balconies, air-conditioning, and flat-screen TVs. Overall, the vibe is casual with a lack of organized activities, leaving guests to use the two pools (plus a few shallow paddle pools), health club (fee), tennis and squash courts, and large game room at their leisure. There are also a restaurant with international cuisine, diner-style sports bar, and seasonal pool bar. Compare details with Grande Real Santa Eulalia, which has free Wi-Fi and is closer to the beach.
4
Comprising two rows of 15 apartment blocks in its own private clifftop enclave, Falesia Mar by 3HB feels more like a gated community than a resort. There's not a great deal in the immediate surroundings, though lovely beaches are accessible on foot. The complex has 240 one-bedroom apartments, all of which are pleasant but simply furnished with dated wooden pieces. All apartments include balconies or terraces, living areas with sofas and tube-style TVs, and dining areas, while separate kitchens come with electric hobs, mini-fridges, coffeemakers, and a range of cookware; however, there are no microwaves or ovens. While generally clean, many units are showing signs of age and could use a refresh. Wi-Fi costs a fee. Most guests are on the all-inclusive option that includes decent if a bit limited buffet meals. A major gripe is the small swimming pool, which can get crowded during peak season, though kids do have a small separate pool. Hotel Apartamento Brisa Sol has a much bigger pool (plus an indoor pool), though rates there tend to be higher.
5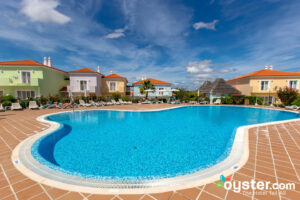 This apartment-style property consists of whitewashed buildings with terra-cotta roofs set on nicely landscaped tropical grounds in the countryside. The 198 units are apartments, townhouses, or villas, all with fully equipped kitchens. They come in one-, two-, three-, or four-bedroom configurations. The four-bedroom villas have private pools, and all have large furnished outdoor spaces overlooking the gardens and pools. Amenities include air-conditioning, free Wi-Fi, flat-screen TVs, and safes. Fully equipped modern kitchens feature microwaves, stove tops and ovens, dishwashers, refrigerators, toasters, and coffeemakers, plus everything needed for cooking and dining. The buffet restaurant serves all meals and all-inclusive rates are available, but reviews are mixed. Light fare also is available at three bars. The three outdoor pools -- one for adults only, and two for families -- draw most of the action here, and they can get loud and rowdy. An indoor pool is found at the spa, which also offers treatments, a sauna, and Turkish bath. Note that it's a 10-minute ride to Albufeira and the beach; travelers wanting closer proximity to the sea will be happier at Falesia Mar.
6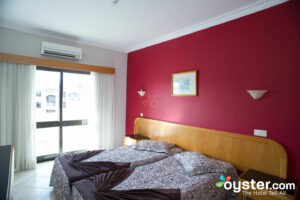 While Eden Resort is up in the countryside outside of Albufeira, Paladim Aparthotel is a friendly value apartment property set in central Albufeira, within walking distance of the Old Town, nightlife, dining, and beaches. The hotel has 46 apartments and 17 studios, all decked out with tiled floors, basic wooden furniture, and the occasional splash of color. While clean and generally well-maintained, most feel dated and could do with a refresh. Kitchenettes are reasonably well-equipped with electric hobs, microwaves, toasters, and small fridges with freezers. Other amenities include air-conditioning and flat-screen TVs, though there's no Wi-Fi (it's free in public areas, though). Glass doors slide open to furnished balconies overlooking the road or pool. The hotel's grounds are small, but the pool is a good size and the restaurant offers decent value for money; there's even some evening entertainment offered. While far from glamorous, for a cheap and simple aparthotel with self-catering facilities and better-than-average food, this is a strong option. Just don't expect the sort of extras found at Eden, such as a spa, multiple pools and bars, and free Wi-Fi.
7
Luna Clube Oceano is a pleasant apartment hotel with modern public areas and a quiet atmosphere, a three-minute walk from Alemaes Beach. Its 77 apartments have a homey and traditional look (in contrast to the common areas), and all come with kitchens, living and dining areas, free Wi-Fi, flat-screen TVs, and balconies with pool views. The hotel offers a great outdoor pool, children's pool, two outdoor hot tubs, and a Portuguese restaurant that serves a breakfast buffet (for a fee). Just note that there's no evening entertainment (which is on tap at Paladim).
8
Alfagar Aldeamanto Turistico has plenty going for it, not least of all its fabulous clifftop setting and extensive, well-tended gardens. Its 210 apartments are set in charming traditional Algarve-style buildings, with either sea, garden, or pool views. Interiors are spacious, clean, and cozy with modern furnishings and fully-equipped kitchens. Lounges include flat-screen TVs and sofas, as well as separate dining areas with tables and chairs. All units also have furnished balconies overlooking the garden or the ocean, and contemporary bathrooms with hairdryers (though scant toiletries). There is no in-room Wi-Fi (available and free at Luna Clube Oceano). Alfagar's facilities (shared with Alfagar II) are excellent, especially the pools, and there's plenty to keep kids entertained. The location might feel a little off the beaten track, and there are cheaper options available, but the ocean vistas alone make this stand out from the competition.
9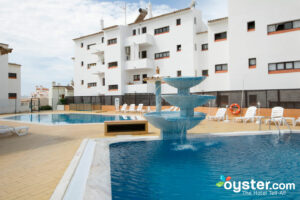 The Aparthotel Oceanus is a large apartment-style hotel aimed at the budget end of the Algarve vacation market. Its 102 air-conditioned apartments, consisting of studios and one-bedroom units, are spread over two buildings and include simple kitchens and balconies and bland decor. Bathrooms are well-finished, though, but don't come with many toiletries. The range of on-site facilities is solid, with both an outdoor and indoor pool, a kids' pool, several bars (one poolside), and a restaurant. The lobby and the decor in some areas looks dated, and some apartments can be noisy, but for its proximity to a lovely beach, it's a pretty good value. However, for direct beach access and features like a playground, tennis courts, and a soccer pitch, go for Alfagar Aldeamento Turistico.