Best Value Hotels in Amsterdam
Want to take a trip to Amsterdam that won't break the bank? When we visit properties around the world, we evaluate how every feature stacks up against the competition, from the rooms to the pools to the restaurants — to make sure you get the most for your money. Simple accommodations, free breakfast, and complimentary on-site facilities are helpful in stretching your dollar so you can spend your moneyoutsidethe hotel. Take a look at our top picks for value in Amsterdam, and get inspired!
See All Amsterdam Hotels
1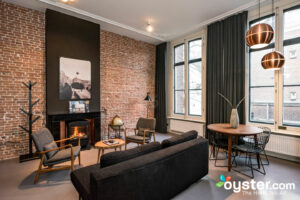 This mid-range hotel is located on the outer edge of the popular Canal Ring neighborhood, just north of De Pijp, and offers a great value for its location. The 48 rooms are housed in four 19th-century buildings on a busy street; the charming buildings have lots of historic character, while the interior has a more eclectic and contemporary atmosphere. The lobby/lounge area has funky sculptural pieces (see the bronze bulldog and deer vases), books, magazines, and a cool 360-degree open fireplace. The front desk, as well as the business center, both feature two Apple iMac computers. The rooms are modern with comfy bedding, flat-screen TVs, and cozy leather arm chairs. The clean bathrooms have rainfall shower heads and pretty stone tiles.
2
The Lloyd Hotel & Cultural Embassy has a unique history and an equally unique way of providing value stays to guests. The 117 rooms have their own classification system; one-star rooms, for example, are small pod-like rooms with no bathroom or amenities. Guests who stay in these rooms must share a communal bathroom, which unfortunately has limited facilities. Two-, three-, four- and five-star rooms are significantly bigger and include their own bathrooms. Amenities include a trendy bright-red bar, a ceiling-high gift shop, and meeting and exhibition spaces. Outside, visitors can easily walk to a handful of transportation options.
3
The eco-themed Conscious Hotel Museum Square is a quirky, modern establishment within walking distance of the Van Gogh Museum and local tram stations. The lobby features an overflowing live plant wall, which pops against the mostly white area. The rooms are quite large for Amsterdam, and floor-to-ceiling windows allow in lots of natural light for a bright and open feel. Rooms are simple and clean, with soft beds, basic, white bathrooms, and flat-screen TVs. There's a bright and modern breakfast buffet, which offers a daily organic continental breakfast. Overall, it's a solid value option for tourists.
4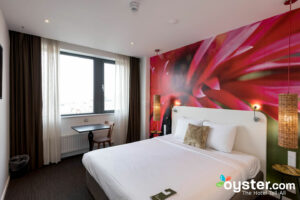 The 81-room Conscious Hotel Vondelpark is the sister hotel to the Conscious Hotel Museum Square, and has a similar trendy, quirky feel. The lobby here also features a vibrant green plant wall, but rustic wood floors and a small bar/lounge allow the space to feel a bit more warm and inviting. The guest rooms are a bit smaller than those at Museum Square, but they're bright, fresh, and comfortable with cozy beds adorned in crisp white bedding. Floral wall murals add a vibrant pop of color, and unique eco-conscious touches abound -- tables are made from recycled coffee cup holders, and the bathroom counters are actually constructed from a recycled pressed-paper material. A stylish breakfast bar serves an organic breakfast, and afterward visitors can rent one of the electric scooters to traverse the city. Like its sister hotel, it's eco-conscious and a good value.
5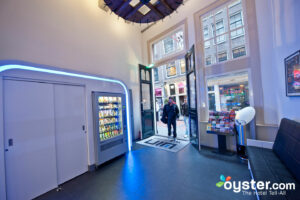 The 75-room Hotel CC is a value hotel located in three historical monument buildings in Amsterdam's lively and racy Red Light District, and features attic-like rooms, narrow, steep stairways, and and a trendy lounge with snack and drink area. There's no breakfast area, as in other nearby hotels, but it's close enough to cafes and other restaurants. Rooms have black-and-white color palettes, and in most, sleek, white work desks, circular black chairs, and cozy white beds; some have great views of the canal. The bathrooms are stylish and modern, with a cool gray design and walk-in showers (and in certain rooms, separate soaking tubs). There is no Wi-Fi, but guests do have free access to communal computers. All in all, it's one of the best deals in the Old Center.
6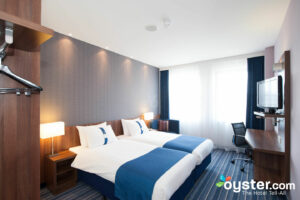 The Holiday Inn Express Amsterdam - South is a clean and basic chain hotel near the financial district of Amsterdam. It's not exactly ideal for tourists because of the mostly residential neighborhood and distance from Amsterdam's famous landmarks -- about a 20-minute tram ride to the canals. Those with a car will appreciate quick access to the highway, but should note that the hotel does not have a parking lot. The rooms are modern and comfortable with pops of blue and flat-screen TVs. Continental breakfast is included with the price of a room and kosher breakfasts are a nod to the Jewish neighborhood.
7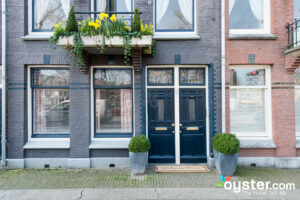 The picturesque, off-the-beaten-track Bed and Breakfast Amsterdam is charm itself, located on a leafy canal withpicturesque views of traditional canal houses and bridges in a residential area away from throngs of tourists. Inside and out, the Bed and Breakfast Amsterdam is set apart by the owners' attention to detail. The little added touches such as fresh flowers, free afternoon cakes, chocolates on the pillows, and a carafe of black currant gin in each guest's room upon arrival help make this B&B an intimate, special spot.
8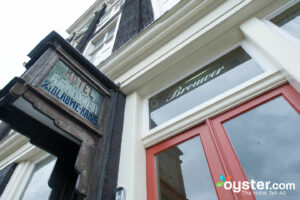 The Hotel Brouwer's quirky and unpretentious Old Amsterdam charm makes it easy to overlook its slightly dated and ramshackle elements. Its pretty canal-front setting is tough to beat, and the location is great for exploring the city on foot. Rooms are on the creaky side, and suffer from some noise issues, but are clean and comfortable and offer lovely canal views. Breakfast is simple and sufficient. Guests will be hard pressed to find a bed and breakfast in the area much cheaper, though the nearby Heren B&B has smarter style.
9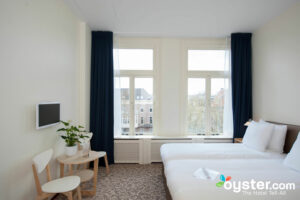 An intimate, 15-room hotel in a four-floor building, Hotel Fita offers a superb location one block from the Stedelijk and Van Gogh Museum and two blocks from the Rijksmuseum. Rooms are simple but thoughtfully put together, and come with free Wi-Fi and flat-screen TVs. The Fita offers an ample free breakfast featuring Dutch pancakes, but lacks the facilities of nearby hotels such as the Marriott. A stay here is a good choice for travelers who want a simple affordable stay, with ready access to the museums and the tram a block away.
10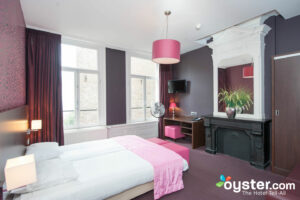 Among the two-pearl hotels vying for the tourists who flock to central Amsterdam, the family-run Boutique Hotel View stands out for its recently updated common areas and more stylish rooms, some of which have overlook a canal. It's right on a tram line, making it a convenient base for exploring the city, but can also suffer from the heavy traffic that comes with it -- which can be exacerbated by the area's late-night party scene. The noise levels and lack of an elevator make it best-suited to younger tourists looking to experience Amsterdam's canal life, without the usual frills -- or the usual bill.
11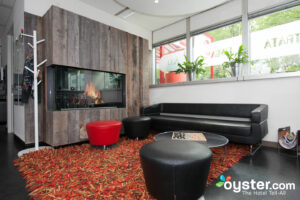 Located within the World Trade Center complex in Amsterdam's business district, this stylish but basic budget hotel relies on a design concept centered around a simple pod-style room system. Each small room at the Qbic Hotel Amsterdam WTC is built around a modular living space called a Cubi that consists of a bed and bathroom with adjustable mood lighting. Amenities such as flat-screen TVs and free Wi-Fi give the hotel a clear edge against the much more spartan easyHotel Amsterdam, and it has cheaper rates than the nearby citizenM Amsterdam City. Like its competitors, the hotel has few features to offer guests -- there aren't even room phones to call the front desk -- but it's a stylish low-cost option for a short business trip to Amsterdam.
12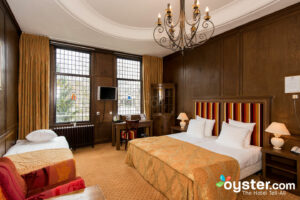 The three-pearl Hotel Aalders, located in Amsterdam's Museum Quarter, is within a five-minute walk from Vondelpark and a 16-minute drive from Amsterdam Centraal, Amsterdam's largest railway station. The 28 rooms are split between two 20th century properties with authentic historic decor including intricate ceilings and an ornate wooden staircase, though some rooms are small. A free buffet breakfast is available daily for guests and there's an intimate on-site bar. Elevator access is available, an uncommon feature in properties of this era. There is no on-site parking, no air-conditioning, and no minibar facilities in guest rooms.
13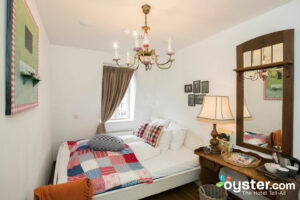 Cocomama bills itself as Amsterdam's first boutique hostel, and this ultra-affordable budget property features 13 individually decorated rooms and a stylish atmosphere that the average hostel can't match. Its small private rooms have whimsical themes and the dorms have en-suite bathrooms, so that guests don't have to share with too many others. Backpackers and budget travelers who enjoy the communal events and social aspects of a hostel -- but don't want to sacrifice too many comforts -- will find a nice balance here. The location is good, too, and it's a block from leafy Frederiksplein, in an area with lots of small bars, restaurants and shops.