Best All-Inclusive Resorts in Torremolinos, Costa del Sol
Take a look at the best all-inclusive resorts in Torremolinos.
See All Torremolinos Hotels
1
The 293-room Hotel Riu Nautilus is a stylish beachfront hotel with phenomenal views, a beautiful pool, and chic, renovated rooms. Restricted to guests over the age of 18, the Riu Nautilus is geared toward couples in search of relaxation. Common spaces are lovely and the hotel has a prime spot on the boardwalk, surrounded by bars, restaurants, souvenir shops, and plenty of summer sports. Guests seeking quiet will find it, but the hotel has a lively bar, and the Torremolinos nightlife is a 10-minute ride away.
2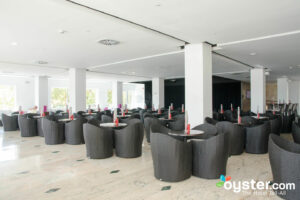 The 350-room Sol House Aloha Costa del Sol is located on La Carihuela Beach and promenade, and offers a sun, sand, and surf-filled vacation spot with an all-inclusive option available. This upscale hotel has a full range of activities and evening entertainment for guests of all ages, including an extensive kids' program and cooking and dance classes for adults. Common areas and pools have been renovated, but the rooms are more basic. All are spacious and feature terraces (some with gorgeous views), but the decor is a bit generic.
3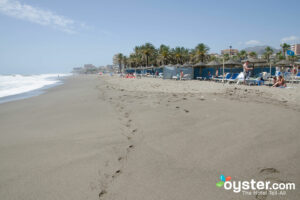 The 325-room Riu Belplaya is a mid-range, all-inclusive chain hotel that's a short walk from Los Alamos Beach, but is not within walking distance of Torremolinos. The all-inclusive package includes all food and beverages, and many of the hotel's activities (but Wi-Fi is extra and isn't available in rooms). Meals can be taken in the hotel's two buffet restaurants, or at the poolside bar. The building has an early '70s facade, and the lobby has a dark wood color scheme and old-style furnishings. Most rooms have balconies and partial ocean views, but decor is dated. Along with a petanque court and a bowling green, there's a large outdoor pool and children's pool, and an indoor pool that is open in the winter. There's also a kids' club with extensive activities.
4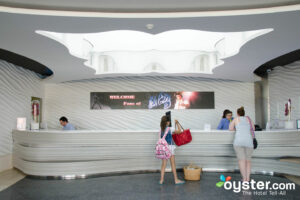 The mid-range Hotel Puente Real is located on a beautiful beach one-and-a-half miles from downtown Torremolinos. The hotel consists of 371 rooms and 102 apartments with kitchenettes, and offers both all-inclusive and room only options. Decor is basic and most rooms show considerable wear and tear, though rome rooms have been renovated with modern bathrooms. The schedule is jam-packed with activities for kids and parents, with plenty of supervised play for the children, but peak season crowds mean that guests will have to get up early to snag lounge chairs.
5
The 414-room Marconfort Griego Hotel is neither pretty nor classy, but it is located right in the center of the Torremolinos, and a short walk from an array of stunning beaches. Its main restaurant and pool are unremarkable, rooms are no-frills, and guests complain of overcrowding and noise. But if you're looking for a cheap beach stay, the Marconfort Griego is an adequate option.
6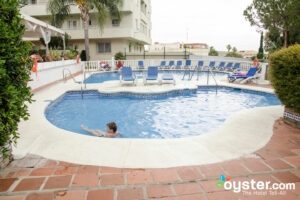 This boxy, bright 374-room Hotel Roc Costa Park is a decent mid-range, family-friendly property for a beach-town stay. The hotel is equipped with multiple attractive, adequate pools, restaurants, and bars, but to reach the beach or town center, guests will have to drive or take the free shuttle bus. Rooms are plain and basic, but typically spacious and often with lovely views. Beach vacationers who want direct access to the Mediterranean may want to consider the nearby oceanside Hotel Isabel.
7
The 799-room Hotel Sol Principe is a chain hotel with an all-inclusive option on Playamar Beach. It has two huge pools and a wide variety of activities for guests of all ages. There are several bars and restaurants, and Broadway-style entertainment every night. The hotel offers many fun options: A creative playground that should appeal to kids, programmed activities, and the family sports program. Rooms have stunning views.
8
The Roc Hotel Flamingo is an affordable, cheerful, budget-friendly beach hotel. The 11-floor, 243-room building has an '80s vibe, and definitely does not impress with dated, basic decor. Right out the door, though, is the center of lively Torremolinos. The ocean is a 10-minute walk, and each room has a private balcony for soaking in fresh sea air. There's a pleasant outdoor pool with rows of lounge chairs, but expect crowds both here and at the buffet. All in all, it's a decent value, but for closer proximity to the sand, consider the similarly priced Bajondillo Apartments.
9
Located in Torremolinos, Málaga, the 397-room Gran Hotel Blue Sea Cervantes is a busy resort-type property by the beach, with all-inclusive and room-only options. The hotel's centerpiece is the large pool, flanked by regiments of sunbeds. Crowds vie for position when the pool opens and also jockey for places in the bar queue as the day progresses. Rooms are generic, though feature gorgeous views from many balconies. Easygoing guests with families or those who enjoy a cocktail or two by the pool should be satisfied, though be aware that rowdy revelers are also known to frequent the premises.
10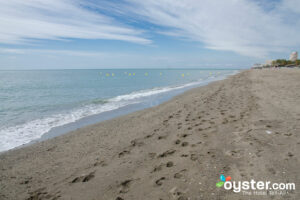 The 260-room Marconfort Beach Club Hotel is an all-inclusive resort property located on Playamar beach in Torremolinos, with pools galore, plenty of activities for the kids, and nightly entertainment. Families with children make up much of this hotel's clientele, and there are playgrounds, mini-golfing, a mini-disco, and a kids' club. Rooms are simple, clean, and bright, though somewhat outdated, giving off a beach motel vibe.
11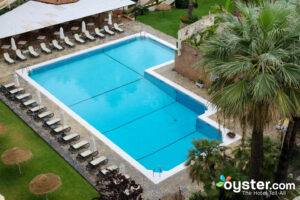 The 204-room Royal Al-Andalus is a chain hotel with an all-inclusive option on gorgeous grounds. Close to the beach and the center of Torremolinos, the hotel offers plenty of places to relax: by the pool, on a hammock, in the bar, or on the rooftop terrace, as well as numerous activities for all ages. The beach is a short walk away, and close enough that some rooms have sea views.
12
Hotel Royal Costa is a mid-range chain hotel of 186 rooms on a main road in Los Alamos, on the outskirts of Torremolinos, which is two train stops away. The train runs along the Costa del Sol, making downtown Torremolinos, the city of Malaga, and Malaga International Airport within easy reach. The hotel, which offers full- and half-board packages, has an outdoor pool with lounges and plenty of outdoor seating space. Rooms have dated decor and some have complained of hard mattresses, but guests appreciate being within walking distance of the beach.
13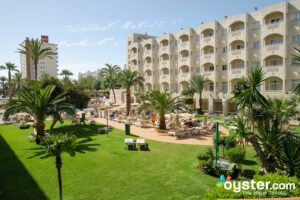 The lush, pretty Hotel Riu Costa Lago is a mid-range, all-inclusive beach resort that hits all the sweet spots — a prime location across the street from the beach, quality meals and drinks, a handsome pool, activities galore, and a location not far from Torrelmolinos' restaurants and bars. The 256 rooms have balconies and air-conditioning, although the basic decor and old tube TVs could use a serious upgrade. Still, it's one of the best beachfront options in the area.