Best Beach Hotels in Antalya, Antalya Province
Take a look at the best beach hotels in Antalya.
See All Antalya Hotels
1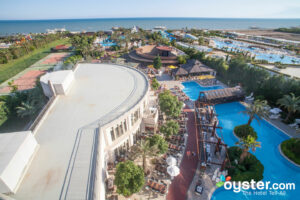 The 311-room Liberty Hotels Lara is an upper-middle-range resort with good food and many pools, including one for adults only, an indoor one, and a water park with three slides. Comfortable rooms feature balconies, free minibars (replenished daily), free Wi-Fi, and flat-screen TVs with international channels, but decor is bland. There are plenty of entertainment options for all ages at this all-inclusive, from daily activities by the pool, to a kids' club, two tennis courts, a five-a-side soccer field, and family-friendly evening shows. However, those wanting to relax with a book or a drink can also find quieter spots both around the pools and at the beach, which features a lovely pier with serviced cabanas (for a fee). Families seeking something more upscale may want to compare rates at the Aska Lara Resort & Spa.
2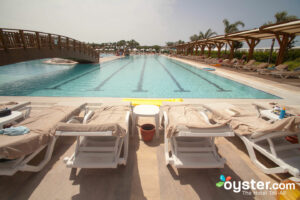 The 399-room Baia Lara is a solid upper-middle-range all-inclusive set along a sandy beach, a 15-minute drive from the airport. The property offers a number of perks for families -- a kids' club, spacious rooms for up to four guests, and a kiddy corner in the restaurant -- but its adult-only pool, pleasant spa, and soft entertainment program make it a great pick for couples wanting a relaxing break as well. Food is good and varied, and there are buffet and a la carte options to choose from, including a big snack bar with an all-day menu, and 24-hour room service. All guests get free access to several types of saunas, a hammam, and a steam room, and massages are available for a fee. Neighboring Liberty Hotels Lara has a similar vibe, but rooms are newer at the Baia Lara. Note, the hotel is closed for renovations until March 2018.
3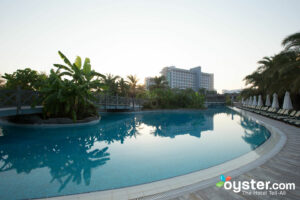 The 457-room Royal Wings Hotel is an upscale, all-inclusive property featuring one of the largest swimming pools in Lara, a popular resort destination a 20-minute drive from Antalya Airport. With sleek contemporary architecture and well-presented gardens, it's one of the better looking hotels in the area, while also featuring a great range of facilities and entertainment for all ages, including a water park and a fun fair. Rooms are bright and spacious, with private balconies or terraces, though the free Wi-Fi is a bit spotty. While the all-inclusive rate covers most food and drinks at the array of on-site restaurants and bars, expect to pay for plenty of extras -- a more comprehensive plan can be found at the nearby Delphin Imperial Hotel.
4
The 350-room Porto Bello Hotel Resort & Spa is an older upper-middle-range property located across the street from Konyaalti Beach and a 20-minute drive from the Old City. This all-inclusive caters to families, business travelers, and couples alike with an array of amenities for all types of guest, including a lovely pool, kids' club, extensive meeting space, and a spa. The all-inclusive package covers all local drinks, buffet meals, and snacks during the day, but food gets mixed reviews, and the a la carte restaurants are an extra charge. About half of the rooms are currently being renovated, but non-renovated units, though clean and comfortable, are dated and tired, with navy carpeting, simple wooden furniture, and a bland neutral palette. The more up-to-date Ramada Plaza Antalya is a good pick for couples able to spend a little bit more money.
5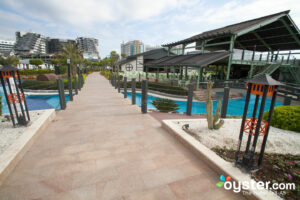 The 441-room Limak Lara De Luxe is a large, upscale all-inclusive resort with huge pools and access to a sandy beach, complete with a two-tier pier, many loungers, serviced cabanas (for a fee), and a playground. Rooms at this family-friendly hotel are spacious and well-equipped, with Japanese-inspired decor, free minibars, free Wi-Fi, and electric kettles. Food generally gets good reviews, but some guests have complained that the staff seems overwhelmed during peak season, which can result in sloppy service. Kids and adults are kept busy during the day with a wide array of activities and games, and there are quality shows and live music every evening. Couples seeking something a little quieter may prefer the IC Hotels Green Palace.
6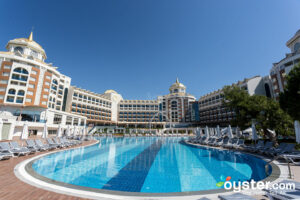 The all-inclusive, 534-room Botanik Lara is an upscale resort on Lara Beach, a 30-minute drive from the center of Antalya. Most rooms are modern, and all have furnished balconies, some with beautiful sea views. Other rooms, though aren't quite up to the level of luxury the hotel claims. Facilities include outdoor and indoor pools, a full-service spa, and many excellent on-site restaurants and bars. Kid-friendly features such as the children's pool, free kids' club, and bowling alley are a plus for families, but some of these activities are only offered in high season. Travelers might want to also consider the Aska Lara Resort & Spa, which has a huge Wet 'n Wild theme park and lower rates.
7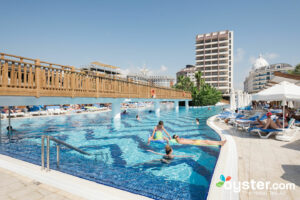 The 221-room Saturn Palace is a loud, upper-middle-range all-inclusive in Lara, a busy resort area directly east of the airport. The hotel caters almost exclusively to families wanting a fun-filled vacation, with loud entertainment, evening shows, and a kids' club offering lots of activities for all ages. This is probably not the best pick for a mellow getaway, but those in need of a break from the music and pool games can grab a lounger at the quiet pool, which is a little away from the hustle and bustle. Food is just average, and the all-inclusive package only covers a handful of imported drinks, but rates are competitive, and rooms are clean and well-equipped. Couples seeking something quieter may prefer the Ramada Plaza Antalya.
8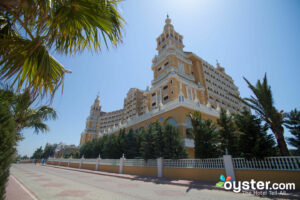 The 604-room Royal Holiday Palace is an upscale all-inclusive with opulent interiors and massive pools. Rooms are comfortable and well-equipped, with flat-screen TVs, minibars stocked with beer and soft drinks (replenished daily free of charge), and electric kettles, and most have at least partial sea views. The active entertainment program and kids' club keep guests of all ages busy during the day with pool games, evening shows, live music, and weekly pier parties, but the atmosphere may be a little too loud for some. The expansive spa is the only quiet spot in this bustling, family-friendly resort. Food gets good reviews, and most guests find the a la carte eateries worth the extra charge. Travelers seeking something mellower may want to compare rates at the neighboring Liberty Hotels Lara.
9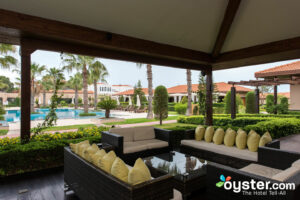 Set on several acres of manicured gardens that stretch all the way to a sandy beach, the upscale IC Hotels Residence is an all-inclusive property with a quiet atmosphere. Its 43 rooms range from two-bedroom suites with shared pools to four-bedroom villas with private pools and hammams. While not quite decadent, they're all comfortable, big, and well-equipped, and most have exotic Balinese decor. Though a restaurant serving Turkish and international cuisine, a spa, and serene outdoor pool are the only on-site amenities, guests get free access to all the amenities at neighboring sister property IC Hotels Green Palace, including its many restaurants, several pools, and entertainment. Travelers seeking something more luxe and stylish may want to compare rates at the Maxx Royal Kemer Resort, though it is about an hour from the airport.
10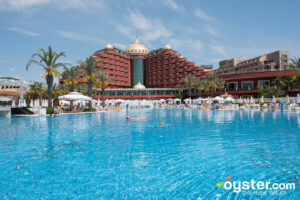 The Delphin Palace Hotel is an upmarket, all-inclusive hotel set in the popular Lara resort area just east of Antalya. Decor is traditional throughout and the 557 rooms are elegant; those who prefer a more modern style should consider sister property Delphin Imperial nearby. Facilities are extensive and impressive, with lots of pools, restaurants, and bars and with particular emphasis on activities for kids. Even though it's not quite up to advertised five-star standards, it's still one of the top options in the area.
11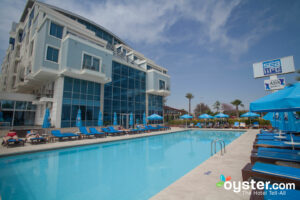 The beachfront, 240-room Sealife Family Resort Hotel is an all-inclusive property located a 25-minute drive from Antalya's Old City. Although the setting is more urban than beachy, the hotel offers an array of resort-style amenities, including a private area on Konyaalti Beach (connected to it via a private underpass), indoor and outdoor pools, and a seasonal entertainment program with pool games, evening shows, and mini-disco for children. The spa and fitness center are basic but sufficient, and the kids' club is a great perk for families traveling with children. Those rooms renovated in 2016 are simple but comfortable, while the other two-thirds of non-refurbished rooms somewhat disappointing, though they're expected to be fully updated by mid-2018. Families may want to compare rates with the Ramada Resort Lara, which has a sandier beach and more bustling atmosphere.
12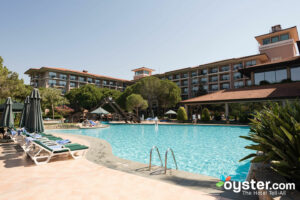 The 429-room Green Palace is an upscale beachfront resort offering good value in a quiet area a half-hour drive from central Antalya. Two things make this hotel particularly attractive: the excellent food and large pools with separate areas for quiet relaxation and activities. The spa is pleasant and clean, and features a few thatched open pavilions over a pond, as well as a sauna and hammam that guests can use free of charge. Rooms are contemporary and well-equipped, with free Wi-Fi, free minibars, and balconies, many of which offer pretty sea views. The kids' club keeps children of all ages busy during the day, while adults can relax by the pool or at the beach, or join the activities organized by the entertainment team.
13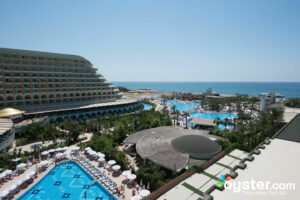 The Delphin Diva Premiere is a family-friendly luxury hotel set in the resort area of Lara, a district to the east of Antalya and 15 minutes from the airport. The hotel extends to a sandy beach overlooking the Mediterranean while lots of its 390 rooms provide sea views from furnished balconies (though also get some noise from on-site entertainment). Leisure, eating, and drinking facilities are extensive, including a great range of pools and restaurants -- food quality can be inconsistent however. Expect to pay -- and get -- a little more at other Delphin hotels nearby, though some prefer the Diva for its smaller size and fewer crowds.
14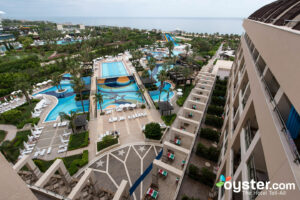 The luxury, all-inclusive Fame Residence Lara & Spa is located alongside Antalya's Lara Beach. The six international restaurants (plus 24-hour room service for a fee) get mixed reviews; so do the bars, where there's a limited selection and frequent extra charges. The pools are a highlight, including a kids' pool with waterslides, as are the spa, sauna, steam room, Turkish bath, well-equipped gym, and other sports facilities. Live entertainment is popular, and Wi-Fi and parking are free. The 442 rooms are elegant, and the priciest feature kitchenettes and whirlpools. But some rooms are small and thin walls can be an issue. Comparably priced Barut Lara has modern decor and higher-caliber restaurants.
15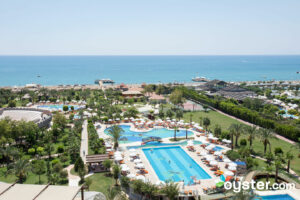 Sherwood Breezes Resort is a stylish and upscale all-inclusive hotel set on extensive and immaculate grounds in Antalya's upmarket Lara district. A 2014 makeover is still very much in evidence, and there are chic, polished interiors throughout. Rooms are bright and attractive, with furnished balconies -- some with sea views -- though some overlook a wall. Facilities for all ages are superb -- highlights include an on-site water park and long sandy beach with butler-service cabins. Rates compare favorably to similar hotels, though for properties with a little more glitz and sparkle -- at a slightly higher price tag -- take a look at the Delphin hotels.