Best Value Hotels in Antalya, Antalya Province
Take a look at the best value hotels in Antalya.
See All Antalya Hotels
1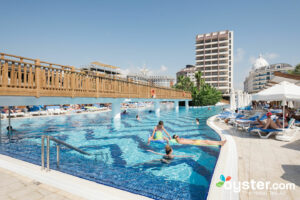 The 221-room Saturn Palace is a loud, upper-middle-range all-inclusive in Lara, a busy resort area directly east of the airport. The hotel caters almost exclusively to families wanting a fun-filled vacation, with loud entertainment, evening shows, and a kids' club offering lots of activities for all ages. This is probably not the best pick for a mellow getaway, but those in need of a break from the music and pool games can grab a lounger at the quiet pool, which is a little away from the hustle and bustle. Food is just average, and the all-inclusive package only covers a handful of imported drinks, but rates are competitive, and rooms are clean and well-equipped. Couples seeking something quieter may prefer the Ramada Plaza Antalya.
2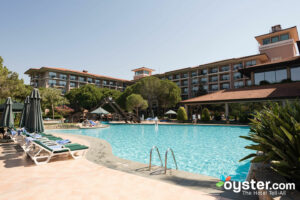 The 429-room Green Palace is an upscale beachfront resort offering good value in a quiet area a half-hour drive from central Antalya. Two things make this hotel particularly attractive: the excellent food and large pools with separate areas for quiet relaxation and activities. The spa is pleasant and clean, and features a few thatched open pavilions over a pond, as well as a sauna and hammam that guests can use free of charge. Rooms are contemporary and well-equipped, with free Wi-Fi, free minibars, and balconies, many of which offer pretty sea views. The kids' club keeps children of all ages busy during the day, while adults can relax by the pool or at the beach, or join the activities organized by the entertainment team.
3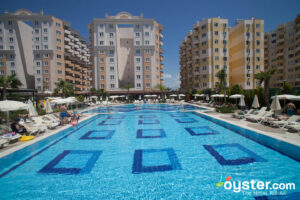 The 396-room, upper-middle-range Ramada Resort Lara is a compact hotel offering a good value for families and groups of friends. Although it is not directly on the beach, the property has a large beach club down the street, complete with a stage for evening shows, a restaurant, a pier with a bar, serviced cabanas, sports facilities, and a kids' club. There is free shuttle service to the beach club every 15 minutes, but guests can walk there in about five minutes as well. The pool is large and bustling, with games, sports, four waterslides, and a separate kiddy pool with water features. Part of it is covered and can be heated in the colder months. Rooms are generic, but clean and well-equipped with flat-screen TVs, free minibars (replenished daily), and electric kettles. Views, however, are mediocre from most.
4
Known for being home to the world's only rotating building, the Marmara Antalya is a surprisingly good value for business travelers and couples who don't mind staying a little away from the Old Town. Revolving Lofts are the most attractive rooms here due to their unique rotating system that allows for 360-degree views, but even Standard Rooms are comfortable and well-equipped, with flat-screen TVs, reliable Wi-Fi, and wonderful minibars. Just note that the hotel's bold decor may not be everyone's cup of tea, and soundproofing is a bit lacking. The pool is a sunny, attractive spot, although the sea isn't far either: the hotel has an elevator that brings guests to the bottom of the cliffs, where there are loungers, umbrellas, a snack bar, and a diving area. This isn't the most kid-friendly property, so families may prefer the Hotel SU.
5
The 240-room Ramada Plaza Antalya is an upper-middle-range city hotel with resort-style amenities and stunning panoramic sea and mountain views. The property is perched atop the cliffs of the city center, and offers direct access to the rocky shore below via steps and platforms with loungers. Rooms are comfortable, clean, and well-equipped, but the highlight here is the small but beautiful infinity pool built on the side of the cliff, overlooking the sea. The wellness and fitness center is also outstanding for an urban hotel of this caliber, housing a big indoor pool, lots of machines, free group fitness classes, and pleasant treatment rooms. All guests get free access to a hammam, steam room, and sauna. The hotel offers a range of meal plans, from bed-and-breakfast to all-inclusive, but food here gets mixed reviews.
6
Located across the promenade from famous Konyaalti Beach, the upper-middle-range, 294-room Hotel SU offers all the amenities of a beachfront resort in an urban setting near the city center. The atmosphere is generally quiet and relaxing, especially around the beautiful outdoor pool, which has a large wooden deck lined with thick daybeds and wicker umbrellas. The rooftop restaurant is a popular spot for a romantic dinner or drinks, while the kids' club is a great perk for families. Guests also get free access to the adjacent water park. Comfortable, spacious rooms feature free Wi-Fi, LCD TVs, fully stocked minibars, and balconies -- some with sea views -- but their bold, all-white design may not be everyone's cup of tea. Couples seeking something with a more traditional style may prefer Tuvana Hotel, which is located in the heart of the Old Town.
7
The Tuvana Hotel is an upscale boutique situated in an 18th century mansion. There are only 46 rooms so guests are provided topnotch service. Elegant rooms feature local textiles and wooden beams, plus quality amenities that range from flat-screen TVs to minibars and kettles -- but past complaints about air-conditioning. Good thing there's a lovely pool in a courtyard filled with fruit trees. A free breakfast and three restaurants and a bar on-site provide plenty of dining options for any guest during their stay. The hotel is centrally located in the historic city of Antalya, making it easy to reach all main attractions in a 10-minute walk or less. The nearby Hotel Aspen is a good alternative with the added benefit of a sauna on-site.