Best Beach Hotels in Antigua
Antigua is the larger, more developed island comprising the beautiful twin-island nation of Antigua and Barbuda in the Caribbean. Its economy runs primarily off tourism thanks to its stunning beaches, ample water sports, and gorgeous hillsides. With 365 beaches (one for each day of the year!), Antigua is the perfect island getaway when you're in need of some sand and surf. Whether you're looking to windsurf, sail, scuba dive, or simply lie on the sand, these hotel beaches are the best of the best.
See All Antigua Hotels
1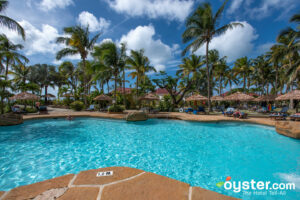 The relaxed, tranquil environment of this adults-only boutique resort is a major part of its appeal. The Galley Bay Resort & Spa has simple Caribbean style (think: thatched roofs, stone, and rattan), a truly gorgeous beach, and all-inclusive food that's better than average for the island. Galley Bay's beach, with plenty of fine white sand and palm trees, is longer, wider, and less crowded than many other beaches on the island. Even when the resort is at maximum capacity, the beach feels tranquil and private. In the evening, there are beautiful sunsets, thanks to the location on the island's eastern shore. The water can get rough, however, and the staff will put up green, yellow, or red flags to alert guests as to the conditions.
2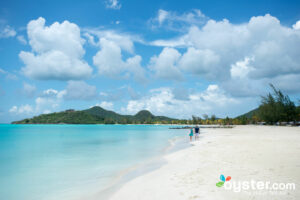 Jolly Beach Resort is a large 464-room family-friendly (and budget-friendly) all-inclusive resort on an excellent mile-long white sand beach.  It is, in fact, probably the longest and widest beach on the island, stretching dozens of yards from its beginning at the edge of the resort down to the water. The water is usually calm, crystal clear, and shallow, making it a great spot for kids. As this is a public beach (all beaches on Antigua are public by law) and it is shared by a few other surrounding properties, there some are non-resort guests roaming around.
3
Sandals is the epitome of a couples-only Caribbean mega-resort. With 11 restaurants, 373 luxurious rooms, and six pools, it's expansive, if not a bit overwhelming. You could easily get lost in the 27 acres of meticulously groomed gardens and along the pathways winding between buildings. The beach at Dickenson Bay is one of the longest on the island, with powdery white sand stretching all the way around the bay. On the west side of Antigua, this beach sees lovely sunsets and clear, calm Caribbean waters in that picturesque turquoise blue. There are large, curved sunshades available that fit two lounge chairs inside. Butler-service guests can have these reserved and get a cooler of drinks brought to them. As are neighboring resorts on either side of the property, this beach can be busy, with non-Sandals tourists and locals strolling around.
4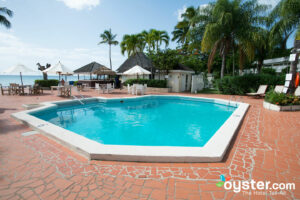 The style and architecture of the all-inclusive Hawksbill resort harken back to the '60s and '70s. Some see only vintage charm reminiscent of a simpler time, while others will feel that the resort is in desperate need of renovations and updates. One feature that is surely timeless, however, is the beautiful white-sand beach with calm Caribbean waters. There are actually four beaches here -- all with fine, powdery sand and clear, calm, shallow water. One of the beaches is clothing-optional, making it the only nude beach on the island. There are many places to find open lounge chairs, often in the welcome shade of a tree, all along the waterfront.
5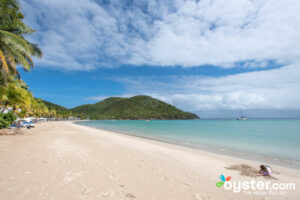 Carlisle Bay offers understated luxury on Antigua's southern coast. The resort has dedicated sections for families and couples, and successfully appeals to both with its lovely white-sand beach, calm ocean, free non-motorized water sports, and impressive kids' club. The hotel's stunning white-sand beach has calm waters where kids can swim safely, thanks to the location on the protected southern shore. The beach isn't as wide or as long as the beaches at some other properties, however -- it's about a third of a mile long -- and on one end it abuts modest local homes. Beach service is available, and there are cushioned lounge chairs, umbrellas, and hammocks as well.
7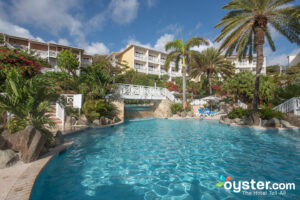 8
St. James's Club, a large, upper-middle-range all-inclusive resort, has been an established name on Antigua for many years, but it remains fresh, and the casual tropical decor in rooms is (mostly) up-to-date. On the side of the peninsula that faces east, the beach on the Atlantic Ocean is often windy, and gets choppy waters, but it's peaceful and never crowded. The bay side features a long, white-sand beach that wraps all the way around the property. This side gets a lot of sun and can be quite hot, but there is plenty of shade provided by the palm trees and some thatched umbrellas. There is no beach service, but a beverage cart drives up and down the beach delivering refreshments. The water sports are located on the bay side, and include sailing, kayaking, and snorkeling.
9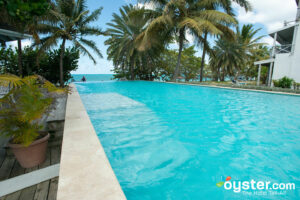 This 38-room, casual, beachfront hotel for teens and adults (no children under 12) is smaller than most resorts on the island, allowing for a much more friendly, intimate feel. The beach at Coconut Beach Club is a bit more rustic and not as groomed as more upscale hotels nearby, but this lends the property a bit of charm and gives it sort of a deserted-island vibe. Plenty of shade can be found under trees and there's room to spread out, though the coast can be windy at times.
10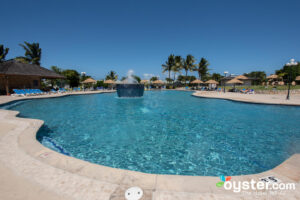 Verandah is a large upper-middle-range all-inclusive with 200 suite-style rooms and a variety of activities for kids, making it one of the island's best resorts for families. The colorful, contemporary resort features four restaurants, two small beaches, three pools, a lovely spa, and a mini-golf course. There are two white-sand beaches, though both have relatively small beachfront areas for the size of the resort, as the beaches are deep, but not very long. The natural landscape of these beaches includes lots of trees and palms that provide plenty of shade and there are many lounge chairs available.