Location, style, and budget are probably the three most important factors for selecting an all-inclusive resort. Easy enough. But wait! You've found several options that fit your criteria, and you notice that one hotel charges for internet access and water sports, while its competitor down the beach offers free Wi-Fi and unlimited scuba diving. Or maybe you realize that some resorts on your list require cheesy plastic bracelets and complicated reservation systems at their restaurants, but others are mercifully wristband-free and have no or minimal reservation policies. Is this the sort of all-inclusive with booming music on the beach and people getting blitzed before noon, or a couples-only, no-kids-allowed resort that's overly sexed-up to an awkward degree? Our point is that researching the intricacies and distinctions of major all-inclusive brands can feel as complex as charting your very own nautical course to reach the destination in question. Enter: Oyster's handy road map to major all-inclusive brands, where we break down their overall vibe and distinguishing characteristics.
The Brand: Sandals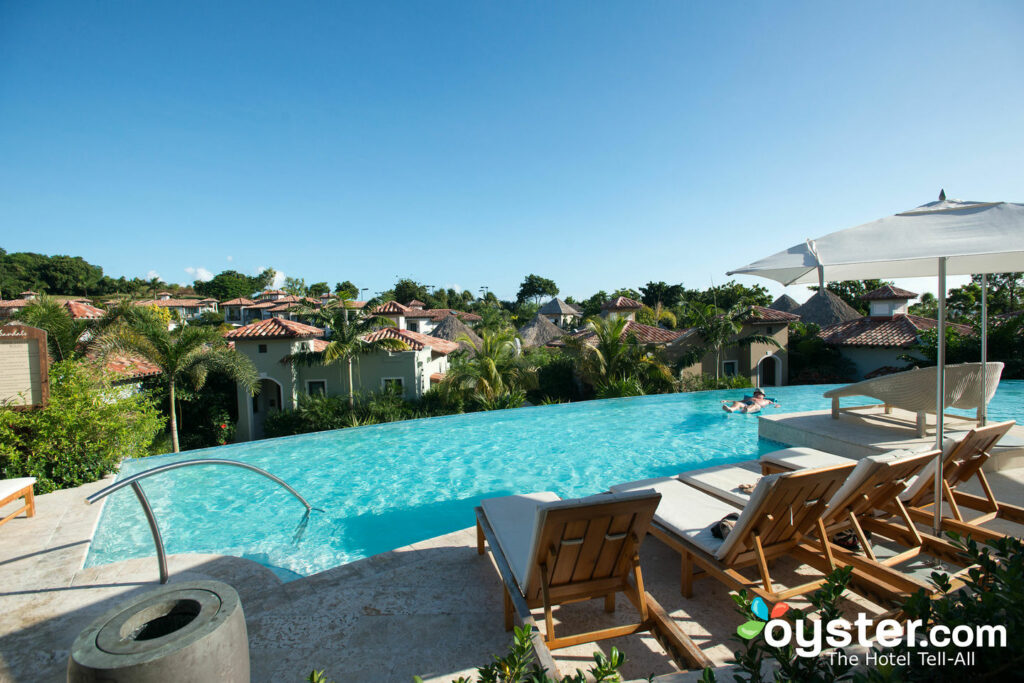 Where in the world? Antigua, Barbados, Jamaica, Bahamas, St. Lucia, and Grenada
Scene: Upscale adult-only resorts with signature romantic touches — fire pits, gazebos, and swinging chairs overlooking the ocean.
Rooms: A variety of budgets and preferences are catered to with different room types and service categories, but all include extra-wide king beds, pillow menus, rainfall showers, and bathrobes. Couples in search of serious just-us time could splurge on the brand's signature Love Nest Dream suites, which come with private pools, 24-hour room service, and butlers.
Features: Pick a Sandals, any Sandals, and you won't lack things to do (and neither will your partner). Every location features multiple pools, excellent Red Lane spas, weekly beach parties, diving centers with PADI training and certification, unlimited water sports — sailing, glass-bottom boat tours, water-skiing, kneeboarding, tubing, snorkeling — and drinking and dining spots that number in the double digits. In fact, there are a combined 162 restaurants across Sandals' 15 resorts. (Don't worry, each resort also has its own culinary concierge to assist with reservations and dietary issues.)
The nitty-gritty: Private airport transfers, gratuity, unlimited premium liquor, and resort-wide Wi-Fi — even on the beach — are all included.
Oyster editors' pick: The 225-room Sandals LaSource Grenada, one of the newest additions to the Sandals brand, is spread over a sprawling 17-acre property on the southwestern tip of Grenada.
The Brand: Beaches
Where in the world? Turks & Caicos and Jamaica
Scene: Designed for families with kids and teens, these three sprawling properties offer water parks, kids' camps, teen hangouts and nightclubs, XBOX games garages, and even Scratch DJ Academy programs. Beaches partners with Sesame Street, so stage shows and sing-alongs with Grover and Abby Cadabby are on the docket.
Rooms: Rooms can accommodate any family or group size (there are more than 40 different room types at Beaches Turks & Caicos), but all feature coffee machines with 100 percent Jamaican Blue Mountain coffee, stocked minibars, plasma TVs, and free Wi-Fi.
Features: Peace and quiet may be hard to come by (parents could try the Red Lane spas or a candlelit dinner), but just about anything else you can imagine can be found here, and just about all of it is free with the all-inclusive rates. All Beaches have loads of pools, restaurants, and bars, plus free fitness classes, land activities, and water sports, including kayaking, windsurfing, snorkeling, and unlimited scuba diving.
The nitty-gritty: Airport transfers, taxes, gratuity, and access to spa facilities are all included (spa treatments are an additional charge).
Oyster editors' pick: At Beaches Turks & Caicos Resort Villages and Spa, the largest resort in Turks & Caicos, guests can challenge themselves to eat at all 19 restaurants, drink at all 12 bars, and relax at all six pools before their vacation is over.
The Brand: Zoetry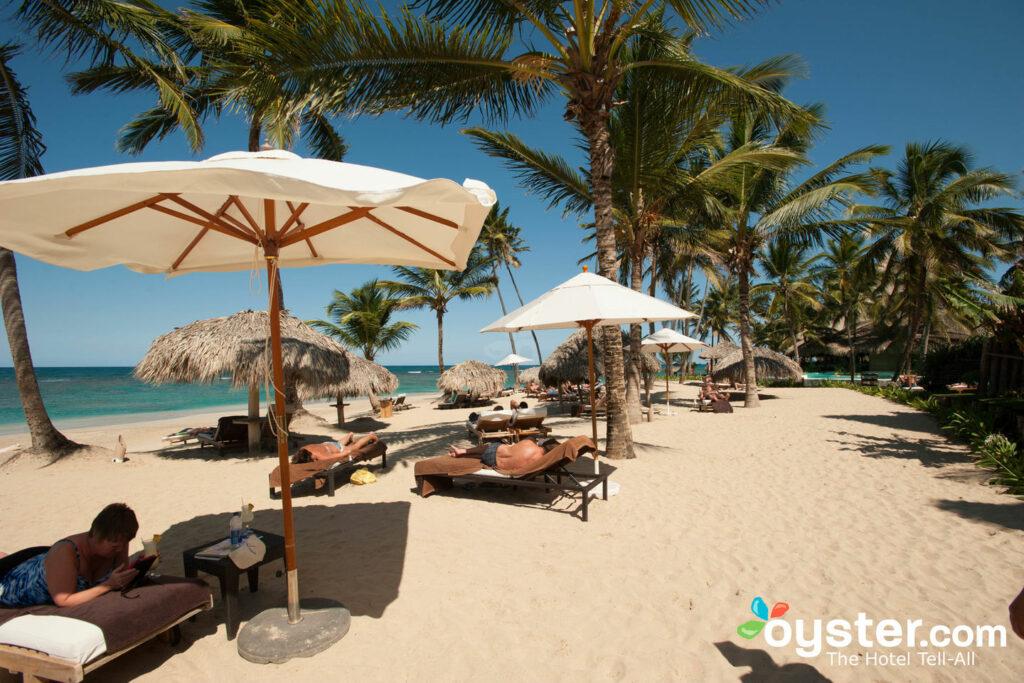 Where in the world? Mexico, Dominican Republic, and Jamaica
Scene: Peaceful, pristine luxury boutique resorts with a wellness bent. Zoetry Agua Punta Cana technically accepts guests of all ages, but its non-discounted rates for children and lack of kid-friendly amenities mean that almost all guests are couples.
Rooms: Gorgeous rooms feature upscale beachy decor, balconies or terraces, satellite TVs, and sexy bathrooms with Bulgari toiletries and rainfall showers. Fully stocked minibars are refreshed at least once a day, bottles of champagne and fruit plates are delivered daily, and room service is available 24 hours.
Features: Zoetry lacks the loud music of typical all-inclusives, but not the robust activities offerings: yoga, meditation, classes (cooking, cigar-rolling, cocktail-making, and more) are available to guests — once they're able to extract themselves from the beaches and pools, that is. The all-inclusive rates cover unlimited top-shelf liquor, craft cocktails, and tasty a la carte meals (featuring organic options) at the hotels' health-oriented restaurants.
The nitty-gritty: Gratuity, three-times-daily housekeeping, 24-hour laundry service, and unlimited worldwide calling are all included.
Oyster editors' pick: The 96-room Zoetry Agua Punta Cana is one of the most luxurious and tranquil all-inclusive resorts in the Dominican Republic, period.
The Brand: Secrets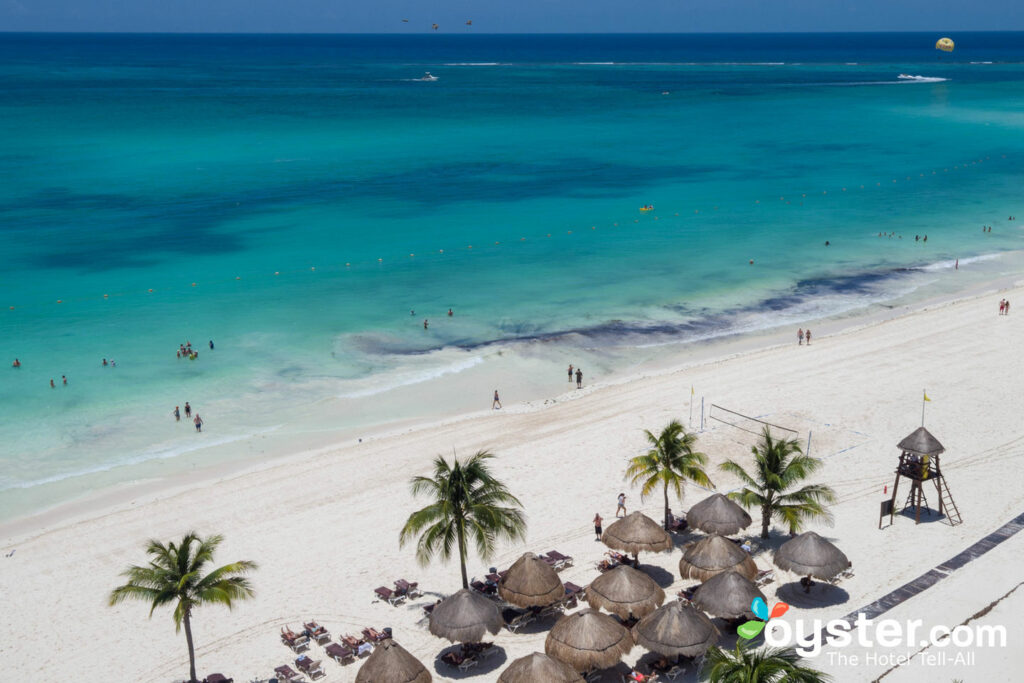 Where in the world? Mexico, Costa Rica, Jamaica, and Dominican Republic
Scene: Vast, luxurious adult-only resorts popular for weddings and honeymoons, each with its own laundry list of property features.
Rooms: Upscale in-room features like rainfall showers, well-stocked minibars, and furnished balconies or terraces are de rigueur at these resorts. So are "secret boxes," two-door compartments that allow guests to pick up their room service deliveries (available 24/7) without actually having to open the door and compromise their privacy, even for a second. Most rooms have whirlpools for two people.
Features: These high-end all-inclusives have enough features to make leaving their premises virtually unnecessary. Things like expansive spas, gourmet restaurants, and secluded beaches (with food and drink service available here and at the pools) are all aimed squarely at adults and centered around romance and relaxation.
The nitty-gritty: Meals and drinks are included in the room rates for all guests, so all properties are wristband-free. Gratuities and taxes are included, and some activities, like scuba diving and fishing, cost extra.
Oyster editors' pick: Secrets Maroma Beach Riviera Cancun's pool complex sprawls over 86,000 square feet, with swim-up bars in many of its 13 pools (one, an infinity pool with panoramic ocean views). A number of shallow pools feature tables, chairs, lounges, and hammocks set in the water.
The Brand: Couples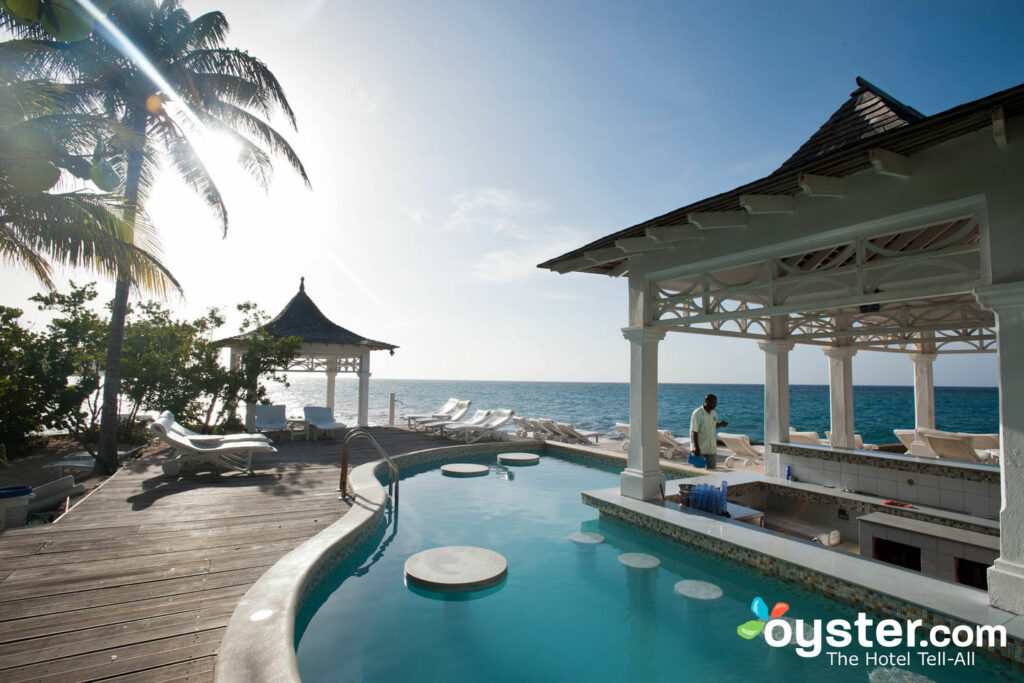 Where in the world? Jamaica (two in Negril, two in Ocho Rios)
Scene: These mellow, family-run properties are reserved exclusively for couples, so their focus is on romance, relaxation, and adult features, like private candlelit beachfront dinners and adorable banners across room doors announcing honeymoon or anniversary statuses. Guests are more likely to be found sipping Red Stripes and daiquiris on the beach and breezing through light reads than boozing and partying hard.
Rooms: Elegant, breezy, and modern, with ceiling fans as well as air-conditioning, balconies with either ocean or garden views, and free Wi-Fi. Free minibars are restocked based on guests' specifications (minibars come standard with ginger ale, grapefruit soda, and Red Stripe; guests can request red, white, and sparkling wine and full-size bottles of vodka, gin, whiskey, and Appleton Special Rum for no additional cost).
Features: Couples resorts don't just dish out free meals and drinks; rather, guests enjoy free unlimited golf, free motorized and non-motorized water sports (even scuba diving), and free excursions, including glass-bottom boat tours and sunset catamaran cruises with beer and rum punch. Also free are fitness classes like water aerobics and yoga and tennis lessons, plus nightly entertainment. Perhaps it's not all top-notch — for instance, the nightly live sets can be a little cheesy, and the "free" golf actually requires guests to hire a caddy on their own dime. Still, with so much free stuff, there's little room for complaint. Most of the Jamaican Couples resorts have a dedicated nude section; at Couples Tower Isle, it's the resort's namesake island, a small rocky refuge about a one-minute boat ride away from the mainland. It's a cool little spot, with a small pool, a little bit of beach, and a swim-up bar — but guests must be willing to bare it all to experience it. The island's policy is not clothing optional but rather clothing prohibited, which might be disappointing for guests who prefer to keep things covered.
The nitty-gritty: Couples resorts have a no-tipping policy, though there are a few instances where it is suggested. For example, caddy fees at the golf course are mandatory and tipping the airport shuttle driver per bag is customary.
Oyster editors' pick: With four Couples options between Ocho Rios and Negril, it's hard (even for someone who has visited all four) to figure out why one might be better than another. Couples Swept Away, has the famed Seven Mile Beach location, while Couples Negril sits just north on the somewhat quieter sands of Bloody Bay — but this may be a plus for those guests looking for a mellower beach vibe.
The Brand: Sunscape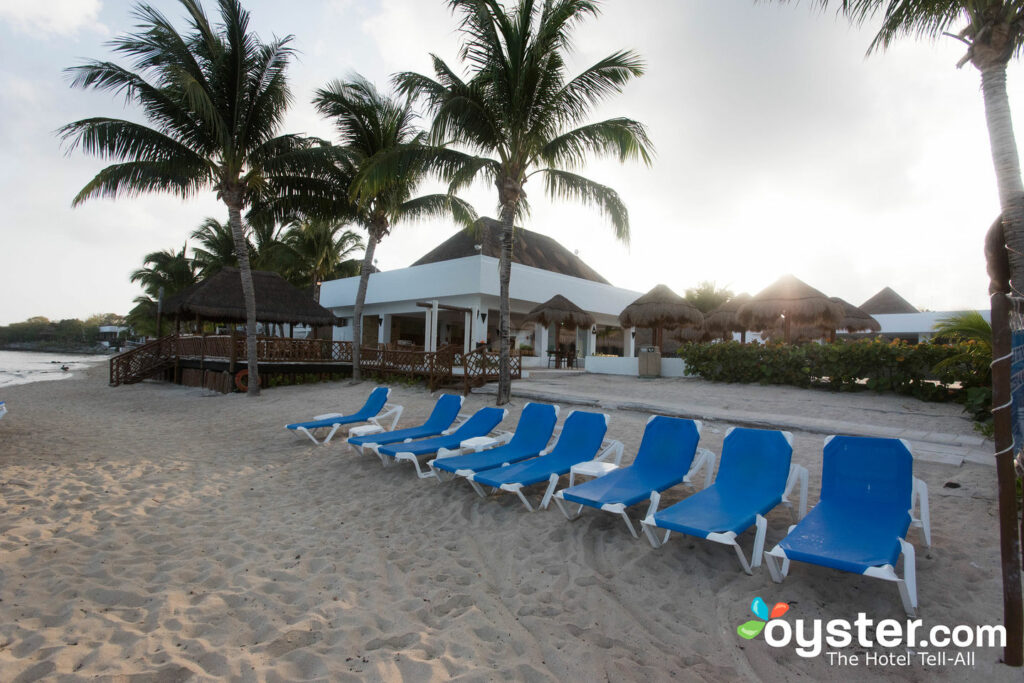 Where in the world? Jamaica, Curacao, Mexico, and Dominican Republic
Scene: Crowded mega-resorts that are high on kid count and low on local personality. For families looking for mid-range to upper-middle-range beach vacations, Sunscapes can prove solid picks.
Rooms: Expect terraces or balconies and flat-screen TVs with cable; minibars are refreshed every few days instead of daily.
Features: These resorts offer typical all-inclusive experiences for the Caribbean, with multiple pools (at least one with the requisite swim-up bar) and ample games and sports available (snorkeling and rock climbing, among others). The Explorer's Club provides supervised indoor and outdoor activities for younger kids, and Core Zone Teens Clubs offers video games, karaoke, and organized socials. Food and drinks are on hand 24 hours a day, though what's available and when can be a bit confusing, and the food quality might be lacking to some. Reservations at the a la carte restaurants are not required. Unlike some of the luxury all-inclusives on this list, food and beverage service is not offered at the pools or beaches.
The nitty-gritty: All taxes and gratuities are included; no wristbands.
Oyster editors' pick: Cozumel isn't known for it's sandy beaches, but Sunscape Sabor Cozumel has a long private expanse of sand that's set with neat rows of blue sun loungers.
The Brand: Paradisus by Melia
Where in the world? Dominican Republic, Mexico (locations in Costa Rica and Southeast Asia are set to open in 2018)
Scene: The majority of Paradisus by Melia's nine luxury resorts are kid-friendly, and yet also suitable for romantics. Separate sections for families (called Family Concierge) and adults (called Royal Service) give the resorts broad appeal for all types of luxury travelers. Couples will find that the well-behaved little ones here are hardly ever a bother. Paradisus Playa del Carmen La Perla in Mexico and Paradisus Princesa del Mar Resort & Spa in Cuba are fully dedicated to adults, while Paradisus Playa del Carmen La Esmeralda is emphatically for families.
Rooms: Rooms are across-the-board luxe, though the adult-only Royal Service suites tend to come with higher-end amenities, such as whirlpools. All rooms come with 50-inch flat-screen TVs, balconies or terraces, Nespresso coffee machines, minibars, Thierry Mugler toiletries, free Wi-Fi, and 24-hour room service.
Features: Features here span from the expected (tequila and wine tastings, free non-motorized water sports like kayaking and snorkeling) to the above-and-beyond (elaborate spas and pools, impressive international buffets, and a la carte restaurants).
The nitty-gritty: Tipping is not mandatory, but tax is not included.
Oyster editors' pick: The 190-suite The Reserve at Paradisus Palma Real, the family-friendly section of Paradisus Palma Real, has a serene environment, a thermal circuit with a Turkish bath and Finnish sauna, and a seemingly never-ending pool area.
The Brand: Barcelo Hotels & Resorts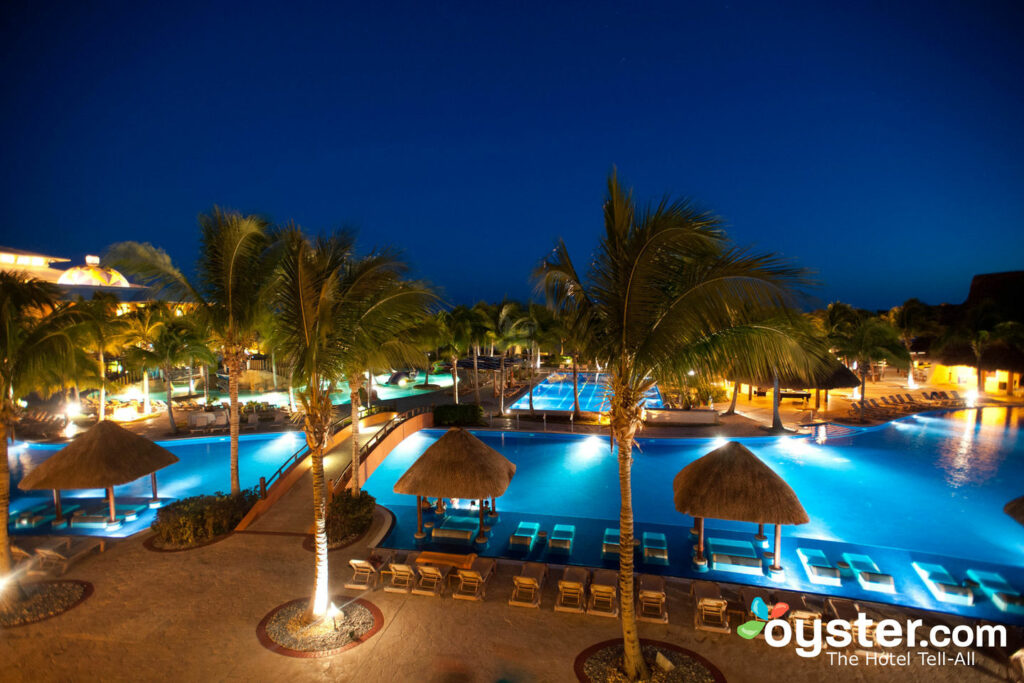 Where in the world? All-inclusive locations throughout Mexico, Dominican Republic, Aruba, Nicaragua, Costa Rica, and Ecuador
Scene: Not all Barcelos are all-inclusive resorts, but the Spain-based hotel group is nonetheless a major player in the market, with more than a dozen all-inclusive venues in Mexico, Central and South America, and the Caribbean. The smaller Barcelo Bavaro Beach in Punta Cana is for adults only, but the other locations have broad appeal and massive acreage that allow families, partiers, and couples to mingle seamlessly.
Rooms: Stocked minibars, coffee machines, and bathrobes are all standard amenities. Room service is available 24 hours; it's free for guests staying in Premiere Rooms, but comes at a cost in standard rooms.
Features: The usual suspects are in full force: large pools, tons of eating and drinking options, fitness centers, theaters, tennis and basketball courts, mini-golf courses, soccer fields, kids' and teens' clubs, and activities like dance classes and water games. Some offer 24-hour casinos and nightclubs. All locations have a spa, but all-inclusive guests generally don't get access to the spa's facilities without paying for a treatment. Though Barcelos are slightly generic-style resorts best suited for the masses, they do encourage culturally immersive experiences. For example, at the two sister properties in Punta Cana — the aforementioned adult-only Barcelo Bavaro Beach and the family-friendly Barcelo Bavaro Palace Deluxe — guests can take excursions to local rum factories or learn bachata, a traditional Dominican dance.
The nitty-gritty: Almost all services at the hotel are covered, including all meals (breakfast, lunch, dinner, and snacks throughout the day), unlimited drinks (alcoholic and non-alcoholic), daily activities, and non-motorized water sports. Taxes and gratuity are covered in the rates.
Oyster editors' pick: Guests staying at the high-end Barcelo Maya Palace Deluxe (15 minutes south of Playa del Carmen on Mexico's Riviera Maya) can use all the facilities at its sister properties, the Barcelo Maya Colonial & Tropical and the Barcelo Maya Caribe & Beach, but the reverse is not true, which makes Barcelo Maya Palace Deluxe feel more serene and exclusive.
The Brand: Dreams
Where in the world? Mexico, Costa Rica, Panama, and Dominican Republic
Scene: Laid-back all-inclusives that appeal to all types of travelers.
Rooms: Nearly all of the upscale rooms feature balconies or terraces, and all come with daily refreshed minibars, free 24-hour room service, and daily housekeeping.
Features: Notable among Dreams' expected features are its food and drink programs — many of the gourmet dining options are a la carte restaurants that don't require reservations, don't usually have long wait times for dinner, and serve surprisingly good and varied food. Bars serve name-brand liquor and local and international beers — a perk that's hard to find at most all-inclusives. And in addition to the 24-hour room service, guests can order meals and drinks via beach and pool service.
The nitty-gritty: No wristbands here. All Dreams guests are on the all-inclusive program, which covers taxes and gratuity, Wi-Fi and calling, as well as kids' and teen clubs, daily activities, and nightly entertainment.
Oyster editors' pick: Ever see those corny commercials for all-inclusive Caribbean getaways? The ones where couples walk hand-in-hand on the beach and kids build castles in the sand? That's pretty much the vibe we got at Dreams La Romana. What makes this Dreams retreat so great is that it lacks that overcrowded, chaotic feel that plagues so many all-inclusives in Punta Cana. Instead, the entire resort feels quiet and laid-back, even at full capacity.
The Brand: Breathless
Where in the world? Mexico, Dominican Republic, and Jamaica
Scene: Adult-only all-suite properties so massive that guests rarely feel overwhelmed by crowds. Guests looking for a party can certainly find one at these resorts' many bars, lounges, and theaters with nightly entertainment.
Rooms: All Breathless rooms are sleek and stylish suites clearly designed with couples in mind; floor plans are open, beds are comfy, bathrooms feature large showers and double vanities, and balconies are decked out with private whirlpools. Room service is 24 hours and minibars are restocked every day.
Features: The breadth of features on hand here is truly, well, breathtaking (most are included in the rates). Pristine pools (which include swim-up bars, whirlpools, and lazy rivers), tennis courts, water sports such as snorkeling and sailing, and daily dance, workout, and Spanish classes are among the offerings. Food and drink service is available on the sandy beaches, as well as by the pools.
The nitty-gritty: Rates include everything from the food and alcohol to the water sports and themed pool parties, plus taxes and gratuities.
Oyster editors' pick: Opened in November 2013, the Breathless Punta Cana Resort & Spa features calm common spaces with earth-toned decor and teak accents and bright rooms decorated with bright geometric patterns. Shady walkways and manicured lawns weave throughout the resort's restaurants, bars, shops, and pools, and a lazy river also snakes through the grounds.
The Brand: Club Med
Where in the world? Caribbean, Mexico, Italy, France, Greece, Portugal, Turkey, Brazil, Morocco, Senegal, Tunisia, Mauritius, Maldives, Japan, Malaysia, China, Thailand, and Indonesia
Scene: One of the most recognizable and long-lasting brands in the all-inclusive chain game, Club Med began as slightly hedonistic adult-only properties, but most locations have made the family-friendly switch and now allow all ages.
Rooms: Oyster's reporters have consistently noted that Club Med rooms are somewhat on the small side (true at the Marrakech, Guadeloupe, and Turks & Caicos locations that we've reviewed), but they're generally tastefully decorated and well equipped; all rooms in all resorts have free Wi-Fi.
Features: Almost all of the expected all-inclusive features are present and accounted for, plus a heavy emphasis on activities. Club Med's all-inclusive package allows guests to try their hand at exciting sports like waterskiing, archery, and wakeboarding, or even enjoy circus activities like tightrope-walking and swinging on a life-size flying trapeze. These activities would be expensive elsewhere and add value to Club Med's rates. Tamer activities include yoga, golf, tennis, beach volleyball, snorkeling, and guided walks.
The nitty-gritty: Gratuities and tips included.
Oyster editors' pick: Club Med Buccaneer's Creek has one of the longest hotel beaches in Martinique.
The Brand: Riu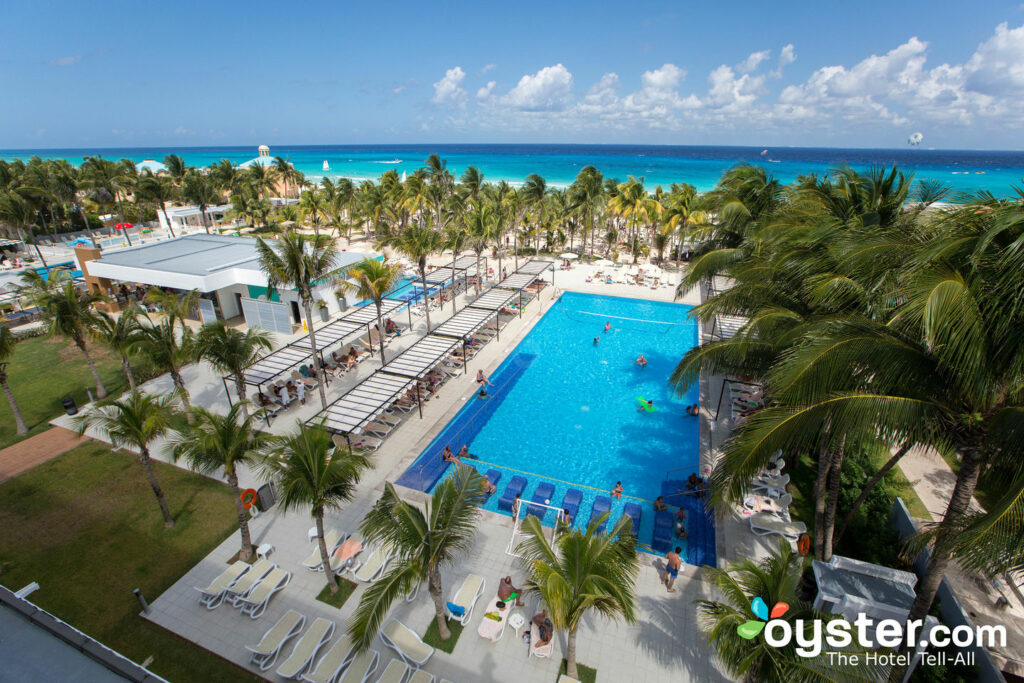 Where in the world? Bahamas, Aruba, St. Martin, Panama, Dominican Republic, Jamaica, Mexico, Portugal, Spain, Canary Islands, Cape Verde, Morocco, Mauritius, Bulgaria, Turkey, Sri Lanka
Scene: With nearly 70 all-inclusive locations all over the world, Riu resorts range from woefully outdated and bland to super-stylish and modern. Most provide lively and somewhat alcohol-fueled atmospheres for couples, spring breakers, and — with the exception of the chain's nine adult-only locations — families.
Rooms: Some resorts' rooms include Riu trademarks such as stocked minibars with liquor dispensers (restocked daily) and 24-hour room service (both free).
Features: Hotel offerings vary from location to location, but rarely do they exceed the realm of what's expected for the all-inclusive category. It's safe to expect a mega pool (or three), diverse entertainment day and night, group fitness classes, and non-motorized water-sports equipment like stand-up paddle boards, snorkel gear, and kayaks (some locations offer one free scuba lesson in the pool). Locations with on-site casinos and nightclubs permit guests free entry.
The nitty-gritty: Rates cover breakfast, lunch, dinner (buffets and a la cartes), and drinks, plus taxes and gratuities. The vast majority (50) of Riu's all-inclusive resorts are 24-hour all-inclusives, so food and alcohol are available around the clock. Wristbands required.
Oyster editors' pick: Thanks to 2015 renovations, the kid-friendly Riu Playacar All Inclusive, near Playa del Carmen, is even fresher than the two more expensive Riu Palace Mexico and Riu Palace Riviera Maya (but there's no room service or personal waiter service at the beach).
The Brand: Hard Rock
Where in the world? All-inclusive locations throughout Mexico and Dominican Republic
Scene: Fun and upscale rock-n-roll-themed mega-resorts with a little (actually, a lot) for everybody: rowdy college kids, romantics, and families.
Rooms: Huge, stylish rooms with double-jetted bathtubs, free liquor dispensers, and 24-hour room service. Hard Rock's "The Sound of Your Stay" program offers free music-related loaners, including guitars (full electric "menu"), headphones, and amps.
Features: Hard Rocks are very popular with couples and friend groups, but they're surprisingly family-friendly, thanks to a ton of great amenities for kids of all ages, such as kids' clubs, signature family suites, kiddy pools, and kid-friendly menus. And speaking of the restaurants, many all-inclusives have multiple dining options that look and feel the same, and serve strangely similar dishes, but this is not the case at Hard Rock. Here, the staggering assortment of restaurants — which range from all-you-can-eat buffets to international a la carte options to grab-and-go places — have individualized menus, custom decor, and consistently good food. Restaurants do not take reservations, but with so many dining options, they're not even necessary.
The nitty-gritty: Tipping is not mandatory, but tax (20 percent) is not included.
Oyster editors' pick: With 1,790 rooms, 13 pools and restaurants, 23 bars, an 18-hole golf course, 65,000 square feet of meeting space, a massive spa and fitness center, and the Dominican Republic's largest casino, the word huge doesn't even seem big enough to describe the Hard Rock Hotel & Casino Punta Cana. But the Hard Rock isn't all about size — the massive luxury property also happens to be one of the nicest all-inclusives in Punta Cana.
The Brand: Excellence
Where in the world? Mexico, Jamaica, and the Dominican Republic
Scene: Luxurious, adult-only resorts that achieve an upscale feel without the least bit of pretension. Their excellent service helps with this immensely; upon arrival, prompt porters will whisk away luggage and guests are handed a glass of Champagne. Excellences are popular for weddings (there are a few key spots on the beach for ceremonies), so it's not just honeymooners here, but also partiers in celebration mode.
Rooms: Elegant, contemporary suites with private balconies and an array of modern amenities, like flat-screen TVs, iPod-docking radios, and free Wi-Fi (though some guests complain that it's unreliable). Marble bathrooms are large and have separate jetted tubs and two-person rainfall showers, as well as double vanities and separate toilet rooms. Stocked minibars have beer, wine, and liquor plus snacks, and 24-hour room service is available at no extra charge. Excellence Club guests get extras such as premium minibars, Bulgari toiletries, and Nespresso machines.
Features: Set on beautiful beachfront grounds, these luxury resorts offer tropical vacations teeming with activities, dining options, and pools. The massive, meandering pools (Excellence El Carmen has a whopping 23) never feel too crowded, and at night, guests can choose from a number of high-end restaurants before hitting one of the many bars. Food and beverages are especially good for an all-inclusive resort, as is entertainment. Since restaurant reservations are not necessary, it's easy to be flexible depending on the mood. Dining options are constantly evolving and include a range of gourmet and casual (mostly gourmet, given the crowd).
The nitty-gritty: All meals, snacks, and alcoholic drinks — even premium brands – are included in the price. Taxes and tips are technically included, but tipping is quite common. Golf, spa treatments, and use of business facilities are available for extra fees.
Oyster editors' pick: Excellence Riviera Cancun is easily one of the best all-inclusive resorts in Puerto Morelos. The 440-room resort offers the level of features you'd expect from the luxury chain, including six attractive pools and extensive spa facilities with beachside treatment huts and lovely treatment pools. There's also a gorgeous stretch of beach, though seaweed is sometimes an issue.
The Brand: Iberostar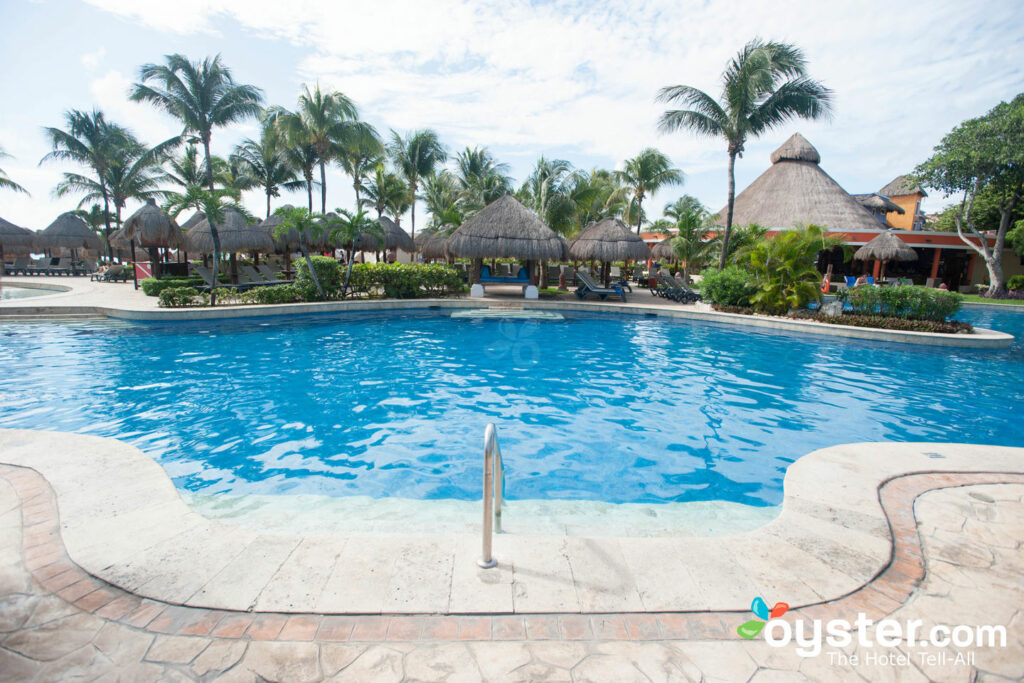 Where in the world? All-inclusive locations in Bulgaria, Greece, Montenegro, Spain, the Canary Islands, Morocco, Cape Verde, Tunisia, Brazil, Jamaica, Dominican Republic, Mexico, and Cuba
Scene: With 71 all-inclusive locations throughout Africa, Europe, and the Americas — all beachfront — it's tough to sum up what the vibe is like at every one. Amenities at Iberostar Premium and Premium Gold locations run the gamut from family-focused kids' clubs, teen clubs, and pools, to adult-friendly nighttime entertainment and clubs, while Iberostar's upmarket Grand Collection hotels are for adults only.
Rooms: With the exception of Iberostar's nine Cuban resorts, in-room Wi-Fi is free. Grand Collection suites come with personalized butler service, pillow menus, and special room scents.
Features: Those who wish to take advantage of the all-inclusive amenities at Iberostars will be busy indeed. The resorts don't simply dole out free food and drinks at their pool bars, snack counters, global buffets, and specialty sit-down restaurants; rather, guests enjoy free non-motorized water sports (kayaking, snorkeling, windsurfing); free fitness activities at the hotels' gyms, pools, and beaches led by certified instructors (yoga, pilates, Zumba, spinning, TRX workouts, kickboxing); and even a free round of golf at Grand Collection properties.
The nitty-gritty: Taxes and gratuities are covered by the all-inclusive rates.
Oyster editors' pick: Iberostar Tucan Hotel in Playa del Carmen is unique in that it is built in a rainforest, and the jungle is integrated into the hotel, with native wildlife and plants surrounding the rooms and in interior courtyards. On-site residents include birds, tortoises, flamingos, peacocks, and a boisterous gang of howler monkeys.
The Brand: Royalton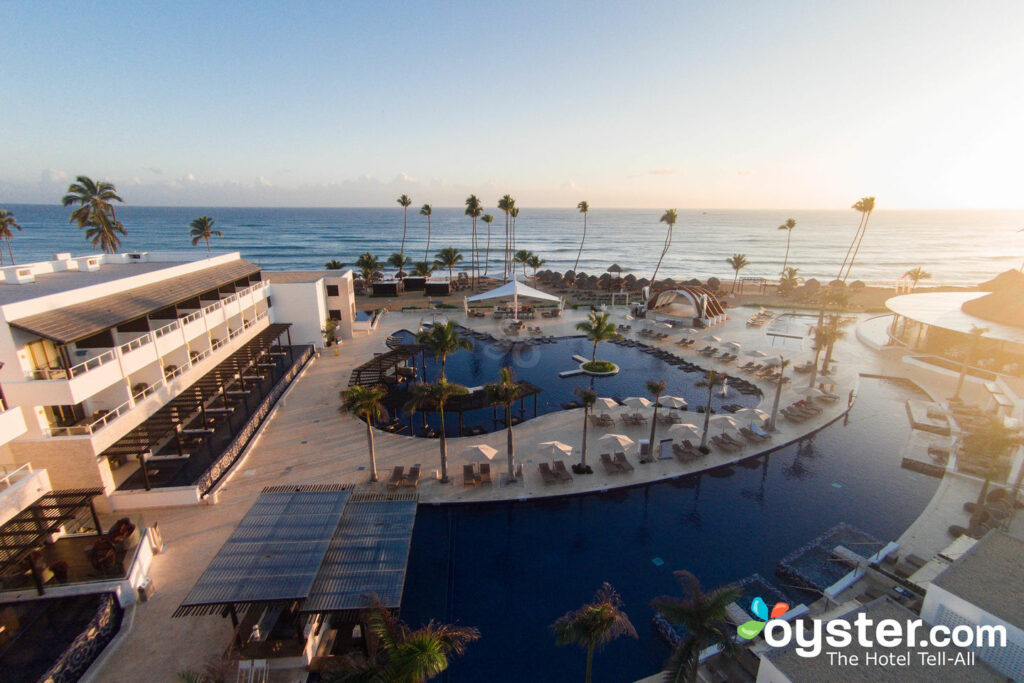 Where in the world? Cuba, Dominican Republic, St. Lucia, Jamaica, Mexico
Scene: Busy mega-resorts with great pools and lots of all-inclusive perks (especially for their upgraded Diamond Club guests). Some Royalton locations have sections exclusively for adults, and others are totally adult-only.
Rooms: Room style ranges from classic colonial (like at Cuba's Royalton Hicacos Varadero Resort & Spa) to contemporary and understated (as seen at the Dominican Republic's Royalton Punta Cana Resort & Casino). Paying extra for Diamond Club room categories unlocks a slew of extra amenities and services, like pillow menus, nightly turndowns, free late checkout, and a separate dedicated butler team (who can provide property tours, unpack and pack belongings, iron clothing, and arrange birthday or anniversary celebrations).
Features: Nicely maintained beaches are a given, and Diamond Club members typically have access exclusive beach space with a private bar and lounge area. On the food front, Royalton's rather straightforward all-inclusive package happily lacks the many restrictions and reservations required at competing hotels. Instead, there's unlimited reservation-free dining plus 24-hour (but occasionally slow) room service.
The nitty-gritty: Royalton's all-inclusive rates cover most taxes, though prepare for additional exit taxes and reef taxes, depending on the location. Gratuity is included, but like at all resorts, you should still tip the staff. Rates include 24-hour food and drink (Diamond Clubbers get the top-shelf stuff), ample organized activities, non-motorized water sports, resort-wide Wi-Fi, and select international calling.
Oyster editors' pick: Many all-inclusives advertise that they have multiple a la carte options but really have one large room divided into several smaller "restaurants." This is not the case at CHIC by Royalton Luxury Resorts in Punta Cana, where each of the restaurants is thoughtfully designed, and feels like a standalone establishment. One dining option not included in the hotel's all-inclusive package is the buzzed-about Culinary Experience, a multi-course food and wine tasting at a private chef's table for 12 guests. The Culinary Experience fills up well in advance, so it's wise to make reservations when booking your room.
Related Stories:
Update: April 24, 2017: Since publishing the story, we have added a section for Iberostar and Royalton properties.