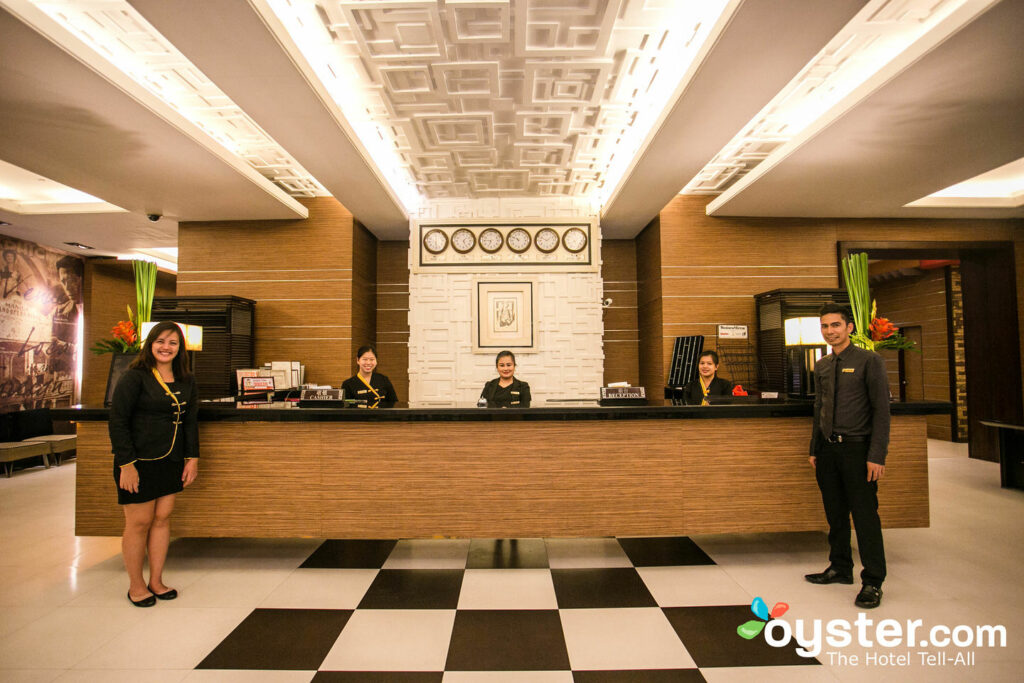 The all-powerful front desk agent can make or break a hotel stay. They have the power to banish you to a noisy room by the elevators or magically upgrade you to a suite with ocean views and club-level service. They can also inform you that your room isn't quite ready (even if it is). At Oyster, we've checked into thousands of hotels and chatted with our fair share of front desk agents. Most of them truly love their jobs and working in the hospitality industry, but that's not to say that customer service is an easy role. So do yourself (and really, everyone) a big favor, and treat the hotel front desk agent with respect. From check-in to check-out, here are 16 behaviors that are guaranteed to annoy your hotel's front desk agent.
1. Cutting the Line: Lines at the reception desk can be unavoidable, especially at mega-resorts which may handle thousands of arriving and departing guests in one day. The front desk staff does their best to process everyone quickly, and apart from only choosing hotels with automated check-in, the only thing you can do is patiently wait your turn.
2. Waking Them Up: On the other end of the spectrum, if you're staying at a small boutique hotel, the reception desk might not be manned overnight. If your flight gets delayed, call the hotel ahead of time to arrange for keys. Otherwise, you might end up dragging the front desk agent out of bed.
3. Being on Your Phone: Whether you're making a call or just scrolling through Instagram, it's quite rude to be distracted by your phone while the front desk agent is helping you. Step away from your device for a few minutes.
4. Treating Them Like Servants: Sure, front desk agents are paid to help you, but that doesn't mean they're your hired help. Use polite language when making requests, please.
5. Getting Upset When Your Room Isn't Ready — Before Check-In Time: Hotels provide check-in times to give departing guests enough leeway to enjoy the morning and housekeepers enough time to clean the rooms. If your room isn't ready when you arrive before the designated time, getting upset won't help the situation. The best the front desk agent can do is put a rush on your room while you sit tight (and maybe enjoy the pool).
6. Eating: Step away from the snacks while you're at the reception desk.
7. Dropping Your Loyalty Status: Definitely mention that you're a member of the hotel's loyalty program (and be sure to note it when you actually make the reservation), but repeating it over and over in the hopes you'll get an upgrade or bottle of wine is just annoying.
8. Sneaking in Pets: Pet policies are in place for a reason, and sneaking in a furry friend without paying a pet deposit is just a no-no.
9. Sneaking in Extra People: You might get away with adding a fifth person to a room for four, but it's not a good look to get caught.
10. Not Tipping the Bellman: Bellmen depend on tips, and the front desk staff might hear about it if you stiff them.
11. Blaming Them for Booking Mistakes: Front desk agents don't usually make hotel reservations, so it's up to you to triple check your confirmation and reservation before you arrive. If there is a problem, be kind to the front desk agent and they'll likely do their best to sort it out.
12. Refusing to Pay the Incidental Charge: Most hotels place an incidental charge on guests' credit cards to cover the cost of unexpected minibar raids or poolside cocktails, if the guest leaves without paying (intentionally or not). It's all part of checking into a hotel.
13. Hitting on Them: Just don't.
14. Threatening to Post Something Negative on Social Media: Threats are never a good look, and they rarely work. If you have a legitimate complaint, ask to speak with the manager.
15. Demanding a Late Check-Out: Front desk agents may be able to arrange for a late check-out, but if the hotel is sold out, that's not always possible. If a late check-out is important to you, check out our guide for scoring a late check-out time.
16. Complaining on Departure: Presenting front desk staff with a laundry list of things that went wrong throughout your stay is fine, as long as you gave them the opportunity to fix the issues as they occurred. If you wait until the last minute to tell the front desk agent how miserable you were, you're too late for problems to be solved.
You'll Also Like:
All products are independently selected by our writers and editors. If you buy something through our links, Oyster may earn an affiliate commission.