Best Value Hotels in Palm – Eagle Beach, Aruba
Take a look at the best value hotels in Palm – Eagle Beach.
See All Palm - Eagle Beach Hotels
1
For those in search of an intimate boutique experience on Aruba, the Boardwalk Hotel is an excellent three-and-a-half-pearl choice. This peaceful 14-room property, tucked behind three massive Marriott properties and situated on a former coconut plantation, remains an oasis of calm. The bright, spacious casitas have full kitchens or kitchenettes, bright beach-chic decor, and semi-private patios. Snorkeling equipment is free to use, as are palapa-shaded lounge chairs, and it's just a five-minute walk to Palm Beach (full of bustling restaurants, casinos and nightlife). There's also a "hidden" beach nearby that's recommended by the owners -- they know the local scoop. While the hotel does have a small pool, there is no restaurant. Those who'd prefer a boutique stay right on the beach should check out the Surfside Marina Hotel as an alternative.
2
The chic design and modern amenities at three-pearl Bubali Bliss Studios put it a sharp step above the many dated mid-range properties in this corner of Aruba. This cheerful hotel offers just 10 impeccably clean and funky apartment-style rooms with full kitchens and flat-screen TVs, plus some with spacious patios. Their proximity to the Super Food Plaza is both a pro and a con: the convenience to the grocery is great for independent travelers, but some might balk at the unsightly parking lot views and the precarious (if brief) walk to Eagle Beach. For those who want to avoid the full-service high-rise hotel scene but not skimp on style, Bubali Bliss Studios is better than neighboring Sasaki Apartments, though rates there may be a bit cheaper.
3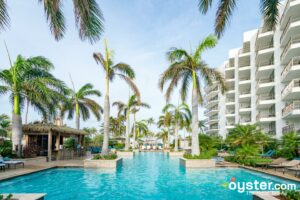 The Aruba Marriott Resort & Stellaris Casino is a four-pearl hotel located in the High-Rise Hotel District, one of Aruba's main dining and entertainment centers. The hotel's 411 guest rooms are neat and well-maintained, offering huge bathrooms and private balconies. Amenities are excellent and include nine restaurants and bars, a striking pool, and a popular casino, yet the ambience is pleasantly low-key. Guests might want to compare rates with the nearby Hyatt Regency Aruba Resort Spa & Casino.
4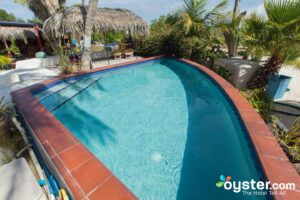 Beach House Aruba is a two-and-a-half-pearl hotel located directly across from Hadicurari Beach. The hotel's eight rooms, apartments, and suites are homey and cheerful, with most offering lovely open-air kitchens or kitchenettes. Features are limited to a small but appealing pool and free Wi-Fi -- there's no restaurant or breakfast service. Set within an appealing garden, the hotel feels like a secluded retreat, yet the bustling High Rise district is a 10-minute walk away. Travelers might want to compare rates with the nearby Carinas Studio Apartments, though this property lacks a pool.
5
MVC Eagle Beach is a mid-range 19-room boutique across the road from Aruba's famous Eagle Beach. It is mostly made up of contemporary (if snug) Double Rooms, though there are a few larger adjoining rooms, making this a nice option for couples, small families, or groups looking for a beachside bargain -- the free breakfast doesn't hurt either. While the small and shallow pool isn't good for much more than dipping, there's plenty of space to grab some sun, a bite to eat, or a drink. Some people find noise to be a problem, but if you can wear earplugs, this quaint beachside pick is hard to beat for the price.
6
Following extensive 2016 renovations, this upscale Hilton (formerly a Radisson) stands as an icon of modernist architecture with chic surroundings on Aruba's popular Palm Beach. Its 357 rooms are spacious, comfortable, and handsomely appointed, with furnished balconies or patios and a choice of views. Highlights include two lovely big pools, immaculate tropical garden grounds (complete with caged Macaws), a top-notch spa and fitness center, and beachfront dining, although kid-focused activities are surprisingly lacking. The Hilton is a popular hub for couples and families seeking an elegant backdrop to their Aruba vacation. A major plus is the prime location -- right on popular Palm Beach -- perfectly calm for swimming and floating; with plenty of restaurants, bars, and nightlife within walking distance. Travelers seeking an upmarket vibe for adults only could try Bucuti & Tara Beach Resort.
7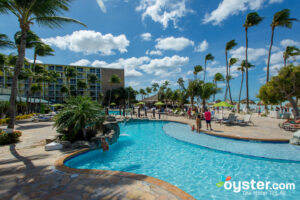 The three-and-a-half-pearl Holiday Inn Resort is a big family-friendly beachfront property with a traditional resort vibe, and plenty to eat and do on-site. Its 597 guest rooms are pleasant enough, but some are dated and show wear while others are more modern, with stylish coastal decor. All have air-conditioning, flat-screen TVs, and furnished balconies. There's a slew of organized activities to entertain the American and European guests who stay here, though the lottery system to snag a palapa on the hotel's busy beach can be a nuisance. The all-inclusive option and prime Palm Beach location make the hotel a decent value, especially for those with young kids. The abundance of restaurants, nightlife, and shops across the road make it easy to venture out. Travelers seeking a less crowded beach setting could try Divi Village Golf & Beach Resort.
8
If you are looking for a social, fun, and relaxed mid-range option close to the shore of Palm Beach, the 163-room The Mill Resort & Suites is an ideal option. The main downside is that the hotel's dedicated beach area is almost a 10-minute walk away, and the free hotel shuttle stops running before sunset starts. However, many of The Mill's rooms were renovated in 2014 and all but the entry-level Royal Room offer kitchenettes. On-site features include car rental services, a state-of-the-art fitness center, kids' facilities, a nice bar scene, restaurant, and two medium-size pools where you can lounge with iguanas. The similarly priced MVC Eagle Beach is right across the street from the sand, but its rooms lack kitchenettes and its pool is tiny.
9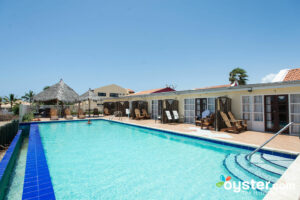 With six apartments ranging from Studio to Two-Bedroom layouts, Arubu Cunucu Residence is a reliable three-pearl option, with a calm vibe that bustling resort areas lack. It's located in a slightly isolated residential area, but beaches, restaurants, and nightlife are all within a five-minute drive. Apartments are very dated, but they're clean, comfortable, spacious, and well-equipped with full kitchens, flat-screen TVs, homey furniture, and practical touches like beach chairs and coolers. The property's highlight feature is its pleasant and sizable infinity pool. Cunucu's simplicity is reflected in its affordable price, and the ability to self-cater is a big plus, as dining out in Aruba isn't cheap. Scene-seekers should stay elsewhere, and travelers looking for a stay with more on-site amenities that's closer to the beach can try Tropicana Aruba Resort.