Best Value Hotels in Aspen
Oyster knows what travelers look for in their hotels. When we review properties around the world, we evaluate how every feature stacks up against the competition, from the rooms to the pools to the restaurants. So if you're planning a getaway and need a place to start, you've come to the right place. Take a look at our top picks for value in Aspen and get inspired!
See All Aspen Hotels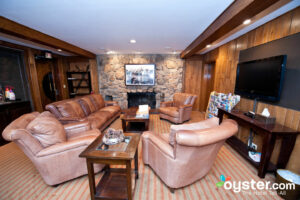 The Molly Gibson features refreshingly clean, modern lodge-style decor, as well as a beautiful year-round outdoor pool, three Jacuzzis, free Wi-Fi, and in-room flat-screen TVs and iPod docks. While there is no on-site restaurant, the lodge is in a great Main Street Aspen location, allowing guests to walk to nearly all the major downtown attractions. The slopes are within walking distance as well, which is perhaps the main draw.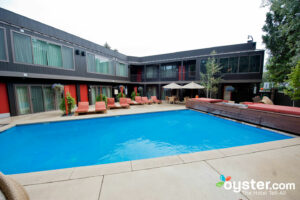 Modern furnishings, high-tech amenities, and luxe touches such as designer toiletries give this 45-unit hotel a boutique vibe. The sleek pool deck is especially stylish, with wicker lounge chairs, year-round pool, Jacuzzi, and fire pit. Freebies include breakfast, Wi-Fi, and parking, but the property lacks standard amenities such as an elevator and restaurant. The hotel's location along Main Street is a plus, as restaurants, bars, and ski lifts are all within walking distance.
The Aspen Square Condominium Hotel is a 101-unit property with a homey vibe and a prime downtown location just a two-minute walk from the nearest ski lift. The individually owned condos all come with full kitchens, balconies, and wood-burning fireplaces, but some units could use updates. Highlights include the pool and two Jacuzzis, which are surrounded by elegant fountains, sleek patio furniture, and numerous plants.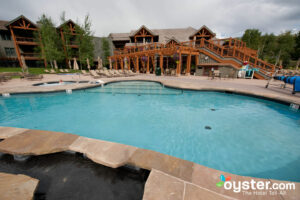 The Villas is a comfortable, mid-range property with spacious one-, two-, or three-bedroom privately owned and decorated condos. While it's not in the most prime Snowmass location (the closest ski lift is a two-minute drive, via a free shuttle), use of the Snowmass Club's features -- including the championship golf course, the large fitness center, and the four outdoor pools -- make this one of the most amenity-heavy properties around Aspen.
Located at the top of Carriage Way, a winding road in Snowmass Village, Top of the Village offers great ski-in/ski-out, grocery delivery service (for a fee), and other traditional hotel amenities like a heated outdoor pool, two Jacuzzis, and a fitness center. Because all 88 units range from two to five bedrooms, Top of the Village tends to draw large parties or families -- which means the small fitness center and pool area can quickly become crowded. However, the fact that it's the only hotel in Snowmass where you can ski or walk down to the Village Mall and then take the free shuttle back up is an added bonus.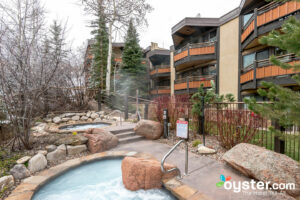 These privately owned studio rentals with a ski-in, ski-out location are a great value. Units are split into two categories based on the level of decor and how recently they've been updated, and as a whole the Laurelwood is a no-fuss, no-frills sort of place -- the only traditional amenities include a 24-person outdoor Jacuzzi (plus a secondary, smaller counterpart) and a laundry facility, but no fitness center or pool. For those who have a little extra money to spend, the upgrade from a Deluxe to a Premier studio is worth it.
While not one of the most luxurious hotels in the Aspen/Snowmass area, the Tamarack Townhouses offers nice standard amenities. The year-round outdoor pool may not be enormous, but it has a gorgeous two-tier Jacuzzi with stone-waterfall feature (one tier being adults-only). There's also a few good freebies including parking, Wi-Fi, and a shuttle to and from the Aspen Airport. Unfortunately the Tamarack is missing some features that other hotels offer, including a fitness center and an on-site restaurant, but guests are allowed use of the amenities at the nearby sister property, Stonebridge Inn, which has a massage room and modern fitness center.
Like its sister property, Tamarack Townhouses, the Terracehouse Condos features two-bedroom units with Silver or Gold standards to indicate how recently it has been updated. The building is strictly condos, with no common areas, fitness center, or spa, and guests must check in at the nearby Stonebridge Inn (guests also have free access to the amenities here). There is a nice two-tier Jacuzzi with waterfall feature on-site, however, and the ski-in/ski-out location along the Fanny Hill ski area makes hitting the slopes a breeze.
Located in the center of Snowmass Village, The Stonebridge Inn is just a short walk from the ski slopes and the bustling Village Mall. This mid-range property offers some solid amenities, including an updated fitness center, a year-round pool, and a renowned restaurant with an extensive wine list. These highlights make the Inn a great value, but the rooms are dark and could use updates.