Historic Hotels in Austin
Oyster knows what travelers look for in their hotels. When we review historic properties around the world, we evaluate how every feature stacks up against the competition, from the rooms to the pools to the restaurants. So if you're planning a getaway and need a place to start, you've come to the right place. Take a look at our top historic picks in Austin and get inspired!
See All Austin Hotels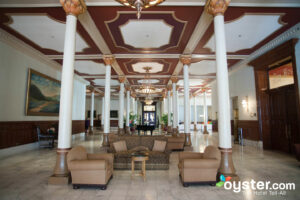 The 189-room Driskill Hotel sets a new standard for historic hotels. The hotel was built in 1886 and beautifully restored, and the the gleaming marble floors, towering columns, and stained-glass ceilings evoke a bygone era. Tasteful, elegant rooms follow suit with designer furnishings, towering ceilings with crown moldings, brocade carpeting, and pretty bathrooms with black marble floors and counters (but shower/tub combos). They're a bit small, though -- but that's to be expected in an historic downtown hotel. There's no pool or other on-site amenities besides a nice fitness center and small massage room, but the location in the heart of Austin's famous Sixth Street entertainment district is prime.
The upscale, 48-room Mansion at Judges' Hill oozes atmosphere and history. Built in 1900, the white, neoclassical building is located in the University of Texas area, a 5-minute drive from downtown. Rooms are quaint (some might say dowdy), the American fine dining restaurant is elegant, and the sprawling veranda is a great place to sip cold drinks in the warm weather. But the Mansion lacks the features of a larger hotel, including a pool and on-site fitness center.
The InterContinental Stephen F. Austin occupies an historic building in a great location in the heart of downtown Austin. Last renovated in 2000, its 189 rooms are comfortable though small, and its amenities (basement fitness center and pool) pale in comparison to those of nearby competitors. The InterContinental's prices are often a bit lower than nearby competitors', so a good deal may just make it worth your while if you don't mind some compromises.