Best Value Hotels in Sanur, Denpasar
Take a look at the best value hotels in Sanur.
See All Sanur Hotels
1
For an all-villa property with a decidedly more humble bent, Parigata Villas is a solid option that's just up the road from the beach. This mid-range property is simple and straightforward, with classic Balinese style that can look a bit faded in spots. Each of the 18 villas is privately walled and includes its own pool and outdoor space, but the one-bedroom configurations mean that they're not suited for families. For many guests here, that's a perk. Otherwise, features are limited, as they are at most villa properties in Sanur. There is a lovely communal pool for those who want to socialize, and a simple restaurant serving food all day. Looking for villas with more premium appeal? Check out Mahagiri Villas, though that property is farther from the beach.
2
This three-pearl property has just 75 rooms and is one of the more modern options in Sanur. It's not on the beach, which is a 10- to 15-minute walk away, and this part of Sanur is packed with dining and drinking options. The rooms are simple, but contemporary, with flat-screen TVs, free Wi-Fi, and air-conditioning. Some rooms have balconies, and two-bedroom Family Suites are available. The hotel is lively throughout the day, particularly around the lovely pool, where daily low-key activities are offered and families splash around all day. There's also on-site dining, massages, and a free scheduled beach shuttle. For travelers who want more on-site amenities, like a proper gym and multiple restaurants, the Sanur Paradise Plaza Hotel, at the other end of town, has similar rates.
3
The three-pearl Emerald Villas -- at the southern end of Sanur -- is a fine option for guests wanting a private tropical getaway without the luxury price tag. There are 31 units here, though common amenities are kept to a bare minimum. That's because each of the villas, which range from one- to four-bedroom configurations, include private pools, full kitchens, and other homey comforts. Despite the hotel's luxury claims, the atmosphere is casual and the Balinese-influenced style is showing some wear. There is a restaurant and bar on-site, but that's about it for features. Travelers who'd like a more refined take on Balinese style, but are willing to sacrifice private pools, might consider Klumpu Bali Resort instead. But keep in mind that rates there will be higher.
4
Among Sanur's beachfront properties, three-and-a-half-pearl Griya Santrian packs a good amount of resort-like features into a compact package. It's in the middle of Sanur, within an easy walk of shopping and dining, though the beach is the star of the show here. Everything from beachside dining and drinking to a pool near the sand take advantage of the hotel's location. There's also a spa, plus an art gallery showcasing local artists. The 128 rooms are pleasant, though the traditional look in some verges on dated. All have air-conditioning, flat-screen TVs, free Wi-Fi, and terraces. Freebies like weekly yoga, snorkel gear, and canoes are nice additions. The vibe at this hotel is subdued, and those seeking a livelier atmosphere might consider Puri Santrian instead, a sister property down the coast.
5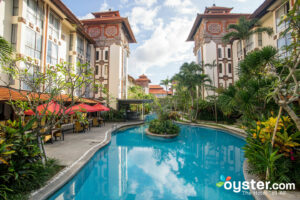 Sanur Paradise Plaza Hotel is a three-and-a-half-pearl property that's less than a 10-minute walk from the beach. This modern hotel has a lot to like, including a lovely pool, a fantastic gym, and a spa. With 329 rooms, it's one of the largest properties in Sanur, and the look throughout is pleasantly modern. Standard in-room features include flat-screen TVs, air-conditioning, and free Wi-Fi, though the latter can be spotty. There are restaurants serving Indonesian and Western fare, plus a cafe, and the breakfast buffet is extensive (for a fee). While free shuttles run into town, the hotel isn't within walking distance of Sanur's touristy restaurants and shops. For something in the heart of the action, check out The Oasis Lagoon Sanur instead, though it lacks the wealth of on-site features.
6
This simple budget hotel is a quiet and popular pick that's in the heart of Sanur and only a five-minute walk from the beach. It's one of the smaller properties in town, with just 18 simple rooms that include air-conditioning, flat-screen TVs, and free Wi-Fi. There are atwo multi-bedroom options as well. Features are few, and the hotel is mostly used as a relatively budget-friendly place to recharge while visiting the nearby beach or exploring the town. There's a pleasant pool, and a simple bar -- breakfast packages can be booked and are served at a restaurant nearby. For a hotel with a livelier vibe and more features, you could consider the similarly priced Taksu Sanur, though it's in the southern part of town and farther from the beach.
7
Hotel Puri Tempo Doeloe is a boutique upper-middle-range hotel located along a bustling highway, a 10-minute drive (or 20-minute walk) from downtown Sanur and Sanur Beach. The setting is picturesque and tranquil, with sprawling tropical grounds dotted with rustic wooden Javanese cottages, an outdoor swimming pool and pool bar, and semi open-air common areas in which to relax. The 20 guest rooms feature an elegant whitewashed colonial look and are furnished with antiques and artwork from throughout the Indonesian archipelago. Room options include modern suites, cute wooden cottages, and spacious two- and three-bedroom pool villas. Other facilities include an all-day restaurant serving Indonesian and French cuisine, a spa, and an art gallery. As a beachfront alternative, the Tandjung Sari is stunning, but rates are higher
8
If clean digs and a quiet, family-run environment are what you're seeking, then budget-friendly Puri Mesari could be for you. This two-and-a-half-pearl property has just 26 units, and is removed from the buzz of central Sanur's more touristy areas. However, the beach is less than a 10-minute walk from the property. The rooms and villas have a basic look, though some are more modern than others, and all include air-conditioning, minibars, and en-suite bathrooms (some of which are outdoors). There's a free on-call shuttle to the beach and central Sanur, and the hotel has a nice pool and a simple poolside restaurant serving all meals. An a la carte breakfast is included in rates. For something just a bit more central and modern, it's worth considering the Taksu Sanur instead.
9
The Puri Maharani is a fine three-pearl option for travelers who don't mind a commute in exchange for low rates. It sits on a busy highway, a 10- to 15-minute drive from central Sanur, and the hotel offers a free shuttle to the beach. The lovely garden grounds include a pool, a tiny spa, a lovely reading area, and an international restaurant. Its 20 rooms are simple and pleasant, equipped with air-conditioning, flat-screen TVs, and free, but spotty, Wi-Fi. Note that some bathrooms have walls that don't reach the ceilings or feature low-mounted handheld showerheads that are inconvenient. Rates right in town won't be this low, but if beach access is a must, you can try your luck at Inna Grand Beach Bali, though it's far less attractive -- consider yourself warned.
10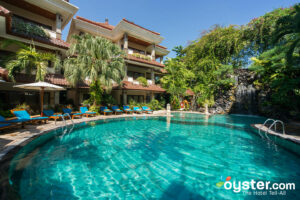 Garden-filled grounds and easy beach proximity make Parigata Resort & Spa a decent budget option, but interiors throughout are old and dated. The 43 rooms include Family Rooms that can fit up to five people, and all feature air-conditioning, mini-fridges, electric kettles, and furnished balconies or terraces. There's a restaurant and two bars, and the hotel puts on themed nights in high season. The pool is lovely and makes a lively centerpiece for the hotel -- families were splashing around during our visit. Treatments and massages are available at the small spa, and a free one-way shuttle is available within Sanur. Travelers who'd like something more modern might opt for wallet-friendly Taksu Sanur, though it's farther from the beach in the southern part of town.
11
There aren't too many budget properties along Sanur's beachfront, giving Peneeda View Beach Hotel an advantage for travelers looking to save some cash. The 55 rooms range from Balinese-style lumbungs to nicer Seaside Rooms, though all are looking a bit dated and none have actual sea views (common in Sanur). Standard features include air-conditioning, free Wi-Fi, and TVs, though hot water can be unreliable. The lovely grounds stay quiet, and there are three pools, including one with a kids' pool. Beachside dining is a highlight, and food gets mostly solid marks. However, there's no spa and features are otherwise few. For a similar alternative, consider Besakih Beach Hotel, where rates are comparable and grounds are more lush, though rooms are less attractive.
12
Puri Sading Hotel is a pleasant mid-range option that's on Jalan Danau Tamblingan, right in the heart of Sanur. It's a small property, though you're likely to see many guests posted up around the lovely pool throughout the day. Drinks are available from the poolside bar, and there's a restaurant serving international, Indonesian, and Chinese fare for all meals. Almost countless bars, cafes, and restaurants are located just outside the hotel, and it's around a 10-minute walk to the beach. The 22 rooms are modern and simple, with a bit of wear, and include air-conditioning, flat-screen TVs, and free Wi-Fi, plus furnished outdoor spaces. For something that's comparable, but right on the beach and bit fresher, it's also worth considering Respati Beach Hotel, though rates will be higher.
13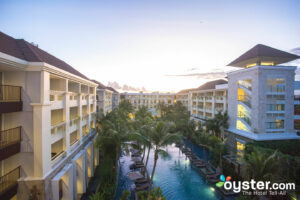 The 306-room Swiss-Belresort Watu Jimbar might look nice in pictures, though this three-pearl property has deep flaws. But let's start with the good: The pool is a stunner and has a poolside bar, making it one of the hotel's most popular features. That makes sense, as there's only limited beach seating (a seven-minute walk away) and the hotel lacks a shuttle to the shore. Rooms are also a let down. While they include air-conditioning and free Wi-Fi, they're quite worn and noisy, and bathrooms lack any privacy. The restaurant and bar are popular spots with guests, and both buzzed with activity during our 2017 visit. Otherwise, though, there's not much to like about this place, and guests are better spending their money at the sharper Oasis Lagoon down the street.
14
The Swastika Bungalows -- named after the ancient Hindu symbol for goodness -- provide a simple budget escape amid lovely garden grounds right in the middle of Sanur. Is it the most stylish place in town? No. But with three pools and only 106 rooms' worth of guests, it ticks the boxes for unfussy travelers. Traditional Balinese entertainment is offered in July and August, but otherwise the hotel stays fairly quiet. All rooms include either fans or air-conditioning, plus flat-screen TVs and electric kettles. The terraces or balconies, which overlook the hotel's beautiful gardens, are an additional highlight, though they're not entirely private. Travelers who don't mind being farther from the beach might opt for the Taksu Sanur instead, where there's a bit more energy and rooms are more modern.
15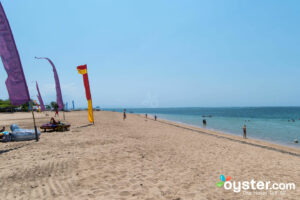 This four pearl resort is located on one of Bali's most beautiful white sand beaches, and unlike bigger, newer resorts, the Mercure follows the Balinese tradition of two-story bungalows and cottages scattered around five manicured acres of tropical coastline. The grounds are also home to a tennis court and two large swimming pools, as well as a spa and several restaurants and bars. The rooms – all two-story cottages – could use a few upgrades in upholstery and furnishings but are otherwise cozy and peaceful; all have a private balcony or terrace, as well. The Mercure offers a relaxing escape for business travelers, couples, families, and anyone wanting to soak up the quiet Bali beach life.