Best Value Hotels in Barbados
Oyster knows what travelers look for in their hotels. When we review properties around the world, we evaluate how every feature stacks up against the competition, from the rooms to the pools to the restaurants. So if you're planning a getaway and need a place to start, you've come to the right place. Take a look at our top picks for value in Barbados and get inspired!
1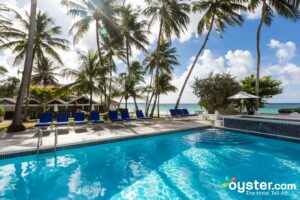 This 138-room Mediterranean-style resort gets its name from the local flower, which is ceremoniously placed in rooms upon arrival. The atmosphere is unpretentious, and reasonable prices make it a good value on the south coast -- it's especially popular with families and wedding groups. All rooms have kitchens or kitchenettes, or guests can dine at two restaurants along the water (though hours vary). This resort prides itself on being eco-friendly, and amenities include a spa, fitness center, kids' club, and water sports.
2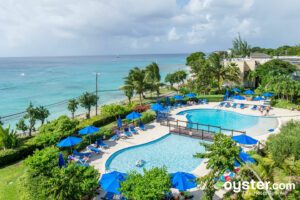 Built in 2009, this relatively modernized resort offers 36 spacious self-catering condos on the west coast of Barbados. Family managed with service to match, each of the one-, two- or three-bedroom units comes equipped with a full kitchen and washer/dryer. A large pool contains separate adult and children's areas, and there is a beach across the street -- though it's quite a busy street to cross. A small on-site cafe serves breakfast, lunch, and Monday night barbecues, and there's weekly cocktail parties hosted in the manager's own home. Beach View is a nice option for travelers and families who want a more relaxed, at-home style of vacation.
3
This 22-unit condo building on the island's lively south coast is walking distance to an ATM, grocery store, and numerous restaurants and bars along "The Gap." A busy neighborhood, yes, but guests will feel like they have this hidden gem all to themselves, especially when taking advantage of the beautiful stretch of beach that has zero crowds and constant turquoise waves. One-, two-, and three-bedroom units are decorated with a contemporary flair, and full kitchens come with high-end stainless steel appliances. Rental cars on-site and at-home accommodations make this a fantastic option for those looking for that rare mix of quiet relaxation and nearby nightlife.
4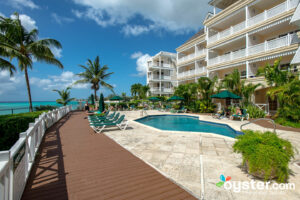 This quiet 31-studio property opened in 2000 after renovations were made on the former guesthouse. Prices are reasonable, and each room layout is the same with two double beds, a kitchenette, and ocean-facing balconies. Rooms are clean, but decor is a bit dated with bright colors and tube televisions. The location is a perk -- on the south coast and walking distance to grocery stores, and numerous restaurants along "The Gap." The beautiful beach is the best amenity here, but an outdoor pool, lounge, and bar are added bonuses.
5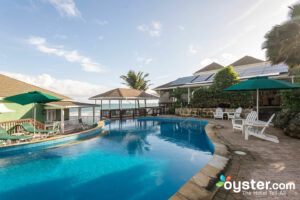 If the name "Atlantis" conjures up images of the megaresort in the Bahamas, then think again. The Atlantis Hotel in Barbados -- a historic property from the 1800s with only eight rooms -- is the polar opposite. The boutique hotel re-opened in 2009 and offers freshly decorated nautical-themed rooms with canopy beds, stylish furnishings, and modern amenities. (For families, there are two two-bedroom apartments in a separate building.) Located on the remote and rocky east coast, the beach is more suitable for surfing than swimming, and a car is recommended to get around the island. The Atlantis restaurant is popular with locals, and the varied cuisine comes with outstanding views from both indoor and outdoor tables.
6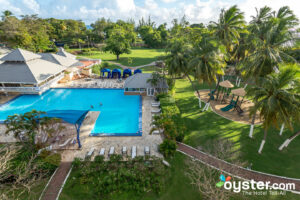 This 133-suite property is a decent mid-range option in the heart of St. Lawrence Gap with close proximity to shops, dining, and nightlife. With 20 acres of space, the expansive property has two restaurants, and a slew of kid-friendly activities including three pools, tennis courts, and a mini-golf course. All suites have at least one bedroom, a full kitchen and patio or balcony -- though decor in some is showing wear and tear. Less expensive suites near the pool area are better suited for families with young kids.
7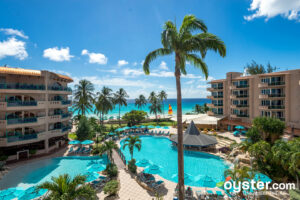 Accra is a mid-size hotel along the lively south coast of Barbados -- a favorite for small conventions that require moderately priced meeting spaces and decent rooms. A large outdoor pool and beach provide a resort atmosphere, and the poolside bar is a fun spot to enjoy a rum punch and mingle. Because of its central location, guests are not confined to the two restaurants on-site, as there are plenty of options in the neighborhood. Rooms in the older wing could use some renovations, and the newer wing offers updated rooms and suites with higher prices. Don't miss out on the fabulous Chakra Spa -- a defnite highlight.
8
The mid-range Coconut Court Beach Hotel offers fantastic value. The large beach is lined with palm trees, and is nicer than that of many of the luxury hotels in the area. The pool area is large and scenic, and the on-site restaurant and beach bar are convenient and popular. The hotel has a great location close to Bridgetown, and bars, restaurants, and entertainment are within walking distance. Other perks include free Wi-Fi, airport transfers, and an on-site gift shop and convenience store. The dark, drab lobby and the rooms, though, are tired, basic, and nothing fancy.
9
Reasonable rates and a convenient location make the Butterfly Beach Hotel an attractive option for budget travelers. The rooms are basic and typical of a budget property, with dated decor and sparse furnishings, although some have ocean views and kitchenettes. Located near bustling Oistins and the St. Lawrence Gap on the popular South Coast, the hotel is close to restaurants, shopping, and entertainment. The atmosphere around the pools and restaurant is lively and busy, although the pool can feel crowded. The two beach access points on either side of the hotel lead to a small and rocky beach, but there are calmer and more spacious stretches of sand a short walk away