Best Value Hotels in Eixample, Barcelona
Take a look at the best value hotels in Eixample.
See All Eixample Hotels
1
At the 128-room Olivia Balmes Hotel, design is king. Almost every inch of this upscale hotel exudes sleek minimalism, giving it a sophisticated, contemporary vibe. Located in the heart of Barcelona's bustling, tree-lined Eixample neighborhood, high-end shops, trendy restaurants, and the city's historic areas are all within walking distance. Though the views are better from the rooftop terrace at the Royal Passeig de Gracia a few blocks away, the rooftop here has a pool. Other facilities include Seventeen Restaurant, with a local, seasonal menu. This is a terrific upscale option for the price, but if it's booked, the Hotel Pulitzer Barcelona is also stylish and similarly priced (though its pool and fitness facilities are at a health club off-site).
2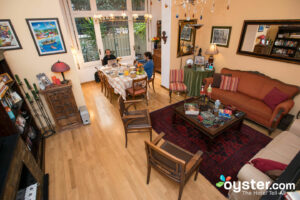 Housed in an elegant 19th-century Modernist building, BarcelonaBB is a charming and intimate bed-and-breakfast in the heart of the Eixample. Gaudi masterpieces and the metro are right nearby. Its five rooms (four share two bathrooms) are appealingly decorated and quiet. The free continental breakfast is plentiful and delicious, and the proprietors friendly and helpful with sightseeing information. This bed-and-breakfast is a terrific value, and a great fit for travelers who wish to forego a big hotel experience.
3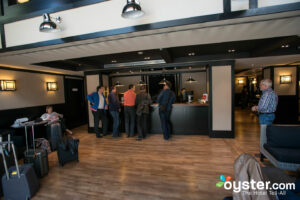 A clean, contemporary 10-floor hotel in the heart of the Eixample, the 150-room EuroPark is conveniently situated one block from the Girona Metro and four blocks from the Passeig de Gracia and Casa Batlló. Unlike some nearby hotels such as the Praktik or Catalonia Berna, the EuroPark has a swimming pool. It also offers a small but adequate fitness room and business center. Contemporary rooms are decorated in chic black and white stripes and come with free Wi-Fi and flat-panel TVs. All in all, the EuroPark is a good solid value for those seeking a convenient, well-located hotel with a wide range of amenities and facilities.
4
The Petit Palace BCN is a 50-room value hotel in the center of Barcelona. Located near Plaza Catalunya, this hotel offers a variety of room types to suit groups and families. All rooms have flat-screen TVs, laptops, and free Wi-Fi. While some guests complain about firm mattresses and furniture that shows wear and tear, bathrooms are spacious and have rain showerheads. Some rooms have bunk beds to accommodate families and others have small balconies. However, not all rooms have great natural light and views, so be specific when making a reservation. Hotel highlights include a cozy bar area, breakfast room, and small fitness center and sauna. Bike rentals are also available free to guests.
5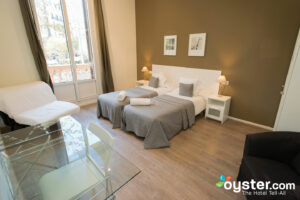 The Aspasios Rambla Catalunya Suites consists of 24 spacious apartments decorated in a chic, bright, modern style, with either terraces or balconies. Centrally located on a major street in Eixample, it's within walking distance of several tourist attractions, and the Passeig de Gracia metro station is about a five-minute walk away. Apartments have top-notch fully equipped kitchens, flat-screen TVs, iPod docks, and free Wi-Fi. These are self-catered apartments, and there's no breakfast service, fitness facilities, or pool. Travelers who prefer more typical hotel amenities might want to compare rates with the nearby NH Collection Barcelona Calderon, which has a rooftop pool, a restaurant, and a wellness center, but in-room Wi-Fi comes with a fee.
6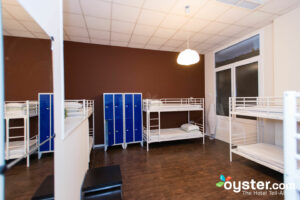 360 Hostel Barcelona is a small budget property located within walking distance to the city center in the Eixample District of Barcelona. There are only 13 rooms at the hostel, including two-person rooms and dorms with up to 10 beds. Rooms are simple and bare, offering bunk beds, lockers, and linens -- bathrooms are shared. Features include a spacious communal kitchen, TV and games rooms, and guest computers. The hostel offers a few nice freebies such as coffee and tea, city maps, and nightly activities. Guests rave about the property's friendly atmosphere -- it's a good place for solo travelers in particular -- and cleanliness of rooms and bathrooms. The nearby Primavera Hostel has similar features and more charming rooms.
7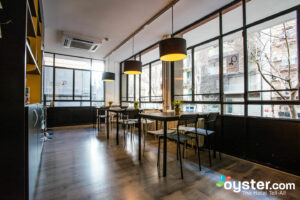 Nestled among the grid-patterned blocks and Gaudi's iconic architecture in Barcelona's Eixample District, Free Hostels offers value accommodations in surprisingly elegant surroundings. The 13-room, dorm-like property features contemporary decor by local artists, and is small but efficient with its space. Beds come with built-in storage and all rooms have private bathrooms. Free breakfasts are served in the communal kitchen and lounging areas allow for plenty of mingling space. Despite its location within the city, most Barcelona attractions can't be reached on foot, so budget travelers may prefer the more centrally-located Generator Barcelona hostel.
8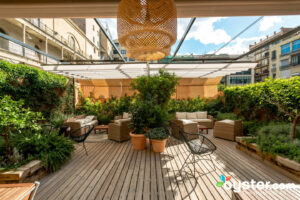 The 36-room Hotel Ambit Barcelona is a mid-range property with an excellent location in the bustling Eixample district. Guests can walk to restaurants, bars, cafes, and shops, and both metro and bus stops are nearby. Plaza Cataluna and Passeig de Gracia are a 10-minute walk away, and there's plenty to see and do all around. Although some rooms are quite small, they're all modern and fresh, and come with flat-screen TVs, minibars, air-conditioning, and kettles for tea and coffee. Some have furnished balconies. The comfy living room and lovely terrace are popular hangout spots, and there's a self-serve bar. As an alternative, check out the Hotel Vueling BCN by HC, and it has an on-site restaurant and bar plus a great Eixample location and contemporary style.
9
The Primavera Hostel is a budget property well-located in the heart of the Eixample in walking distance to Gaudi's masterpieces like Sagrada Familia and a four-minute walk from the metro. While there's not a ton of extra features here, there's a nice communal kitchen and chill common spaces foster a social (though not necessarily "party") atmosphere. The property has seven guest rooms -- simple but tasteful and roomy affairs which include doubles, triples, quads, and six- and eight-bed dorms. All make use of shared bathrooms. Staff are helpful, and guests rave about the level of cleanliness in both rooms and bathrooms. Still, it doesn't hurt to comparison shop the city's many hostels; Generator Barcelona is a popular choice in the area -- a bigger property with a bar and more of a hip, party vibe.
10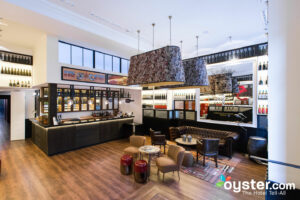 The 64-room Hotel Praktik Vinoteca is a mid-range boutique hotel with an extra-special quirk: a thorough, yet tasteful, wine theme. The sharp interiors include plenty of well-aged wood, cork, and over 900 display bottles that create a polished, bohemian look throughout the hotel. Rooms are compact, but contemporary, with urban-chic details and modern features like air-conditioning and flat-screen TVs. The hotel's Eixample location means restaurants and bars are all around, while Plaza Catalunya and Las Ramblas are only a 10-minute walk away. Wine tastings attract locals as well as guests, and the terrace is a lovely place to hang out. Travelers who aren't too keen on the wine theme could check out the nearby Hotel HCC Taber, where they will save a few bucks but find rooms with little character.
11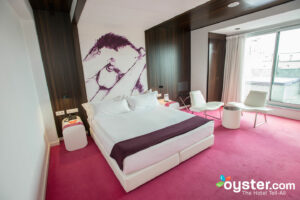 With a stylish lobby reminiscent of the inside of a space station and a funky, modern diner area where breakfast is served, the Room Mate Emma is a cool pick for tourists visiting Barcelona and wanting to stay in a "design" hotel. The mid-range chain has 56 colorful guest rooms that stand out for their bold use of color and artistic touches. There are plenty of restaurants and cafes nearby, but guests wanting to stay closer to Las Ramblas may want to consider Hotel Ramblas, a stylish, more expensive option closer to the action.
12
The 10-floor, 108-room U232 Hotel is a stylish, contemporary hotel in the L'Antiga Esquerra de l'Eixample section of the western Eixample. It's a little far by foot from central Barcelona attractions like La Rambla and Sagrada Familia, but luckily a metro stop is one and a half blocks away for easy access to the rest of the city. While there's no pool, guests do enjoy well-designed and tech-equipped rooms, a sun deck with city views, a big breakfast buffet (for a fee), small fitness room, and inviting library/computer room. A stay here is good value, since the extra distance from the city center equals lower nightly rates.
13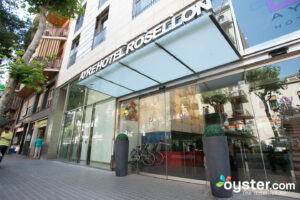 The mid-size Ayre Hotel Rosellon has 105 clean and comfortable rooms well-suited for a business or leisure traveler. However, mostly tourists choose this upper-middle-range hotel in the Eixample neighborhood, as they are drawn by its close proximity to the area's upscale shopping, cafes, and restaurants, as well as its location a few blocks from the famous Sagrada Familia cathedral (many rooms have views of the site). The nearby metro and bus stops offer easy access to other parts of the city as well. Ayre Hotel Rosellon is housed in a circa 2009 building and its chic, contemporary interior spaces mesh well with its modern facade. The hotel has a popular rooftop terrace with a plunge pool and great views. There's also a restaurant and free Wi-Fi. But fitness buffs beware: The hotel has no fitness center.
14
Housed inside a new building inspired by the surrounding Gaudi architecture, the 74-room Hotel Praktik Bakery is a mid-range boutique property. The wafting aromas of the adjacent Baluard bakery means the lower floor and front desk area smell like pastries and freshly-baked bread. Rooms are spacious and modern but some have odd layouts, with bathrooms positioned right at the entryways. Travelers looking for a more dramatic and upscale experience could try the four-pearl Vincci Gala Barcelona.
15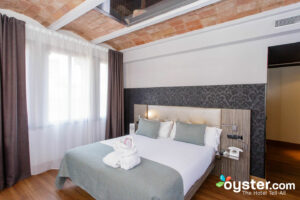 This 61-room hotel, part of the tech-savvy Petit brand, is a no-frills but contemporary choice located in Barcelona's city center, a few blocks from Plaza Catalunya. There isn't much to the property (it lacks any outdoor space -- a rarity for Barcelona) but it's a good value, especially for families. Rooms are starting to show wear and tear, but high-tech amenities such as flat-screen TVs, iPod docks and laptops help compensate. Balconies and exercise bikes are available in some, while others lack views, so be sure to specify room priorities when checking in. The quirky, modern lobby has multiple seating areas, additional laptops, and a small bar. Meanwhile, a more sophisticated breakfast room has soft lighting and beautiful exposed brick. Wi-Fi is free throughout the property.