Best Value Hotels in Berlin
A unique and thriving cultural center, Berlin has a vibrant art, food, and nightlife scene. It's also one of the few European capitals that can be experienced on a budget, thanks to low hotel rates and cheap food. After visiting Berlin's most popular hotels, we evaluated how they stacked up against the competition. To make sure you're getting the most bang-for-your-buck, check our expert top value picks in Berlin!
See All Berlin Hotels
1
Pension Galerie is a dated but beloved mid-range bed-and-breakfast near the center of Berlin. It's on a bland residential street, but that helps keep the noise down in the building, which is home to drafty old windows. The individually decorated rooms are large, clean, pleasant, and more affordable than proper hotel rooms in the area, though the dated furnishings and lack of amenities are noteworthy downsides. The included breakfast is served in a charming little room where the owner is known to chat with her guests as she helps serve coffee and tea. Wi-Fi is free throughout.
2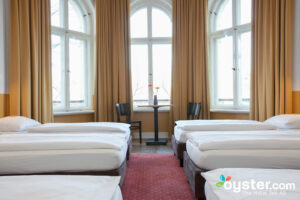 The 33-room Grand Hostel Berlin is a cut above the average for hostel accommodation, located in an historic Victorian building. It's in the hip neighborhood of Kreuzberg, opposite a picturesque canal and close to the city's nightlife scene. There's a hip library bar just off the lobby, and a restaurant and snack bar on-site too. Bicycles are available to rent for a fee from the front desk. There are private rooms and dorm rooms available, all of which are clean and comfortable with neutral decor.
3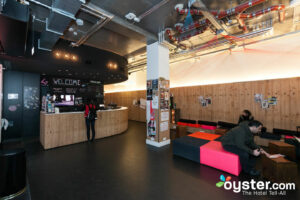 The 139-room Generator Berlin Mitte is a sleek chain hostel with an artsy-industrial vibe. It's popular with the 20- and 30-something set and offers a lively bar with a dance floor. The cafe on-site serves locally inspired food, but there's a fee for breakfast. Rooms can be tight on space (as expected in a hostel) and hot in the summer, but guests appreciate the friendly staff, attention to style, private room option, and hot showers.
4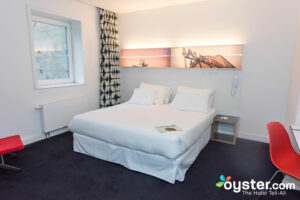 Hotel Gat Point Charlie -- from the Gatrooms hotel group, which has five hotels in Europe -- is conveniently located near Checkpoint Charlie. The facade of the building makes a strong statement with a collage of grays and greens. The streamlined design continues on the interior, with 140 clean and modern rooms. Crisp white bedding is accented with graphic prints and bold color splashes. Custom modular furniture gives the rooms a space-age feel and suites feel more like urban apartments than hotel rooms. With free Wi-Fi, big flat-screen TVs, and a modern, communal breakfast room, this hotel is a great pick in a central location.
5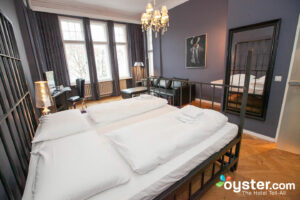 The 17-room Art Nouveau-style ArtHotel Connection is a friendly gay hotel in the Schoeneberg district, located on a floor of an historic apartment building. It's light on amenities, with no restaurant or bar on-site, but there are plenty of places to dine and drink in the neighborhood. This hotel isn't right in the center of the main tourist attractions, but they're easy to get to, with two underground stations close by. Rooms and public spaces make a feature of the nineteenth century architecture and feature quirky touches to add character. It's worth noting that some rooms share a bathroom.
6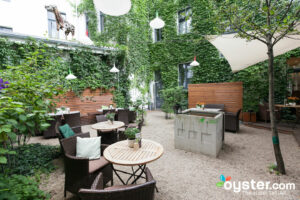 Overlooking Rosenthaler Platz, The Circus Hotel sits across the busy intersection from its older sibling, The Circus Hostel. The latter's success as a backpacker's destination lead to the opening of this 65-room boutique property catering to a hip crowd with a little more disposable income, but the rates are still less than at other mid-range properties in Berlin. Late breakfasts, bike rentals, and free walking tours led by knowledgeable staff all make this eclectic hotel stand out from the crowd, but the laudable eco-friendly and sustainable policies come with a downside -- no air-conditioning, which can be a deal breaker on hot summer nights.
7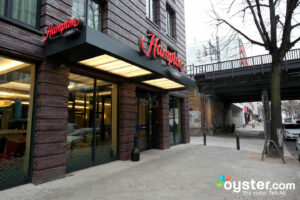 The mid-range Hampton by Hilton Berlin City West is located in east Charlottenburg, near transport and great shopping along Ku'Damm. Rooms are clean, comfortable, and contemporary -- if slightly generic -- with flat-screen TVs and free Wi-Fi. Perks include free hot breakfast, a 24-hour bar, small but modern fitness center, and inexpensive bike rentals. Some rooms havebalconies and all have electric kettles and bright, new bathrooms. While this is a great pick for value (and for the helpful concierge desk) there is a railway track on one side of the hotel that causes a lot of noise.
8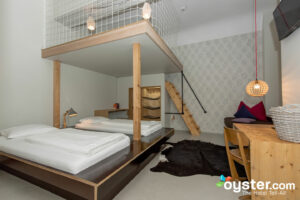 The Michelberger Hotel is a trendy, budget-friendly option set in a former warehouse in the Friedrichshain neighborhood. Most of the 119 rooms have spare, modern decor; the exception is the Gold Room, which is decked out in an opulent, romantic style. Some of the rooms have exposed cement, big windows, and open showers, while others have bunk beds and can accommodate larger groups. Higher-end rooms such as the Chalet and Gold Rooms come with better amenities and artistic decor. A big breakfast buffet (for a fee) is served daily, and food and drinks can be ordered from the outdoor terrace. Highlights at this quirky hotel include a stylish lobby full of books and magazines and a bar with live DJs. The local neighborhood is full of more restaurants, bars, and nightlife.
9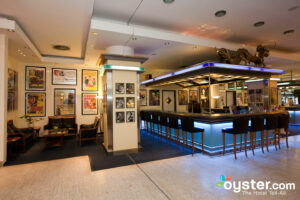 The Hollywood Media Hotel is a quirky, film-themed property right on Ku'Damm, a central shopping strip in Charlottenburg. Film posters, paintings, and statues cover the lobby, hallways, and elevators. While each of the 182 rooms is named after a different filmmaker or movie star, the decor is surprisingly simple. Plain, slightly old-fashioned rooms are big in size and on the verge of bland. Hotel perks include a breakfast buffet, small fitness center with sauna, and on-site restaurants. With a convenient location in the heart of Charlottenburg, this hotel is a good, quirky pick owned by a German film director.
10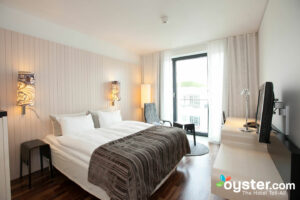 Located near a popular square with a variety of entertainment, dining, and shopping options, Scandic Berlin Potsdamer Platz is an upscale, chain hotel with 564 modern rooms. The hotel offers the staples of the Scandic chain including a 24-hour snack and coffee area, a fitness center, and children's play area. A breakfast, lunch, and dinner buffet is available for a fee, and the hotel has a modern, funky bar area with an à la carte menu. The hotel pays extra attention to sustainability, including an air-conditioning system that some guests may find to be inadequate.
11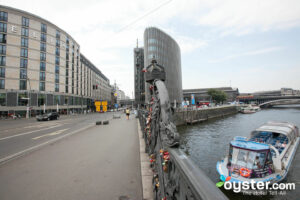 A good fit for business travelers, the Meliá Berlin is an upscale chain hotel with 364 rooms, located next to River Spree and close to a train station. The hotel has a tapas bar/restaurant, a separate restaurant serving international cuisine for lunch and dinner, and a breakfast buffet including hot and cold dishes for a fee. An exclusive floor that's suited to business travelers called "The Level" has its own reception, private lounge, and two computers with free Internet access.
12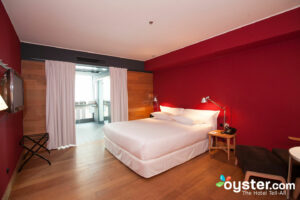 In a location convenient to accessing restaurants, night clubs, and transportation, the modern Casa Camper Berlin is an upper-mid-range, boutique property. Its 51 rooms offer trendy, industrial features like work table lamps on nightstands and steel pegs for hanging clothes. The hotel has a 24-hour lounge with free fruit, snacks, and non-alcoholic drinks as well as a bar working on the honor system. There's also a modern restaurant serving Asian cuisine.