Most Romantic Hotels in Bermuda
See All Bermuda Hotels
1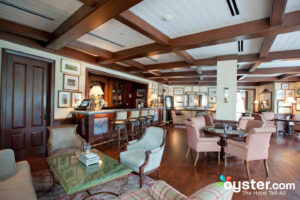 Rosewood properties are generally known for drawing an affluent clientele, and Tucker's Point is no different. As a result, you will pay the island's most expensive rates. But if you can afford it, you'd be a fool to pass it up -- no other property on the island has quite the sparkle and shine of this stunning 200-acre resort with immaculate grounds, four pools, four restaurants, a championship golf course, a private beach, a tranquil spa, and spacious rooms featuring million-dollar views.
2
This 96-room, 30-acre resort trumps almost every other resort in Bermuda as far as style and sophistication are concerned. Of course, you'll pay some of the island's highest rates to enjoy it. But with its two stunning pools, expansive couples-friendly spa, four private beaches, three restaurants, and a clothing optional sun deck, you might just consider it a worthwhile investment for a couple's retreat.
3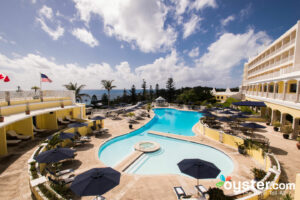 A tranquil spa, three restaurants, a beautiful pool, a half mile of private beachfront, and recently renovated rooms are among the perks at this elegant 50-acre resort. This hilltop property is one of Bermuda's best options, outdoing similarly priced resorts like The Reefs and Pompano Beach Club. The 98 rooms feature open floor plans with posh bedding, voluptuous soaking tubs, and enough space to hole up for a few days. The spectacular spa features Chinese, Ayurvedic, European, and Thai therapies, and specializes in local-inspired treatments; it has six treatment rooms, including two couples rooms, featuring private balconies with relaxation day beds.
4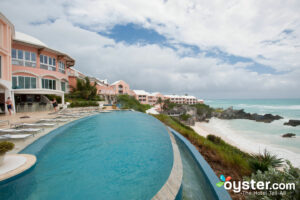 Location is everything at this cliff-top resort in Southampton Parish. Expansive views of the Atlantic Ocean dominate everywhere -- from the 65 rooms and 19 condos (all of which have ocean-view balconies) to the pool, private beach, and three restaurants.
5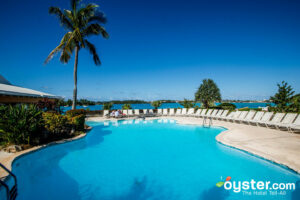 The private beach might be rocky and the rooms might be small, but lovely grounds and magical grottos give this 21-acre resort a special mystique of its own. And though its airport-side location isn't the best, an impressive roster of amenities -- including a small spa in the caves, basic fitness center, tennis courts, three restaurants, and two bars (including one poolside) -- makes for one of the island's best deals.