Best Value Hotels in Back Bay, Boston
Take a look at the best value hotels in Back Bay.
See All Back Bay Hotels
1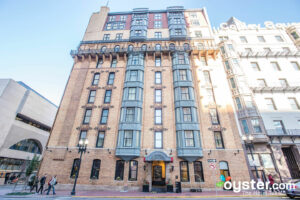 Courtyard by Marriott Boston Copley Square is a mid-range hotel in the heart of Boston's Back Bay. Dozens of restaurants, the Copley Green Line T station, and the Prudential Center shops are all within a five-minute walk. Decor is modern, though predictable, with the same bold-patterned wallpaper and cherry wood furniture found in many contemporary chain hotels. The hotel's 81 rooms are clean, bright, and typical of the Marriott brand, with free Wi-Fi, coffeemakers, comfortable beds, and mini-fridges. Aside from a tiny gym and a spacious lobby lounge and cafe, there are no other common amenities. The nearby Copley Square Hotel also has a rich history plus more local charm -- rates will also be lower.
2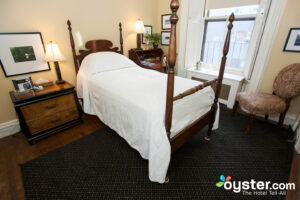 The lower-middle-range College Club of Boston offers a memorable way to stay in Boston's popular Back Bay. Many attractions are within walking distance, including Boston Common and the Hynes Convention Center. The quiet and classy boutique hotel occupies a brownstone dating back to 1864, which houses the nation's oldest women's college club. Interiors are filled with period antiques, including the 11 individually decorated guest rooms. Five of them are single rooms, which have shared bathrooms. Amenities are a bit sparse, with no in-room TVs or coffeemakers. The continental breakfast and Wi-Fi are free, but there's no on-site parking. Rates are affordable given the pricey Back Bay location, but the property often sells out. The budget Milner Hotel in the nearby Theater District usually has lower rates, though rooms are not as nice.
3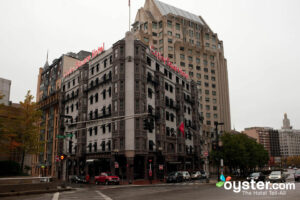 This historic 143-room hotel in Back Bay features cutely decorated (if tiny) rooms, a fun martini bar, free Wi-Fi, and free wine and coffee in the cozy lobby. The fitness center is small and the restaurant doesn't serve lunch unless requested for a private function. Low prices make it a solid value choice, however, especially for the central Copley Square location.
4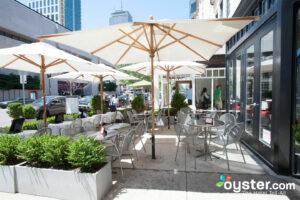 This compact but stylish mid-range boutique hotel is one of the best values in Back Bay. It's conveniently located across the street from the Copley T station, the Boston Public Library, and the Boston Marathon finish line, and just down the street from Copley Square. The 40 rooms are small but clean, modern, and utilitarian in an IKEA-eque fashion. Amenities are few -- just free Wi-Fi and a free continental breakfast -- but the trendy lounge and outdoor patio contribute to a lively atmosphere. Only the nearby (and no-frills) Hotel 140 offers comparable rates in the neighborhood, but most travelers prefer this hotel.
5
With 116 rooms, The Hotel Boston Buckminster is a mid-size, two-and-a-half-pearl property in an ideal spot in the heart of Kenmore Square -- close to Fenway Park, Boston University, and the House of Blues. Its retro character might appeal to history buffs or sports fans, but the shabby furniture and outdated amenities may be otherwise off-putting to guests expecting a modern hotel. Standard Rooms are particularly run down, but the suites were formerly college apartments and are in significantly better condition (some have full-size fridges and spacious living rooms) -- so it might be worth requesting an upgrade. If not, the similarly priced Verb Hotel is just as close to Fenway Park and has free breakfast and a trendier feel.
6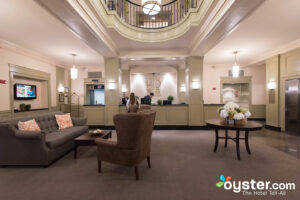 The 65-room, mid-range Hotel 140 is one of the most affordable hotels in Boston's central Back Bay neighborhood. It is set in a handsome 1920s building, and a 2016 renovation has modernized once austere decor, while maintaining plenty of the original period feel. Rooms all come with free Wi-Fi and premium cable, though they can be prone to noise. There's not much on-site besides the rooms, though the hotel does share the building with a decent Italian eatery. The only hotel in the area that's much cheaper is the Boston Common Hotel and Conference Center next door, but it's a budget hotel and much more dated. The Boston Park Plaza and Sheraton Boston Hotel have similar rates and far more features, but the massive size of those properties won't appeal to everyone.
7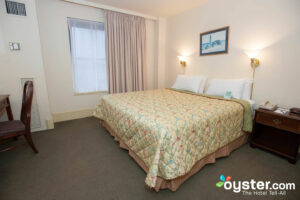 The budget Boston Common Hotel and Conference Center -- within a five-minute walk of the T at Back Bay and Copley Square, and within a 10-minute walk to the Boston Common, the Hynes Convention Center, and Newbury Street -- is one of the lowest-priced hotel options in Boston's historic Back Bay. Its public areas are traditional with chandeliers and seating areas, and its conference center can accommodate up to 500 people. But this no-frills hotel with no lounge, restaurant, or breakfast service looks dowdy, and its 64 rooms are small and dated, with worn carpeting. Many past guests have complained about subpar housekeeping and maintenance. As an alternative, budget travelers could check out with the Milner Hotel in the Theater District, which has comparable rates and better rooms.