Most Romantic Hotels in Armacao dos Buzios
Take a look at the most romantic hotels in Armacao dos Buzios.
See All Armacao dos Buzios Hotels
1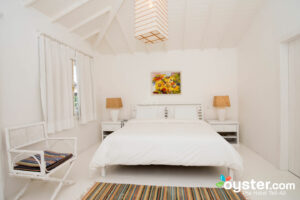 La Chimere has a cozy, home-like lobby-lounge and stylish white rooms filled with light. This mid-range pousada offers rooms in three categories, and some come with tiny balconies. All rooms feel bright and spacious, and feature stylish white walls, floors, and ceilings that are high and vaulted. Bathrooms are equally sleek, if small. The pousada features a small pool and an adjacent courtyard, but there's no park and the restaurant does not serve lunch and dinner. The Brazilian buffet breakfast is included in the room rate, however, and free Wi-Fi is available in all areas.
2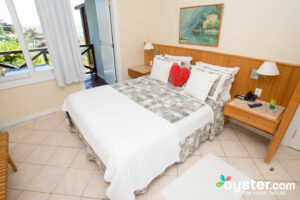 The Pousada Santorini is one of the most beloved options in the resort town of Búzios, thanks to its personalized and friendly service, spacious rooms with balconies, and superb hillside location. All of the nine total suites offer lovely views and fresh, simple decor -- but bathrooms in some are a bit dated and cramped. The swimming pool area has a tropical feel and also features phenomenal views. Adjacent to it is a small steam room. A home-style hot buffet breakfast -- which is included in the room rates -- is served in the Uruarama Café, which also offers meals until early evening.
3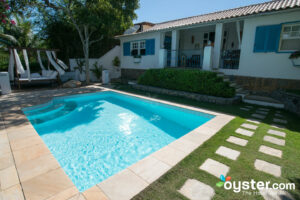 The Casa Buzios is a charming old villa (pousada) located a few steps from the Orla Bardot ocean boulevard that runs through downtown Buzios. The villa was constructed in the 1940s, making it among the oldest buildings in the area, and it features a more recently built annex. Each of the six guest rooms is unique in terms of size, shape, and character. The public areas are charming and offer an interesting combination of French and African artwork and memorabilia, along with contemporary art pieces. There's also a lush tropical garden with a pool. Breakfast, Wi-Fi, and parking are included.
4
On a hillside overlooking the Atlantic Ocean, Vila d'este has stunning waterfront views from its pool, whirlpool, on-site restaurant, and some rooms. With its lush grounds, this stylish upper-middle-range hotel feels like a romantic hideaway. The 19 rooms have airy, light decor, and a handful have ocean views. The on-site restaurant offers a free breakfast buffet and other a la carte meals. Despite the views, this property is not on a beach, and guests must travel to other beaches in the Búzios area in order to lay out on the sand. Travelers looking for an elegant beachside location in this neighborhood could try the Hotel Le Relais La Borie.
5
Hotel Le Relais La Borie's best feature is its superb location right on the famous Geribá; it's a gorgeous swath of sand in the middle of a tony residential neighborhood. This upscale hotel has 41 spacious rooms and suites with light, breezy decor; some have ocean views. Alas, not all look over the beach, and some bathrooms are in need of a refresh. A peaceful swimming pool, small spa, and beach attendant add to Le Relais La Borie's luxury. The well-regarded on-site restaurant serves a hot buffet breakfast and a la carte meals for lunch and dinner. Travelers may want to compare rates and amenities with the neighboring upscale Serena Buzios Resort, which has a more modern look.
6
The Pousada Boutique Bella Nina offers a tranquil, residential location near Brava and Forno Beaches. This value pousada (the term for a Brazilian guest house) is stylishly decorated, cozy, and feels like a home-stay. There are an outdoor pool and cheerful lobby with indoor and outdoor seating. Seven private guest rooms are spacious and decorated with romantic florals, some come with balconies, and some have distant ocean views. Breakfast is included in the room rate, and Wi-Fi is free in public areas, though most rooms don't pick up the signal.
7
The Pousada Bucaneiro is a romantic, mid-range option in a quiet residential area that's still within walking distance of beaches and downtown Búzios. The pousada offers 20 spacious and bright Standard and Superior Rooms, the latter come with cozy verandas, though bathrooms are a bit small. Features include tasteful and elegant public areas and a beautiful tiered swimming pool surrounded by blooming frangipani trees, bougainvilleas, and a massage tent. Brazilian breakfast is included in the room rate and free Wi-Fi is available throughout the hotel.
8
The upper-middle-range Pousada Bahiamarela has a picturesque location on a hill overlooking João Fernandes beach. The pousada (Portuguese term for a guest house, but is actually a small hotel) features a spacious lobby with locally made furniture. 26 bright rooms are available in three categories. All come with unfurnished balconies and most have spectacular ocean views. The adjacent restaurant opens to the infinity-edge pool deck. A sumptuous hot buffet breakfast -- included in the room rate -- and a la carte meals for lunch and dinner are available. Other perks include a small spa, free (but spotty) Wi-Fi, and kayak rentals.
9
Corais e Conchas is a family-friendly option in Buzios, with generally affordable rates. This pousada offers two rooms for kids' activities, a well-equipped playground, children's pool, nursing room, and even a kitchen for parents. Some of the 38 spacious and air-conditioned rooms come with hot tubs and/or balconies. However, some of the in-room decor looks dated, particularly in rooms housed in the older part of the hotel. Those wanting something more modern should request a room in the new annex, added in 2012.
10
The Azeda Boutique Hotel is a popular mid-range hotel located a five-minute walk from the picturesque João Fernandez beach. The boutique hotel offers 18 clean and pleasant guest rooms in three categories and most come with furnished balconies -- though maintenance issues have been reported. The public areas are a bit more stylish with colorful furniture and an arty vibe. A semi-outdoor restaurant overlooks the chic pool and serves a free breakfast buffet, and a la carte lunch and dinner. A small fitness center and steam room are nice bonuses, as are free parking and Wi-Fi.
11
The fun and funky Aquabarra Boutique Hotel & Spa is located a five-minute walk from the famous Geribá Beach and a 10-minute drive from Búzios downtown. This mid-range property provides colorful and eclectic public areas decorated with an exceptional collection of furniture, paintings, carpets, masks, and memorabilia from around the world. The 15 suites are spacious and individually decorated; each comes with a balcony or private patio and some have sea views. Breakfast, served in the Caetano restaurant, is included in the room rate. Fun extras include a spa, cinema room, free beach chairs, and an outdoor pool. This is an excellent pick for couples who care about style and convenience near the beach.
12
The Pousada Pedra Da Laguna is located in a quiet area just a short walk from the Ferradura beach. This upper-middle-range pousada offers simple, modern rooms with romantic touches, such as canopied beds and balconies or patios in all. The pool area is particularly attractive, and a tennis court and Asian-inspired Ananda Spa can also be found on-site. A Brazilian buffet breakfast is included in the room rates, and Wi-Fi is free in all areas. However, the hotel is about 10 minutes from town by car, so some may choose to stay in a more centrally located downtown hotel.
13
The Costa do Sol is an elegant and well-managed boutique three-and-a-half pearl hotel in the upper Brava hills area. It offers 40 units, ranging from spartan, basic rooms all the way up to stylish Personalite Suites. The hotel is mainly frequented by couples and is a popular venue for local weddings. The public areas are full of beautiful artifacts, artwork, and paintings. The hotel offers two pools: a smaller one that's only for Personalite Suite clients and a larger one that's open to other guests. There's also a romantic spa and modern fitness center on-site.
14
The Rio Buzios Beach is a popular family-friendly hotel located a two-minute walk from the João Fernandes Beach. This upper-middle-range hotel offers clean and simple rooms with rustic furniture, small bathrooms, and balconies. The Corcovado Restaurant serves a Brazilian buffet breakfast with made-to-order omelets, which is included in the room rate. The hotel offers also half and full board meal plans. A good size outdoor pool, fitness center, and a steam room are nice bonuses. Wi-Fi is free in all areas and the hotel provides free parking.
15
Porto Bay Buzios, an upper-middle-range hotel, is located halfway between downtown and Brava beach. The neighborhood is mainly residential, with some pousadas (guest houses) and hotels as well. Porto Bay offers clean, sleek-lined suites in three categories. All come with spacious, furnished balconies, as well as modern bathrooms. There is an inviting pool area surrounded by tropical flowers and some tall imperial palms, a small massage area nearby, and a tiny open-air gym. A buffet breakfast is included in the rates, and Wi-Fi is free in public areas.