Best Party Hotels in Cancun
Some travelers head to Cancun to relax on beautiful white-sand beaches, while others are more interested in the city's notorious nightlife. In fact, this Mexican getaway is often synonymous with hardcore partying — especially during the U.S. spring break season. And while there is a quieter side of Cancun to be found if you know where to look, we're here to help travelers who like to live it up whether they're next to the pool or raving in a nightclub. After visiting well over 100 of the best hotels in Cancun, we've found the coolest options for travelers looking to have a good time — so read on for the best party hotels in Cancun.
Editor's Note: If you don't know where to start planning your trip to Mexico's Caribbean Coast, check out our cheat sheet to Riviera Maya's cities and towns to figure out exactly where you should spend your Mexican vacation.
See All Cancun Hotels
1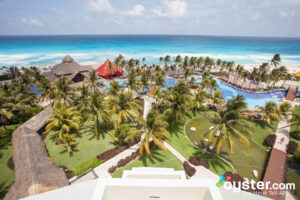 Situated right in the heart of the Cancun Hotel Zone, this gargantuan resort has a great location for travelers looking to get out and explore Cancun's intense nightlife. However, there's also plenty to do on-site at the Grand Oasis Cancun if you've come to town to party. Along with 14 bars, the resort features an outdoor pool that stays busy (and can even get wild) plus plenty of entertainment options, with lots of live shows, bands, and DJs alongside a generous all-inclusive drinks package. A hotel for travelers with kids, this is not, but if you're after a one-stop party spot, the Grand Oasis Cancun is your pick.
2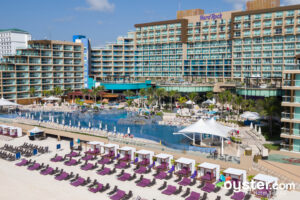 Although the Hard Rock Cancun attracts travelers of all stripes, from families to older couples, this rock-themed mega-resort doesn't skimp when it comes to partiers. Smack in the middle of the Hotel Zone, the Hard Rock offers all-inclusive drinks and meals (with booze served around the clock) along with two swim-up bars and a great selection of live musical entertainment. We especially love the Hard Rock infinity pool and its stunning beach views. While the Hard Rock Cancun doesn't have a reputation as being peaceful and is meant for energetic getaways, you'll also find space to get away from it all here. If you want to rest up between your partying sessions, the Hard Rock spa is excellent, and there's plenty of beach space for everyone.
3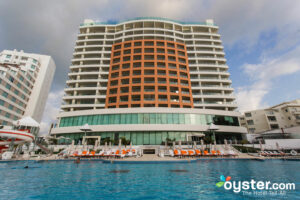 If you're looking for day-and-night entertainment, look no further than the Beach Palace, which offers all sorts of fun throughout the day along with three pools (and three swim-up bars). It has a great location right in the heart of the Hotel Zone, though with all-inclusive alcohol you may not want to venture far from the resort. Even the pleasantly attractive rooms are equipped with liquor racks (plus double whirlpool tubs that are ideal for throwing your own private parties). The beach is especially pretty here and there are numerous dining options built into the Beach Palace all-inclusive rates.
4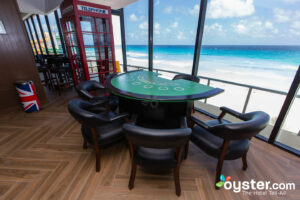 A child of the '90s, the Crown Paradise Club Cancun is Cancun's go-to for a budget-friendly all-inclusive vacation. With nearly as many bars as restaurants, this hotel makes sure you never have to walk too far to get a drink. That starts from the moment you enter the resort and get your welcome drink, right through the lobby bar and outdoors at Las Brisas Bar (by the main pool), the adult-only swim-up pool bar, and the Beach Bar (though the latter is only open weather permitting). In the evening, there's a fun British pub called Trafaglar's with pool tables, plus the attached nightclub Disco Nitro, which is only open to those 18 and older (is that's not enough, you'll find the aptly named College Bar at Crown Paradise Club Cancun as well). Although the space is open to all ages, much of the younger college-aged crowd can be found lingering here -- day and night. And we have it on good authority that even though opening and closing times are posted, this bar is usually open 24/7. Keep in mind that the resort does also cater to families as well and features a water park for kids.
5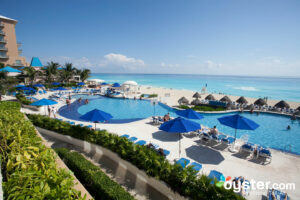 This adults-only, all-inclusive resort is small by Cancun Hotel Zone standards — with only 214 rooms — and though it lacks some of the party-focused perks of larger, more raucous resorts nearby, it definitely gets lively and attracts plenty of repeat customers. The pool area is made all the more upbeat thanks to frequent drink service (and great Caribbean Sea views), though after sundown, the Tiki Bar can get pretty wild. Golden Parnassus Cancun rooms are pleasant, if not exactly contemporary, and all have furnished balconies; book yourself a club-level room for a double whirlpool tub. While it's not as big as the Crown Paradise Club Cancun or Hard Rock Cancun above, it still can get a bit rowdy (especially when the occasional body shots are the name of the game at the Tiki Bar), so guests looking to relax in their room should ask for a higher floor on the lagoon side of the resort.
6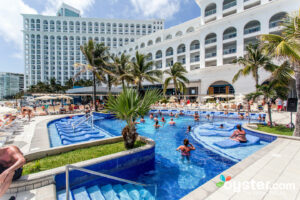 Situated right on the white-sand beach in the center of the Hotel Zone, the Mediterranean-inspired Hotel Riu Cancun is conveniently close to area nightlife and offers plenty of on-site options for guests who don't feel like venturing far. That includes live entertainment every night of the week as well as an on-site nightclub that makes this popular with a party-minded set. There's a wide range of restaurant options available along with a sports bar that's open 24 hours a day along with plenty to do here day and night, with a spa, water sports, tennis, and three freshwater pools. Expect in-room liquor dispensers as well, in case your favorite Riu bar seems too far away for a drink.
7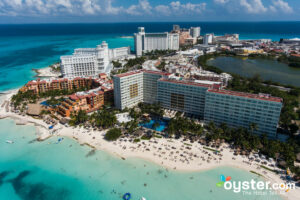 Dreams Sands Cancun Resort caters to families and partiers alike, making it a good option for mixed groups in particular. The vibe here is easygoing: the restaurants don't require reservations and nobody has to wear wristbands. The resort's location in the heart of the Hotel Zone, within walking distance of spots such as Coco Bongo and Mandalay Beach Club, makes it a good base for experiencing Cancun's famous nightlife. And if you prefer to stay closer to your room, there are plenty of bars at the Dreams Sands Cancun, including a beach bar and a swim-up option. Even better? Unlimited top-shelf liquor is included in the Dreams Sands Cancun all-inclusive plan.
8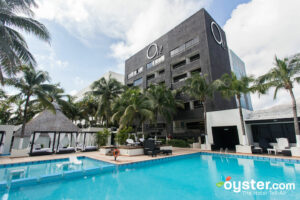 If you're looking for a budget-friendly party spot and prefer to stay in Downtown Cancun rather than the raucous Hotel Zone, Oh! The Urban Oasis is a good choice. You'll get a good bang for your buck here: the rooms and facilities are sleek and modern and there's a 24-hour art gallery and free parking plus a pool and a fitness center. For partiers, the big perk of staying here is that it's situated stumbling distance away from Crazy Hot Coyote, with its regular cabaret-style shows. Just keep in mind that you'll have to travel around 20 minutes to reach the beaches of the Hotel Zone and it's wild nightclubs.
9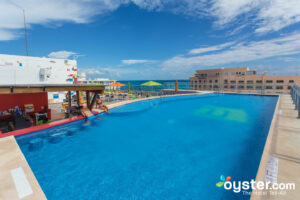 Situated inside the Cancun International Convention Center in the heart of the Hotel Zone, the Aloft Cancun offers good value for travelers who want easy access to Hotel Zone nightlife but don't want to spend extra for all-inclusive packages. Live music takes place in the lobby here on most evenings, and there's a rooftop terrace with a pool for those who want to pre-game at the hotel. As an added perk, all guests of the Aloft Cancun get free access to the Mandala Beach Club (a five-minute walk from the hotel). Like all Aloft properties, the Cancun outpost is a great party option for travelers who like to have a good time within reason — don't expect shots until dawn here (it's not that kind of place at all).
10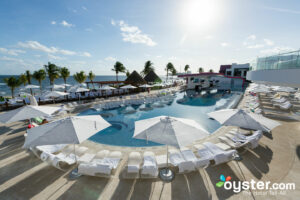 11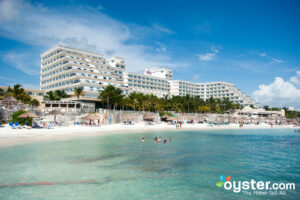 Modeled after Mayan pyramids, the Riu Caribe all-inclusive resort is a bit far from the heart of the Hotel Zone nightlife scene to get to on foot, but it offers plenty to keep partiers entertained right on the property, with liquor dispensers in rooms and free-flowing alcohol available 24 hours a day and evening shows. There's plenty to do during the day, too: guests can lounge on the white-sand beach in front of the resort or take advantage of one of the free daily scuba classes offered in the hotel pool.