Best Value Hotels in Cape Cod
Take a look at the best value hotel picks in the idyllic East Coast vacation spot.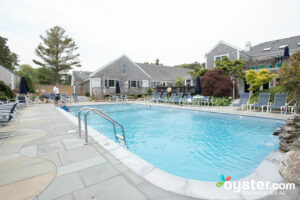 At Pleasant Bay Village, six acres of beautifully landscaped grounds -- including a koi pond -- surround several classic Cape Cod buildings with gray cedar shakes shingle siding. All 58 rooms include air-conditioning, coffeemakers, mini-fridges, outdoor sitting areas, and free Wi-Fi and parking (each room comes with an assigned on-site parking spot). Decor throughout the property is dated, but the facilities -- including a large outdoor pool, freeform whirlpool, and self-service laundry area -- are well-maintained. Food doesn't come standard with the room rates, but made-to-order breakfast and lunch are available from the restaurant, and guests are generally happy with the food (especially the blueberry pancakes and French toast). Note that Pleasant Bay Village is only open April through mid-October.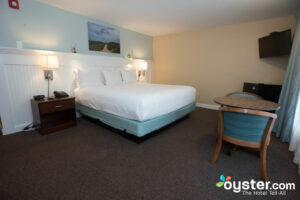 White clapboard siding, blue shutters, and outdoor hallways give the seasonal Cape Colony Inn a quaint motel appearance. The mid-range property is two blocks from the beach (not within walking distance of downtown), and offers outdoor amenities like barbecue grills in a picnic area, lawn sports, and a heated outdoor pool. There's no full restaurant inside, but a free breakfast is served in the lobby breakfast lounge. The 57 beach-themed rooms have flat-screen TVs, mini-fridges, microwaves, and Keurig coffeemakers. The layout of suites varies; some have beds in two rooms, while others are one-bedrooms with separate living rooms that have sofa beds, wet bars, and large refrigerators. All rooms have free Wi-Fi, and parking and and loaner beach chairs (if available) are also free. Note Cape Colony Inn's average rates are a good bit lower than Pleasant Bay Village's.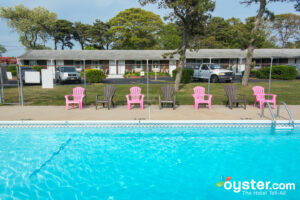 The 32-room Chatham Motel is a quaint value hotel with a friendly staff. Surrounded by pine trees, the family-run property has an outdoor pool, a patio, and playground. Simple and clean interiors create a welcoming atmosphere in the rooms, most of which are on the ground floor and have flat-screen TVs, AC, mini-fridges, irons/ironing boards, coffeemakers, and one king or two double beds. (No free in-room Wi-Fi here, like at Pleasant Bay Village and Cape Colony Inn.) Furnishings aren't fancy, but they're well-maintained and include low-pile carpeting or wooden laminate floors, light wooden furniture, and neutral or blue textiles. Some rooms have microwaves and/or Keurig coffeemakers. Note that pets aren't allowed here; those traveling with pets should try Cape Colony, which has dog-friendly rooms (fee), or -- even better -- Pleasant Bay Village, which has six pet-friendly rooms with no additional fee.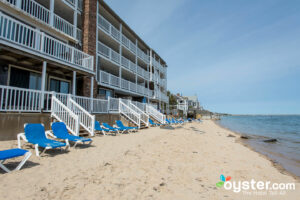 The 88-room Surfside Hotel & Suites is a dog-friendly oceanfront value hotel on a private beach. In addition to beach access, the hotel has a saltwater heated pool and a fire pit with drink service, plus a casual bar. Its rooms are split between two buildings, and all feature contemporary furnishings, flat-screen TVs, mini-fridges, microwaves, coffeemakers, and bathrobes. Some units show signs of wear and tear, but nothing serious. The most desirable rooms have balconies or patios that overlook the ocean, while other rooms face the outdoor pool, fire pit, or the street and can be noisy at times. Rooms here are small, so travelers wanting to spread out could go for one of the one- and two-bedroom apartments (which feature kitchens, sofa beds in living rooms, and washer/dryers) or consider the non-oceanfront Chatham Motel, where rates are understandably cheaper. Though Surfside's rates are higher, they do include Wi-Fi, breakfast, and parking.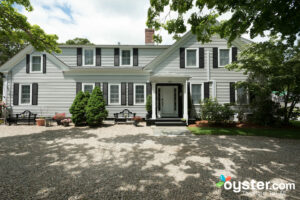 The rooms at the Platinum Pebble Boutique Inn are among the island's most stylish and luxurious, but they come at a surprisingly fair price -- due to the fact that the inn isn't located right on the water. But for guests who don't mind sacrificing the waterfront location of Surfside, this is a great pick -- and it's still within a three-minute drive to the beach. The eight units are thoughtfully outfitted -- not only with flat-screen TVs, bathrobes, coffee/tea facilities, and free Wi-Fi -- but also selfie sticks and multi-device chargers. These fun extras and indicative of the level of attention to detail guests can expect throughout their stay. So is the fact that guests can enjoy their free breakfasts poolside or in their rooms.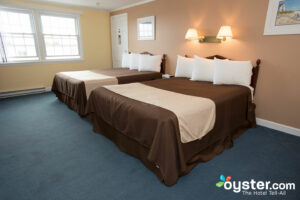 The 19-room Cape Cod Harbor House Inn is a budget motel popular with vacationing couples and families. (Its location within walking distance of Hyannis harbor and the ferry terminal makes it a great pick for those exploring Cape Cod and the nearby islands of Nantucket and Martha's Vineyard.) Each room has a fully equipped kitchenette, air-conditioning, and a flat-screen TV. However, rooms are not well-insulated from noise and guests staying on the first floor can be disturbed by the sound of people walking on the hardwood floors above. Breakfast is included in the room rates, and there is free Wi-Fi and parking in the motel's parking lot. The beachfront Surfside has more features, including a saltwater pool and a lobby bar, but its rates can be nearly twice as high as the ones here.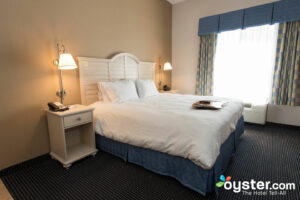 Hampton Inn and Suites Cape Cod - West Yarmouth is a family-friendly vacation hotel with business amenities. It's not within walking distance to a beach, but there are many on-site features to make up for this: an indoor and an outdoor pool, a small arcade, a fitness center, and free shuttle that goes to Hyannis Inner Harbor (with one-hour ferry rides to Martha's Vineyard or Nantucket). And the beach is only three minutes away by car. The 136 rooms are refreshingly modern (a real boon in Cape Cod, where many of the properties are outdated), and have amenities like mini-fridges, microwaves, coffeemakers, and free Wi-Fi. Room rates include the standard Hampton Inn buffet breakfast, which has a range of hot and cold foods and a make-your-own-waffles station. Those looking for budget accommodations with kitchenettes could try Cape Cod Harbor House Inn.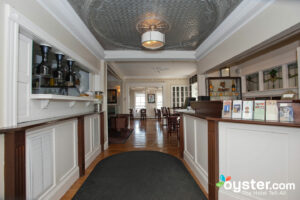 For the most part, this upscale inn and spa is charming and attractive -- but room decor is underwhelming when compared to competing properties. Plus standard rooms are tiny -- under 200 square feet -- but they're priced right for guests willing to trade space for the inn's notable freebies. Namely: free hot breakfast, free wine happy hours, and free access to the mineral soaking tub, steam room, and sauna at Shui Spa. And those on a looser budget could always book spacious higher-level rooms, which also come with added extras such as fireplaces, decks, and whirlpool tubs. Note that Crowne Pointe does not allow guests under 16; families could consider the kid-friendly (and less expensive) Hampton Inn and Suites Cape Cod as an alternative.
This quaint bed-and-breakfast is one of the best deals in Provincetown, with a can't-be-beat location and some great perks. The eight rooms are rustic and cozy (with fireplaces), and have amenities like flat-screen TVs and free Wi-Fi. Free afternoon treats like wine, lemonade, and cookies, a delicious free daily breakfast -- and free parking in Provincetown (a rarity) -- make this a stand-out value pick. Crowne Pointe is also in a historical building, but it has features not found here (like a spa, pool, and restaurant).