Most Romantic Hotels in Capri
Looking for a place to honeymoon, celebrate an anniversary, or simply add kick up the romantic spark? You pretty much cannot go wrong with Capri. You could go wrong with your hotel there, though. We're guessing you're in the market for a little bit of privacy, and don't want to end up somewhere that's packed with island-happy vacationers. Here are our top picks for Capri's most romantic hotels — think secluded clifftop villas and intimate, elegant hideaways. Take a look and get inspired!
See All Capri Hotels
1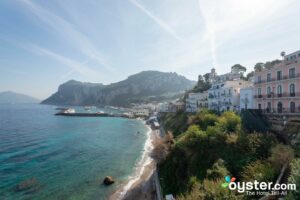 The J.K. Place Capri is an intimate hideaway with signature cocktails, poolside spa treatments, and panoramic views. Despite being on the main road to Anacapri, it feels private. The gorgeous hillside property combines elegance and a touch of avant-garde quirkiness, as is evident with its high-end Florentine furniture juxtaposed with zebra striped footstools. Its 22 guest rooms and eight suites, all with sea or garden views, are large, clean, and beautifully decorated in classic Capri blue, white, and coral hues, with comfortable canopy beds and black-and-white photographs on the walls.
2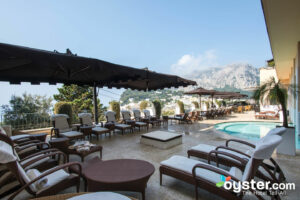 Designed to make guests feel as if they're staying in the home of an avid traveler, the luxurious Capri Tiberio Palace has cultivated, worldly decor. Fresh and homey-but-chic rooms, some with stunning sea views, are individually decorated with vintage-inspired furnishings and treasures ranging from maps and globes to natural coral and exotic statues. The restaurant has a colorful, indoor dining room as well as an outdoor terrace with amazing views of the massive hills and vast sea, while the indoor/outdoor pool has a Roman bath-like look with archways and columns, plus a surrounding terrace with sea-facing lounge chairs.
3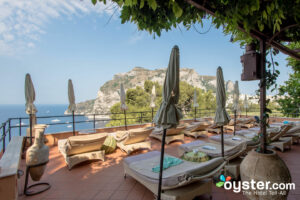 Romantic and refined, this clifftop villa hotel has a storied history: Originally conceived as a private home in 1923, the upscale property was built on the suggestion of French architect and pioneer of modernism Le Corbusier. Reachable only on foot, it is a bit of a trek from the town center (it's located on the southern outskirts of Capri town), but the setting is peaceful and offers some of the best views on the island. Most of the 44 rooms have lovely views, and are appointed with traditional but fresh-looking decor and such amenities as minibars, free Wi-Fi, flat-screen TVs, and marble bathrooms with large walk-in showers and Ortigia bath products.
4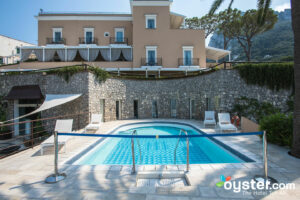 Villa Marina Hotel & Spa is popular with newlyweds for its beautiful atmosphere and romantic sea views. Hammocks tied between palm trees and chairs sitting under vine-covered pergolas offer lovely places to relax and enjoy the scenery. Manicured hedges and low stone walls add appeal to the grounds as well, and sea views are available from a variety of locations including the pool area and the outdoor dining area, a rustic space with a thatch ceiling and tropical fans. While the 21 attractive rooms vary in decor (some have romantic appeal with four-poster beds and rich green or red drapery, others have sea motifs that include pillows and closets covered in seashell and coral patterns), they all have flat-screen TVs with pay-per-view channels, minibars, and free Wi-Fi.
5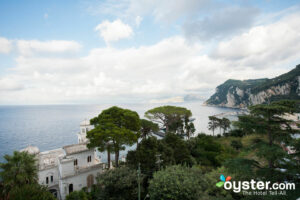 This embellished, Art Nouveau retreat is high on romance -- and history: Its site once held an ancient Roman villa (an original Roman column remains at the hotel's entrance), and the building dates back to 1906. The 11-room villa is brimming with gorgeous furnishings and period artwork, beautiful landscaping, and plenty of spots (including hot tubs) from which to enjoy the spectacular sea views. Amenities and decor range from room to room, but all have a beautiful Art Nouveau style with Mediterranean accents, like elaborate mosaic-tile floors in the Caprese colors of blue, gold, and white (some are handpainted). The Hotel Excelsior Parco is located halfway between Capri's popular Piazzetta, the center of town, and the port of Marina Grande, where the ferry from Naples arrives.
6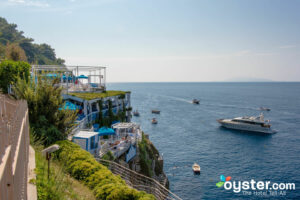 Vaulted ceilings and arches give this stylish, 79-room luxury property an open atmosphere that's reminiscent of the 1800s, but one that's abounding with modern art (an oversized bronze helmet sculpture, mannequins climbing out of canvases, a rowboat with TVs displaying ocean scenes). Other distinct artistic touches include a vine-blanketed entrance featuring a walkway decorated in white sculptures, gold decor set against whitewashed interiors, and themed suites that are dedicated to luminaries like Andy Warhol and Marilyn Monroe. Overall, rooms are spacious, bright from natural light, and sharp, with a grayscale color scheme; many also have balconies or terraces that overlook the sea or hillside. Guests can enjoy an indoor pool, hot tub, steam room, the Capri Beauty Farm spa, and access to a multi-level beach club.