Best Value Hotels in Casablanca
Whether you want a charming riad-style stay in the city center or a contemporary resort by the ocean, there are Casablanca hotel options with reasonable rates and free Wi-Fi.
See All Casablanca Hotels
1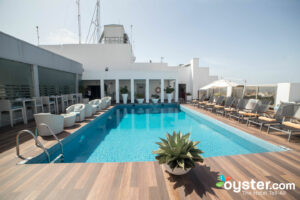 The 184-room Movenpick Hotel Casablanca is an upscale property with competitive rates and a central location in the business district. The hotel has 184 rooms starting at 290 square feet and equipped with either a king- or queen-size bed, or two twins. All rooms have flat-screen TVs, minibars, safes, electric kettles, air-conditioning, and free Wi-Fi, but some guests have complained of spotty service. The hotel's rooftop area is packed with great amenities, including a small but lovely pool, a bar with a sushi menu, a fitness center, and a spa. The main restaurant serves Moroccan and international cuisine in a stylish dining room with a black and white color scheme, and XO Lounge has live music several times a week.
2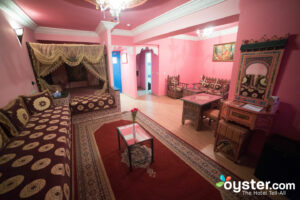 The 55-room Moroccan House has the atmosphere of a traditional riad and features a distinctive Moroccan aesthetic, with elements like Moorish arches, mosaic tile, Berber rugs, and painted doors. It's one of the best hotels in Casablanca, especially in its price range (starting rates are about half the ones at Movenpick). It lacks Movenpick's pool and spa, but it does have a sauna, hammam steam room, and Moroccan restaurant with breakfast buffet for a fee. Rooms offer Moroccan charm but are a little tired and need refurbishment, and past guests have experienced noise issues. Wi-Fi is free throughout. The hotel is located about an eight-minute walk from the Casa Port train station and a 20-minute walk from the main entrance of the Old Medina. Travelers looking for a property with a pool could try the Casablanca Le Lido Thalasso & Spa, though rates are slightly higher.
3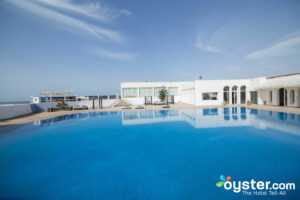 Casablanca Le Lido Thalasso & Spa is an upper-middle-range tourist hotel in Casablanca's vibrant La Corniche area. It features an oceanfront location, but does not have its own private beach; a public beach is less than a five-minute walk east. Le Lido has 187 contemporary rooms and a wide array of facilities, including a thalassotherapy spa, two outdoor pools, several restaurants, and a nightclub. Some rooms could use a renovation, and there are fees for use of the sauna and breakfast, but the hotel is a good choice for travelers who want an oceanfront La Corniche location, pools, and a spa. Self-parking and hotel-wide Wi-Fi are both free. Rates are generally higher than those at Moroccan House, but lower than Movenpick's.