Most Romantic Hotels in Lloret de Mar, Costa Brava
Take a look at the most romantic hotels in Lloret de Mar.
See All Lloret de Mar Hotels
1
The four-pearl Sant Pere del Bosc Hotel & Spa offers a relaxed and elegant atmosphere among the forests above Lloret de Mar. The Catalan monastery-like hotel is a 20-minute drive from the heart of Lloret del Mar and its beaches, making this a property that caters to travelers with cars who prefer to primarily relax on-site. The 19 elegant rooms are individually decorated and spacious with stocked mini-fridges and some sea views, but they lack coffee- and tea-making facilities. A restaurant with a continental breakfast buffet, pool, and spa allow guests to stay entertained without having to leave the property. Hotel Acacias Suites & Spa is a good alternative for couples who want a hotel with a gym and a location closer to the beaches and city center.
2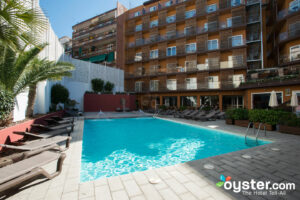 The four-pearl Alegria Plaza Paris is a fun and lively property that's within a seven-minute walk to the beach and Lloret de Mar. Its public spaces are attractive, and while some of its 146 guest rooms are sleek with flat-screen TVs, mini-fridges, and balconies, other rooms are dated. There's a full restaurant, bar, gym, pools, and hot tubs, plus a spa that comes with an extra charge. Overall, it's a good choice for couples and friends traveling together, but the young party crowd can get noisy at night. Note that this hotel closes in the winter. Travelers might want to compare rates at Gran Hotel Flamingo, which also has a fun, party-like atmosphere.
3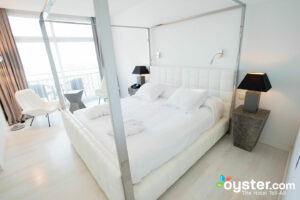 Gran Hotel Monterrey is an upscale property located within walking distance of the city center. Most of its 200 rooms feature flat-screen TVs, minibars, terraces with garden or ocean views, and wooden floors. But lower-category rooms (Comfort and Superior) are underwhelming for a hotel in this price range. Property highlights include a spa complete with hydrotherapy and treatment rooms; a pool surrounded by quiet gardens; a Mediterranean restaurant with outdoor seating; a casino; a beach club; and an outdoor lounge. While the hotel offers fitness activities during the summer months, it lacks a fitness center.
4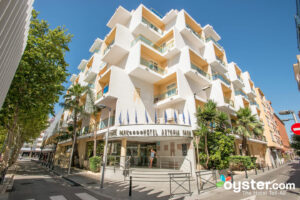 The Astoria Park is a small upper-middle-range hotel centrally located in Lloret de Mar. Room decor is a little generic and basic, but all units have balconies, flat-screen TVs and free Wi-Fi. Many feature jetted tubs. There's a solid buffet restaurant with outdoor seating, and a lobby bar with a few computers. But the highlight here is arguably the rooftop heated pool complete with a sauna, a steam room and two whirlpools. The hotel's proximity to the beach doesn't hurt either.
5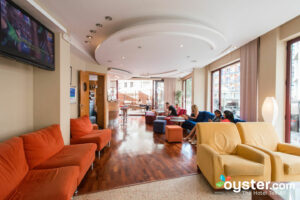 The upper-middle-range Hotel Acacias Suites & Spa has a walkable location on the edge of Lloret de Mar, five minutes from the beach. The hotel consists of two buildings -- the older building was last renovated in 2004, and its rooms and public spaces need an update. Standard Rooms include flat-screen TVs, air-conditioning, and mini-fridges. Apartments and Suites are in the newer part of the hotel, and come with full kitchens, whirlpools, and cardio equipment. Be aware that breakfast and in-room Wi-Fi come with a fee, and guests must pay to use the spa, whose features include an indoor pool, hot tub, gym, and sauna. A small aboveground outdoor pool is open in the summer. Standard Rooms can only be booked in the busy season (between spring and fall), while Apartments and Suites are available year-round. The on-site restaurant is open only in peak season. Travelers could also consider Hotel Anabel, which offers nicer rooms, free use of the spa, and free Wi-Fi throughout.