Best Value Hotels in Charleston
Oyster knows what travelers look for in their hotels. When we review properties around the world, we evaluate how every feature stacks up against the competition, from the rooms to the pools to the restaurants. So if you're planning a getaway and need a place to start, you've come to the right place. Take a look at our top picks for value in Charleston and get inspired!
See All Charleston Hotels
1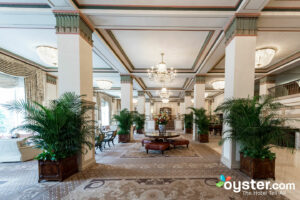 Still considered one of Charleston's grand dames, the historic Francis Marion Hotel has lost some of its luster -- the decor is a bit dated, the bathrooms are small, and the restaurant is only so-so. The hotel's location in historic downtown remains the highlight, and rooms come with comfortable beds, free Wi-Fi, and flat-screen TVs. For the price, you still get a lot for your money.
2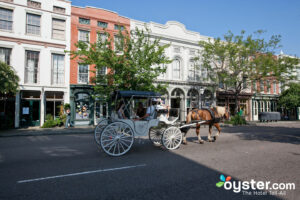 This 40-room B&B is quaint and affordable, with spacious rooms overlooking a lovely courtyard, traditional-style decor (dated for some), and no hotel-style amenities. It has a few interesting freebies, including Wi-Fi; breakfast; and afternoon cheese, wine, and fruit. Plus, it's situated in a gorgeous location in the heart of Charleston's Historic Downtown, within walking distance to major tourist attractions. It is not quite luxurious (though it has some nice touches), but it is definitely charming and cozy, and geared toward those who appreciate a B&B experience.
3
The 171 rooms of this former 19th-century railroad warehouse aren't ultra luxurious, but they're quaint, clean, and comfortable, with warm-colored walls, soft lighting, and mahogany furniture. The hotel's decor is showing signs of wear, though, such as nicks on the wood and some peeling paint. Located on the edge of the Historic Downtown, this mid-range property isn't in the midst of the action, but free trolley service nearby provides a fast way to travel to the heart of the district, and a few restaurants are within walking distance. Considering the relatively convenient location, this hotel offers great value.
4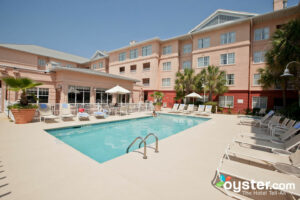 The mid-range Residence Inn is located on the west bank of Ashley River, a 10-minute drive from Charleston's Historic District. It has the standard amenities of a chain hotel of its category -- a smallish but modern fitness center, a heated saltwater pool, and generic decor with some colorful touches. But the spacious studios and suites, all with full kitchens and pull-out sofas, and the great freebies (hot breakfast, parking, Wi-Fi, evening shuttle to historic downtown) make this property a great value pick for those whose priority isn't being within walking distance to the attractions.
5
The 179-room Courtyard Charleston Waterfront is located on the Ashley Marina, right off the highway and next to the Medical University of South Carolina. Very little is within walking distance, and the contemporary room decor is pretty standard for a mid-range chain. But all rooms come equipped with microwaves and mini-fridges, and the waterfront pool with landscaped patio and marina views is a highlight.