Best Value Hotels in The Loop, Chicago
Take a look at the best value hotels in The Loop.
See All The Loop Hotels
1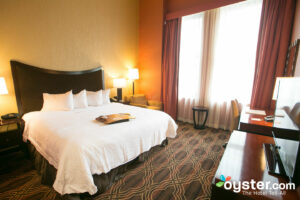 The 135-room Hampton Inn Majestic Chicago Theater District is a three-pearl chain property located in the historic Majestic Building and conveniently connected to the Bank of America Theater. A free breakfast, 24-hour fitness center, and room service partnerships with local restaurants are some of the features offered. Rooms have a warm vibe and include flat-screen TVs and coffee/tea makers, though some of the furniture is dated and worn. The location is prime -- a short walk from several sights and well serviced by public transportation. Travelers seeking a more contemporary, stylish hotel could try Wyndham Grand Chicago Riverfront, though rates tend to be higher.
2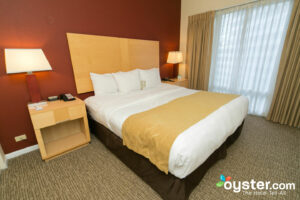 The three-pearl Comfort Suites Michigan Avenue/Loop offers an attractive package of spacious suites, good rates, and a great location that attracts a diverse mix of travelers. Its Loop location near the Chicago River is well serviced by public transportation and within walking distance to many attractions. Suites feature full kitchens and washer/dryer combos. Two-bedroom suites even offer a second bathroom, and some suites have private balconies. A free hot breakfast and free Wi-Fi enhance the hotel's appeal. Bathrooms are on the small side, however, and like many other hotels downtown, parking is expensive and off-site. But it's a package that's hard to beat and with only 119 units, it sells out often. A reasonable, mid-range alternative inside the Loop is the Hampton Inn Majestic Chicago Theater District, though rooms lack kitchens.
3
The mid-range Hampton Inn Chicago Downtown/N Loop/Michigan Ave is housed inside the historic Art Deco Chicago Motor Club building. Its 143 rooms are clean and comfortable, but on the small side, with mini-fridges, coffeemakers, and free Wi-Fi. Some have walk-in showers and sweet views of the Chicago River. Original architectural elements are showcased in the impressive lobby, which boasts a stylish bar. There's even a 1928 Model A Ford perched on a balcony at one end. Highlights include Hampton's popular free hot breakfast and fitness center. Rates are competitive with other mid-range Loop hotels, but for those seeking roomier accommodations with kitchens, there's Comfort Suites Michigan Avenue/Loop.
4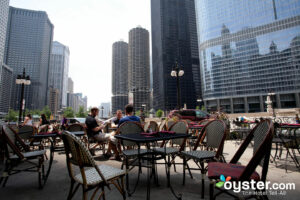 The midrange, 243-room River Hotel shares a building (and small, stately lobby) with the members-only Club Quarters hotel. Rooms are on the small side, but they're clean and modern, and some come with kitchenettes. The hotel is, as you might have guessed, right on the Chicago River on the northern edge of the Loop; rates are among the most affordable you'll find in this tourist-centric location.
5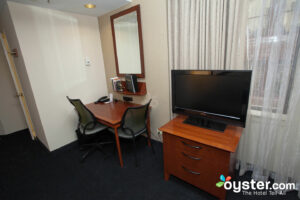 This midrange hotel, which shares a building with the members-only Club Quarters Central Loop Hotel, is a solid value in the center of The Loop, within walking distance of many tourist attractions. Rooms are small and a little generic, but modern, with flat-screen TVs and comfy beds (some come with kitchenettes). Nice freebies (coffee, newspapers, Wi-Fi) and the lively on-site gastropub are highlights, but don't expect too much in the way of service; with an electronic check-in and concierge services shared by both hotels, the hotel can give off a "do-it-yourself" attitude.