Best Value Hotels in Copenhagen
We're just gonna come out and say it: Copenhagen ain't cheap. Even cost-of-living-jaded New Yorkers and Londoners visiting the capital might do a bug-eyed double take when they see price tags and bar tabs. So it is with economy in mind that we gathered this list of Copenhagen hostels, mid-range hotels, and apartment-like suites that offer solid value.
See All Copenhagen Hotels
1
Located in a quiet, waterfront neighborhood a short metro or train ride from the city center, the three-and-a-half pearl Adina Apartment Hotel Copenhagen is an ideal choice for business travelers, independent travelers, those on longer visits, or anyone looking for affordable and independent lodging. Its 128 guest rooms are all fully outfitted apartments -- with everything from washing machines to full kitchens -- but the hotel also offers all the standard perks like an indoor swimming pool, fitness center, sauna, and bar and restaurant. The ferry terminal is just next-door, the Opera House is nearby, and the city center is a 10-minute train ride, or 15-minute bike ride, away.
2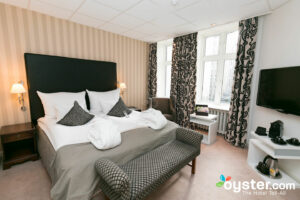 Rates at this mid-range boutique hotel are a good value for the location -- the heart of Copenhagen's hip Vesterbro area. The hotel has a quirky modern vibe with eclectic decor and bright accents, but otherwise offers few frills. There is little in the way of extra amenities beyond free Wi-Fi and some extras for an additional fee, such as a breakfast buffet. As is fairly typical for a three-pearl hotel in Copenhagen, guest rooms are small and simple but functional. Light sleepers should consider a courtyard-facing room that's higher up to avoid street noise. The Andersen Hotel Copenhagen is a similarly eclectic hotel in the same area, but offers a free breakfast buffet.
3
A better value than most city center hotels in its price range, the Best Western Hotel City is a mid-range hotel on quiet, picturesque street just a couple of blocks from Copenhagen's Nyhavn canal and the central Kongens Nytorv square. It has few amenities, but better-than-average decor, including mid-century Danish furnishing and portraits of jazz artists on the walls. The free buffet breakfast, free Wi-Fi, business center with two computers, and bicycles to rent round out the convenient-for-tourists facilities. Rooms are on the smaller side, but are slightly more interesting than the chain standard, and the location can't be beat.
4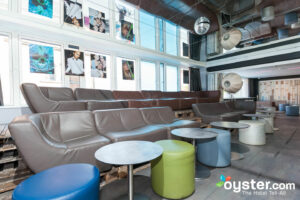 Geared toward young travelers, backpackers, groups of friends, and couples on a budget, the Generator is a modern, trendy, and affordable hostel in the heart of the tourist area. Stark but stylish rooms range from dorms with shared bathrooms to private rooms with en-suite bathrooms. Hostel life centers on a big chill-out area with lots of plush seating and extras such as foosball, a pool table, and even a photo booth. That said, the hostel has a bit of a party atmosphere -- travelers in search of something more subdued might want to look elsewhere.
5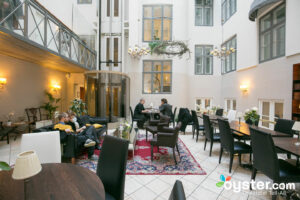 The 137-room, mid-range Hotel Neptune is located in central Copenhagen near the waterfront and just a four-minute walk from the popular Nyhaven area. Guests rave about Hotel Neptune's proximity to the sights, and those who don't mind a 20-minute walk may never need to use the nearby public transportation after their arrival. The hotel's decor is simple but tasteful, with a stylish atrium-style lounge and rooms that are tiny but comparable in size to other mid-range hotels. What extra frills the hotel offers, such as Wi-Fi and a breakfast buffet, generally cost extra. Guests should note that construction work on the street outside of the hotel is noisy during the week and will continue into 2016. Those looking for a few more amenities may want to try the nearby Copenhagen Admiral Hotel, which has an acclaimed on-site bar and restaurant plus free Wi-Fi.
6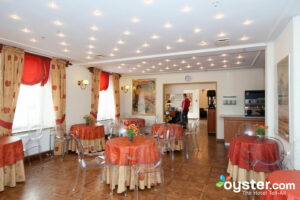 Located just a block from the main train station and just minutes from Tivoli, the Hotel du Nord Copenhagen is most attractive for its prime location and reasonable rates. Rooms are clean and basic, a bit tired, but they come with free Wi-Fi and coffee- and tea-making facilities. Rates usually include the breakfast buffet, but guests complain that the breakfast room is small and there can often be a wait. At the price tag, it's a great spot for budget travelers, couples, and small families. Note that the surroundings streets can be sketchy after dark.
7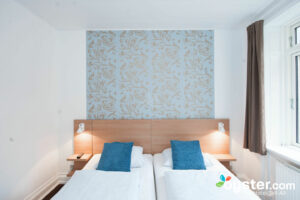 The 66-room Savoy Hotel sits on the edge of the Vesterbro District, within walking distance of Central Station and Tivoli Gardens. The comfortable rooms include large windows, and with flat-screen TVs, free Wi-Fi, and coffeemakers, cover the basics. The free breakfast is a nice touch, and bicycles can be rented. Guests may want to compare rates with the Ibsens Hotel, which charges for breakfast but has a few more on-site features, including a fitness center and three restaurants.
8
Low on frills and high on practicality, this 42-room budget hotel is in walking distance to a wealth of restaurants, shopping areas, sights, and public transportation. Rooms are comfortable for sleeping but are basic with neutral decor and some dated furniture. The hotel offers a free continental breakfast as well as free coffee, tea, and light snacks all day long.
9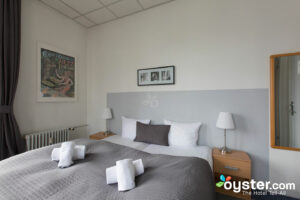 Located in the charming Nyhavn area right along the canal, the 30-room budget property Somandshjemmet Bethel offers a convenient base from which to explore Copenhagen's sights. Its historic brick building was once a charity home for fisherman; today, the Bethel operates as a nonprofit, and is home to Denmark's only Seaman's Church. The hotel's cafe serves a free breakfast buffet, and sells light snacks -- free coffee and tea are available at all times. Rooms, which include Singles and Family Rooms, are basic but spacious for a Copenhagen hotel in this price range, and corner rooms offer spectacular views of the canal. But some guests find the wet-room showers difficult to manage, and amenities don't include air-conditioning or coffee- and tea-making facilities.
10
One of the most affordable hotels in central Copenhagen, Hotel Nebo is popular with budget travelers just looking for a place to sleep and leave a bag while exploring the city. The hotel is half a block from the central train station (which can be seedy at night), and within minutes of Tivoli and other central sights. Rooms with private and shared bathrooms are available, and there's free Wi-Fi, a private courtyard, and a reasonably priced breakfast. It won't win any awards, but the price is hard to beat in a city as expensive as Copenhagen.