Best Cozumel Dive Resorts
For divers, Cozumel is about as close to heaven as you can get. The island is known for having some of the best diving spots in Mexico — if not the world — especially around Palancar Reef, about a mile offshore. Whether you're an experienced explorer or a newbie testing the waters for the first time, here are the best hotels on the island for diving.
See All Cozumel Hotels
1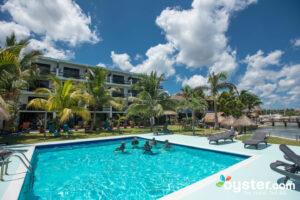 Overlooking the Caribbean Sea, this mid-range dive hotel caters to amateurs and experts alike, with dive packages, on-site certification, and a dive shop on the premises. The atmosphere is bustling with guests heading to or returning from a dive and chatting amicably about underwater creature sightings and sea conditions. Non-divers spend their time in a hammock or kayaking in the water in front of the hotel. Kids are welcome here, but the majority of guests are couples, dive groups, and families with older kids who want to dive. All 22 rooms have private balconies, mini-fridges, flat-screen TVs, and air-conditioning. Free breakfast is served in the open-air restaurant, and a la carte options are served late; live acoustic music is regularly performed.
2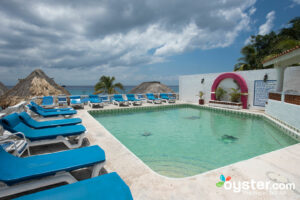 Scuba Club Cozumel was built in 1976 by divers, for divers. To this day, everything about the property -- from the on-site PADI training team and dive shop to the seven dive boats that depart directly from the pier -- is designed with diving in mind. Unsurprisingly, the vast majority, if not all, of the guests here are divers. Groups and singles are common, as are families with older kids who dive. There's an element of camaraderie, as guests generally dive on the same boat and eat meals around the same time at the one on-site restaurant, which overlooks the ocean. Though the hotel bills itself as all-inclusive, drinks and tips aren't included, and food quality varies. Blue Angel Resort is a nearby dive hotel with many of the same dive amenities, but better food and a more laid-back atmosphere (though no all-inclusive packages).
3
This secluded all-inclusive beach resort isn't a hard-core dive property like Blue Angel and Scuba Club, but its nonetheless popular with divers for its private beach with world-class scuba and snorkeling. (In fact, divers make up a large percentage of the clientele here.) Iberostar Cozumel is centered around its aquatic facilities, including two large pools and the private beach with its long pier and PADI-certified dive center. Guests can try a free scuba lesson in the pool, then follow up with lessons in the sea, if interested. More serious divers spend most of their stay taking advantage of the daily dive activities along the offshore reef, one of the world's best. All non-motorized water sports are included; guests can borrow kayaks, catamarans, windsurfers, snorkel equipment, and more, but only for an hour at a time, after which there is a fee. There are ecotours and underwater caves nearby; the concierge will arrange tours upon request.
4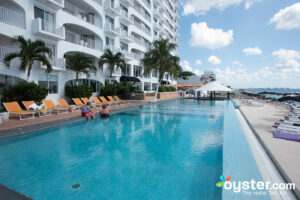 This multistory white beach hotel has a lot to brag about, including its prime waterfront location for snorkeling and an excellent on-site dive shop. Professional dive boats with PADI instructors depart from the hotel's beach, making safe diving a breeze. However, the hotel charges for Wi-Fi and is a 30-minute walk from San Miguel's downtown scene. Serious divers will be happier at Scuba Club, which has free Wi-Fi and is much closer to San Miguel (about a 10-minute walk).
5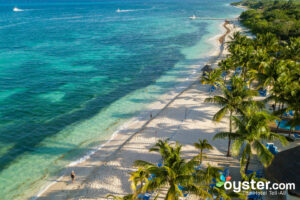 Located at the southwestern tip of Cozumel, Allegro Cozumel is situated on some of the nicest beaches on the island (with terrific snorkeling and diving) and near the diver's haven Palancar Reef. Allegro's on-site dive club plans excursions and offers instruction and certifications. Guests can even book a dive package that includes perks like one boat dive daily and special dive-themed rooms. On land, the hotel offers tennis and basketball courts, as well as four restaurants, five bars, and four pools. But if you want to take in Cozumel's famously beautiful blue sky and sea from an infinity pool, stick with the Coral Princess.
6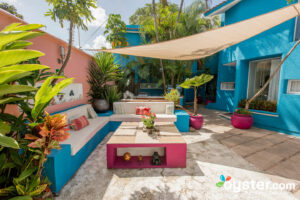 The laid-back, mid-range Villas Las Anclas is popular with divers and families, the majority of which are off exploring from early morning until late afternoon, returning to the hotel for a shower or self-catered dinner before heading back out. The seven individually decorated two-story villas offer the comforts of home, like kitchenettes, flat-screen TVs with cable, and built-in sofas. The swimming pool is on the small side and there's an adjacent shower and rack where divers can rinse and then dry their wetsuits. One small inconvenience is the lack of a restaurant, but the entire neighborhood is safe for walking and teems with local restaurants as well as dive shops and souvenir stores.