Best Resorts in Cozumel On the Beach
Cozumel is Mexico's largest inhabited island and a snorkeling lover's paradise, but it's not a place where hotels with proper sandy beaches are easy to come by. If Caribbean Sea access is important to you, read on for our top beachfront hotel picks in Cozumel. Not all have conventional sandy beaches, but many do, and others have excellent waterfront lounge areas with direct access to the ocean for swimming and snorkeling.
See All Cozumel Hotels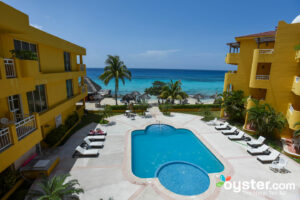 Few hotel beaches in Cozumel have walk-in entry, but the gorgeous beach at the 50-room Playa Azul Golf, Scuba, Spa does. The walk-in water is blue and clear and there's a small reef just off the shore, where guests can snorkel with fish and sea turtles. Unfortunately, snorkel gear costs extra to rent and the hotel doesn't provide any water toys like kayaks or stand-up paddle boards. Loungers are set up under thatch umbrellas on the stand, and drink and food service is available. A long pier juts out into the water for photo ops at sunset.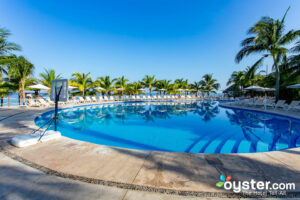 The all-inclusive Occidental Grand Cozumel is on the south end of Cozumel near the best beaches and reefs. The location is definitely part of what sets this resort apart. Slightly isolated thanks to its proximity to a nature preserve, the hotel has little around it except flora, fauna, and those gorgeous white-sand beaches. The hotel's own long white-sand beach is its biggest draw; it features palapas and sun loungers alongside typically calm water. Additionally, thanks to the resort's private pier, daily trips to some of the best diving reefs are only a walk-to-the-beach away.
Iberostar Cozumel is located on the island's more secluded southwestern shore. The private beach is rocky (so bring water shoes for wading), but a pier extends past the surf, and guests can use ladders to reach the water for swimming and world-class scuba and snorkeling. The offshore reef is one of the best in the world, making this a spectacular dive destination. The pools and beach are lined with palm trees, sunbeds, and shady palapas. It's worth noting, however, that these areas can get crowded and busy, and many guests complain that there aren't enough loungers to go around. Meanwhile, beach-lovers can find more hospitable swimming beaches within a short drive: San Francisco Beach is half a mile away, while Nachi-Cocom Beach Club, Palanacar Beach, and Paradise Beach are all under three miles.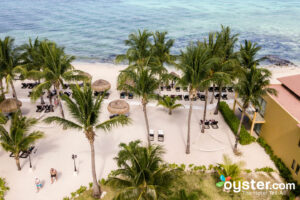 As you've probably surmised, Cozumel isn't known for its sandy beaches, but Secrets Aura Cozumel, an all-inclusive resort for adults on the island's southern edge, has a long private expanse of white sand that's set with neat rows of cushioned sun loungers. Shade is provided under thatched umbrellas and there's a long pier that juts out into the ocean, plus a hammock in the water. The ocean is calm and clear enough for snorkeling. Volleyball nets are set up and there's an area where guests can check out kayaks, life preservers, Hobie Cats, snorkel equipment, and paddles -- though these are timed during busy periods. Food and beverage service is offered on the sand, in keeping with the hotel's promise to serve drinks and food "anytime and anywhere." Guests can sign up for scuba lessons and excursions, for an added cost. Dive trips depart from the on-site pier. Families can try Secrets' next-door sister resort, Sunscape Sabor Cozumel.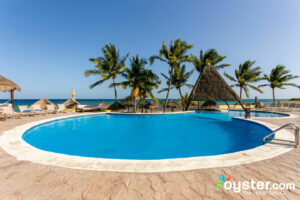 Melia Cozumel Golf - All-Inclusive is a small, mid-range hotel popular with families and low-key couples. It features all the basics of an all-inclusive, including two pools (an adults-only and a family-friendly one), several restaurants, a spa, and a fitness center. One of the hotel's best assets is its wonderful beach with fine white sand and turquoise waters. Those looking to go snorkeling might find better spots a little south of the hotel, but those who want to relax on a lounger will be hard-pressed to find a better beach in the North Hotel Zone.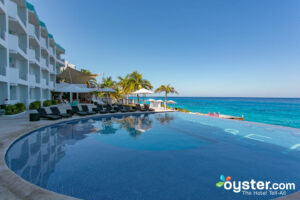 Hotel B Cozumel is one of the chicest boutiques on the island, featuring an almost South Beach vibe -- minus the crowds and the attitude. Everything here is laid-back and trendy, and relaxing amenities include a whirlpool overlooking the ocean, a small spa, and a beautiful lounge-style beach with cabana beds. The hotel is built on a small natural bay with great snorkeling, and though the beach is man-made, it has fine white sand, bright umbrellas, and wooden cabana beds that do not require reservations or extra fees. A few steps help guests get in and out of the turquoise Caribbean waters.
The beaches in northern Cozumel, where El Cozumelano Beach Resort is located, aren't as stunning as those on the eastern side, but they have great snorkeling and clear, turquoise waters. The narrow, long stretch of sand on which the resort is located is man-made, and a rock wall separates the sand from the sea along most of it (which is common on this part of the island). There are hammocks and loungers on the beach, and straw umbrellas provide some shade.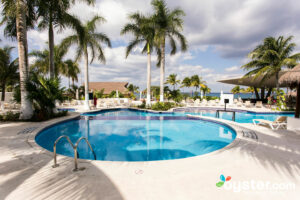 With its ultra-modern interior, Fiesta Americana Cozumel All Inclusive stands apart from some of the generic resorts of Cozumel. Instead of a sandy beach gradually stretching into the ocean, the hotel has a private boat dock with upscale wood canopy beds, over-water beds, a trampoline, and direct access to the ocean for swimming and snorkeling. This beach area is served by a beach bar, and a dive house offers diving and snorkeling.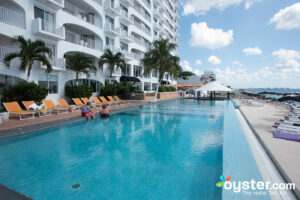 Just because the white sandy beach at Coral Princess Golf & Dive Resort is man-made doesn't mean it's not beautiful. In fact, the expansive stretch of sand (set with ample soft white loungers, pillows, and umbrellas) is the prettiest part of the whole property. Stairs and a railing lead into the crystal blue water that's teeming with fish and a popular spot for snorkelers. Because the beach is private, guests don't have to worry about being hassled by vendors.