Best Beach Hotels in Destin
If you're headed to Destin, it's likely to spend most of your time enjoying its beautiful beaches. Located on Florida's Emerald Coast, it has some of the softest white sand and clear, green water around. A popular vacation spot, tourists spend their days in and around the water. For the most stunning views of the water and easy access to the beach, consider staying at a hotel located directly beside the ocean. Check out our picks for the best beach hotels in Destin, Florida and get inspired!
See All Holiday Surf & Racquet Club Hotels
1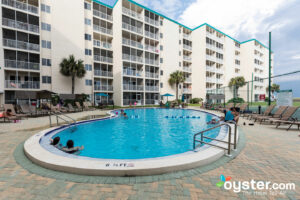 While it seems par for the course with condo accommodation in the area, Holiday Surf and Racquet Club's outdated decor looks as if it could belong in the home of someone's retired Floridian grandparents. However, the 86 large, individually decorated and updated (or not) units are perfect for long stays, privacy-seeking couples, young groups of friends, or families.Full kitchens, personal screened-in patios, and non-existent room service give guests maximum privacy and self-sufficiency. Direct access to sugar sand beach and gulf waters, on-site activities, and close proximity to local attractions ensure guests have plenty to do during their stays.
2
Located in Destin, Henderson Park Inn is a 35-room upscale boutique hotel that's known for its romantic appeal (only adults 25 and older are allowed), impeccable service, and all-inclusive amenities like free welcome drinks, breakfast, lunch, and happy hour. Rooms are luxurious, and many have views overlooking the beach and the Gulf of Mexico. Henderson Park Inn is situated directly on the beach on Florida's Emerald Coast and nestled next to Henderson Beach State Park, a 208-acre public park with white sand beaches and scenic shoreline.