Best Business Hotels in Destin
If you're heading to Destin, Florida for business, you'll likely want to tack on some vacation days to enjoy the wonderfully soft sand and clear, green waters that make up the area. Additionally, if you're heading to a convention or looking for a spot to host an event on the Emerald Coast, there a few things to consider before booking a hotel — meeting spaces on the property, availability of Wi-Fi, and overall atmosphere. After visiting the city's top hotels, we evaluated each to see which are best geared toward the business traveler. Take a look at our list of the best business hotels in Destin, Florida and start planning your trip!
See All Holiday Surf & Racquet Club Hotels
1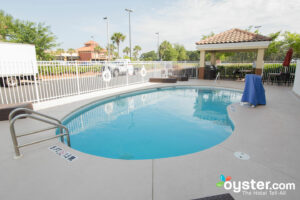 Outfitted for extended stays and rocking a slightly outdated decor, Candlewood Suites Destin - Miramar Beach has 75 all-suite rooms with fully equipped kitchens, sleeper sofas, and in some cases, apartment-stye layouts. Property features include an outdoor pool, fitness center, and even a barbecue area. Located off Highway 98 and within a mile of Miramar Beach and the nation's largest outlet mall, it's a good value for families and convenient to many of the area's most popular attractions. Business travelers can take advantage of the in-room desks and business center.
2
Wingate by Wyndham in Destin offers 94 big, comfortable rooms with microwaves, mini-fridges, and flat-screen TVs. Some extra perks make this hotel an especially good value, including free daily breakfast and free Wi-Fi. It's a budget property, so amenities are basic -- the pool is small and the fitness center has only a handful machines. The location is a quiet one, off of Destin's main highway to the north, rather than to the south, toward the beach.