Best Value Hotels in Grenada
Oyster knows what travelers look for in their hotels. When we visit properties around the world, we evaluate how every feature stacks up against the competition, from the rooms to the pools to the restaurants to make sure you get the most for your money. So if you're planning a trip and need a place to start, you've come to the right place. Take a look at our top picks for value in Grenada, and get inspired!
See All Grenada Hotels
1
This 48-room, upper-middle-range waterfront resort has many great features for families, including two outdoor play areas, two pools, and a small waterslide. The rooms are colorful and contemporary, with flat-screen TVs and small kitchenettes. Known for its vibrant hues and quirky features, like a tiny microbrewery, True Blue is unique and fun – but it's lacking a true beach. There is just a small man-made sandy area, or guests can take a shuttle over to Grand Anse for a day in the sand.
2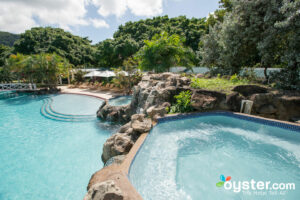 The Radisson is a modern, upscale 229-room chain hotel with a quarter-mile of beachfront on the bustling Grand Anse. Renovations provided updated furnishing and a sleek, clean feel, though as with some corporate brands, the look tends to be a bit generic – there's not much by way of Caribbean flavor. Even if there isn't much local "spice" within the fences (Grenada is the Spice Isle, get it?), guests are a short walk along the sand from local food and crafts. But with lovely amenities such as the excellent oasis pool, the Radisson offers a great value for an upscale property directly on the beach.
3
This casual, mid-range family-friendly resort offers 32 suites and studios, all with kitchenettes, sitting areas, and simple but modern island decor. The eco-friendly property is spread out over six acres of well-maintained tropical gardens, featuring a variety of birds. Two restaurants and a standard pool round out the offerings. Blue Horizons offers a decent value compared to some of the other nearby beachfront resorts, as long as you don't mind a short walk to the beach.
4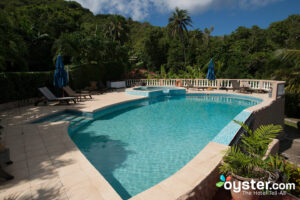 This charming, friendly upper-middle-range hotel's remote location makes it unique on the island. The 13 rooms are situated in natural gardens on a hill overlooking the sea, with views of the Grenadine islands, on the far north coast, over an hour from the airport. While the property is not luxurious, it is low-key and laid-back, and guests receive plenty of personal attention. Petite Anse feels like a well-kept secret, and it's a perfect respite for those looking for an escape from the pre-packaged, generic beach holiday.
5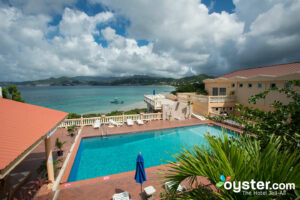 The highlight of the mid-range Flamboyant Hotel and Villas are its stunning views, peeking out from a hillside overlooking the beloved Grand Anse beach. Guests should be ready for a climb though, as the rooms are located up several steps on a steep incline. This friendly, laid-back, 67-room hotel offers good value, and features include a large pool, three restaurants, and a lovely stretch of beach. However, the buildings are a bit tired and the rooms and common areas could use some updates.
6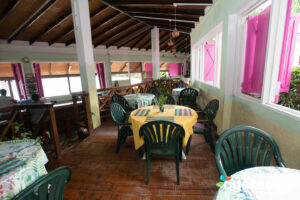 The Gem Holiday Beach Resort is one of the older properties in the area, and is hasn't quite adjusted to modern hotel standards. But with a friendly vibe and just 16 rooms, it has a cozy atmosphere for a budget hotel. It offers one- and two-bedroom apartments with full kitchens and lovely ocean views, though the furniture and furnishings don't appear to have been updated anytime recently. There is a casual restaurant and bar, but the highlight of the property is its location right on the beautiful, tranquil Morne Rouge beach.