Most Romantic Hotels in Hilton Head
Take a look at the most romantic hotels in Hilton Head.
1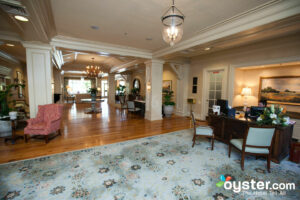 The Inn at Harbour Town is a 60-room boutique with a long list of amenities, including three golf courses, several tennis courts, a nearby beach, nice pool, and shopping. The resort overlooks Harbour Town Golf Links, home of the PGA Tour's RBC Heritage. Rooms are modern and upscale with plush bedding, flat-screen TVs, and iPod docks. Bathrooms are the outstanding feature, with walk-in showers, separate soaking tubs, and Molton Brown toiletries. The inn has a prime location for golfing, sea kayaking, shopping, and dining, but the property does lack a spa.
2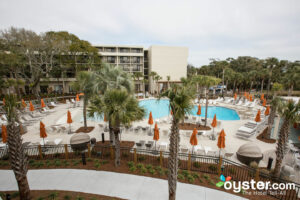 An extensive renovation completed in 2013 has added a swank, modern feel to this Sonesta Resort. The upscale property has plenty to offer, including several restaurants and an on-site spa, as well as children's activities. The lovely heated pools are a highlight, as are the gorgeous grounds. But those guests looking forward to a beach vacation should note that this hotel is not right on the water, and beach chairs and umbrellas have to be rented for an extra fee.
3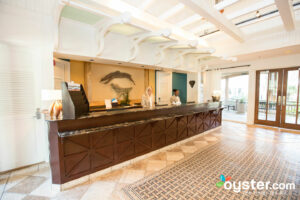 This upscale resort has plenty of amenities, including several pools and a pretty private beach. After a renovation completed in 2015, rooms are contemporary and stylish; all have kitchenettes, and some have separate living rooms with sofa beds. All have balconies with views of the resort or ocean. Property highlights include the large pool complex and the beautiful private beach. All in all, this is one of Hilton Head's best upscale options, though it may be worth comparing rates with the Sonesta Resort.
4 Though it is part of the Holiday Inn chain, the Beach House Resort feels more like a boutique hotel. In early 2014, the hotel completed renovations to the lobby, opened a restaurant, and redid some of the common areas. This upper-middle-range property is a good value compared to other nearby resorts, and additional renovations throughout 2016 brought modern decor elements to most of the rooms. Guests who want a good look at the sea should note that rooms facing the ocean only offer a partial view obscured by trees and the pool area.
5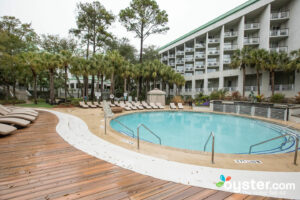 After extensive renovations completed in 2013, the Westin Hilton Head offers an ultra-luxurious, spa-like feel. This upscale resort features beautiful grounds with lots of places to lounge throughout, as well as airy interiors with chic furnishings. However, the long hallways at this 416-room property make for a bit of a hike to some rooms. Guests who prefer a shorter walk should request rooms by the elevators. The nearby Sonesta and Omni usually have cheaper rates, but the ocean view rooms are a bit nicer and the setting is a bit more posh at the Westin.
6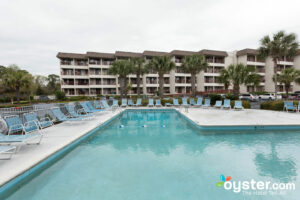 The Hilton Head Island Beach & Tennis Resort includes 850 condo units, 160 of them managed by the resort and the remainder privately owned. This upper-middle-range property offers good value for a waterfront resort on the island, with numerous features including two pools, 10 tennis courts, and a fitness center. Decor varies from unit to unit, but overall the resort's casual (and occasionally dated) look reflects its vibe as a flip-flops and T-shirt kind of place. Its restaurants and bars, some with bubble-letter signage, plastic furniture, and poor lighting, are a little tacky. For budget conscious families with children, there's swimming, racquets, bicycles for rent, and sand castles to build, without having to go out to dinner every night as the units have full kitchens.
7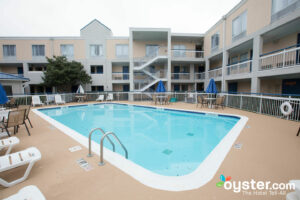 The 119-room Days Inn Hilton Head is a value hotel right off William Hilton Parkway, with restaurants, mini-golf, and grocery stores within walking distance. Rooms are clean but uninspiring, and have mini-fridges, microwaves, and coffeemakers. Suites have added perks such as wet bars, separate living and sleeping quarters, and foam pillows. The free hot breakfast receives mixed reviews. Free Wi-Fi and parking are available, but guests complain the signal is weak. There are smoking rooms, so those sensitive to cigarette smells may want to stay elsewhere.
8
Main Street Inn & Spa is easily one of the most romantic and beautiful B&Bs in Hilton Head. Located at the edge of the lush Hilton Head Plantation, the stately Spanish-Colonial-style building is surrounded by immaculately manicured grounds dotted with tiered fountains. The luxurious 33 large rooms feature elegant colonial decor with homey, vintage touches, and beautiful bathrooms that open to private courtyards or balconies (the tiny tube TVs are disappointing, though). There are some great freebies such as Wi-Fi, parking, evening wine, and breakfast. It's ideal for those seeking a bit of reprieve, and exudes relaxation -- especially with pampering spa treatments, and the serene pool area, which is a peaceful sanctuary surrounded by towering trees and trickling fountains. The pool is narrow, though, and at least four feet deep all around, so it's not ideal for little ones. But overall, this isn't really the place for families anyway.