Best All-Inclusive Hotel Cuisine in Jamaica
An all-inclusive resort means every guest gets unlimited food and alcohol for a single base price. Every all-inclusive has buffets, and most sport a la carte restaurants as well, which offer small selections of pre-made (and reheated) food in a full-service setting. Made in massive quantities, both the ingredients and their preparation often suffer. But here are Jamaica's standouts, where you'll find quality ingredients, more variety, and better cooking than at the competition.
See All Jamaica Hotels
1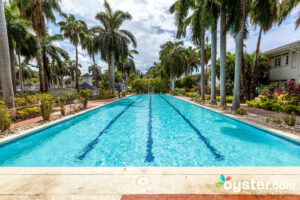 Home to seven restaurants, the Half Moon resort has some of the best all-inclusive dining in Jamaica. The Sea Grape Terrace offers a popular "full Jamaican breakfast" buffet, which includes a mix of ackee and salt fish (the national dish), fried bread dumplings, grilled bananas, yams, and mixed vegetables. The Il Giardino Italian restaurant and the Sugar Mill, an upscale Caribbean restaurant housed within a centuries-old, dramatically lit sugar mill, both feature high-quality entrees. The resort's executive chef is among the best in the Caribbean -- he recently helped lead Team Jamaica to victory at the Caribbean Hotel Association Taste of the Caribbean competition.
2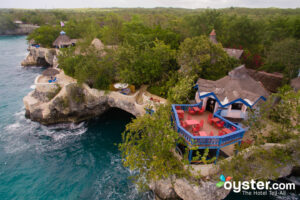 Unlike the great majority of all-inclusives, the intimate Caves eco-boutique features fresh, seasonal ingredients and inventive Jamaican-focused menus. Highlights include pumpkin ginger soup, saffron crabcakes served over spicy tomato salsa and drizzled with a herb-mustard vinaigrette, or rock shrimp simmered in a savory coconut sauce. But the setting -- overlooking the sunset on the coarse rock cliffs or by candlelight inside a natural cave -- is beyond compare.
3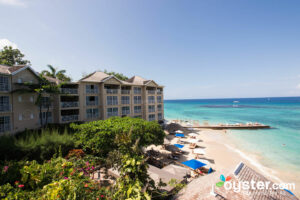 There is no buffet, but rather two excellent a la carte restaurants for dinner -- French cuisine at Papillon and alfresco Italian at Le Terrace -- as well as made-to-order breakfasts, a fresh, beachside grill for lunch (which offers some of the best jerk chicken in Jamaica), and 24-hour room service. In addition, guests can make special menu requests of the French chef.
4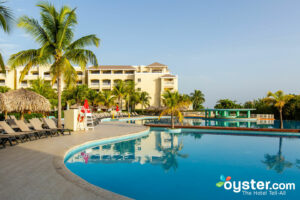 From fried cheese balls to raw juice smoothies, the Iberostar has one of the largest, most elaborate buffets in Jamaica. The four internationally themed a la carte restaurants are even more popular. Standouts include the Benihana-style Samurai restaurant, which offers such treats as perfectly cooked plantain-and-zucchini tempura or fresh, Jamaican-spiced shrimp and octopus.
5
Featuring 11 restaurants and an expansive, international buffet, Green Island, the Riu has some of the best meal variety in Jamaica. At the buffet, the spiced meat is actually spicy -- uncommon when it comes to resort food -- and the breakfast menu is particularly generous, with ackee and salt fish, three kinds of French toast, and Cocoa Puffs at the cereal bar. The Riu also has an all-night snack bar called Luigi's, which serves pizza, salads, fruit, and dessert. The resort's three a la carte restaurants -- the "gourmet" Sir Andrew, Shadows Steakhouse, and Churrasceria Rodizio -- have to be booked well in advance, but the four kinds of Brazilian churrascaria-style meats at Rodizio are not to be missed.