Best Affordable Hotels in Key West
Traveling can be expensive, especially to a popular destination like Key West, Florida. Luckily, there are several properties geared toward the more budget-minded traveler. After visiting the sunny city of Key West, we compared the quality of guest rooms and range of amenities, as well as calculating what the impact on your wallet would be. Check out our picks for the best affordable hotels in Key West and start planning your getaway!
See All Key West Hotels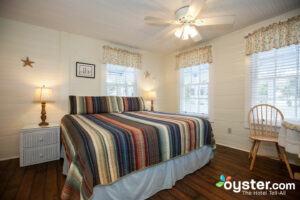 The Angelina Guest House is a former 1920s bordello and gambling den turned into a charming Key West bed-and-breakfast teeming with Southern hospitality. The 13-room budget property welcomes adults only, and maintains a quiet, peaceful atmosphere; the owners request that guests leave their partying on nearby Duval Street. The Angelina offers a lovely lagoon-style pool, bike rentals, and homemade cinnamon rolls included in the free breakfast. Accommodations are clean and well cared for, ranging from simple rooms with shared bathrooms to efficiencies with refrigerators and microwaves; guest rooms don't have phones, and only one has a TV.
The 81-room Ibis Bay Beach Resort is a cozy, quirky, 1950s-throwback with lots of personality and plenty to do. Built in 1954, the three pearl property combines a vintage vibe with modern comforts -- plus wild animals and lots of hammocks throughout the grounds. The resort has a relaxing pool, and offers a free shuttle to Duval Street and jet-ski rentals, so guests can explore and then reboot. Guest rooms are bright and charming, with Cuban artwork and mini-fridges. The Stoned Crab restaurant is a big draw, offering views of Ibis Bay, fresh local seafood, and great cocktails all day long -- but expect to pay for breakfast.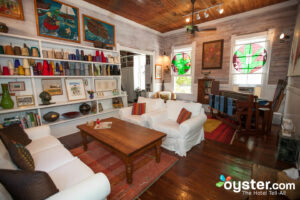 Located inside a historic, late 19th-century house, the 10 rooms at the Key West Bed and Breakfast exude intimate luxury. Vibrant art and local flare converge in this Victorian-style property, which has a wide, Southern-style front porch and beautiful architecture. This charming property is a great fit for couples looking for a romantic getaway but who also want to be close to all the action on Duval Street and the sunset celebrations on Mallory Square. Rooms on the second floor share bathrooms, while rooms on the first and third floors are more spacious, and some have private sundecks.
Some guests might steer clear of the home of the haunted stuffed doll that inspired the movie "Chuckie," but Artist House, one of the most photographed houses in Key West, is immaculate, bright, colorful, and welcoming, with nothing spooky about it. This restored Victorian mansion serves European pastries at breakfast and hosts a free daily happy hour. It's located within a few minutes' walk of Duval Street and the heartbeat of Key West.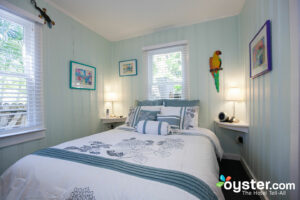 The Grand Guesthouse is a cozy, value property with 10 rooms and a quiet setting within walking distance of Duval Street. Free breakfast is served on a worn wood patio, and bike rentals and touring assistance are offered. Guest rooms are decorated with tropical flair and local artwork, and have mini-fridges and free Wi-Fi.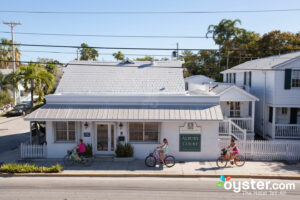 The 38-room, mid-range Albury Court Hotel combines historic features with breezy tropical landscaping in Old Town near Duval Street. The property offers open porches, a sun deck with lounge chairs, an elegant outdoor pool, and a shady breakfast patio, all of which draw tourists seeking the quintessential Key West getaway. Simple guest rooms are bright and casually stylish, with flat-screen TVs and wet bars with mini-fridges; some have gas fireplaces. However, free street parking is limited, and the public garage is a three-block trek.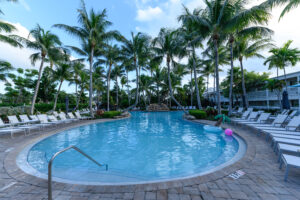 The Inn at Key West is a 106-room, upper-middle range hotel that overlooks the Gulf of Mexico and features a tropical-style pool with tiki bar in the center of the property. Popular Duval Street is not located within walking distance, but given Key West's small size, most tourist attractions are located within five miles of the hotel and can be reached by car or cab. Rooms have updated furnishings, tropical decor, and mini-fridges, but rooms with Gulf of Mexico views also overlook a busy street and parking lot.
The 37-room Key Lime Inn is an intimate boutique with a heated outdoor pool and sunny terrace. Though located just blocks from popular shopping, dining, and nightlife attractions on Duval Street, this hotel manages to retain a peaceful feel. Rooms are set in cute clusters of buildings, some dating back to the 19th century. There is a free, basic continental breakfast served by the pool but there are no restaurants or bars that serve lunch or dinner.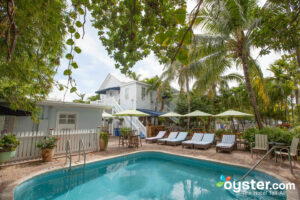 The Duval Inn is about a block away from old Key West's shops, restaurants, and bars but is an oasis of sorts with a jungle-like courtyard and small pool. Each room is rich in character and individually decorated. Families are welcome here and can stay in adjoining rooms. Some of the rooms have full kitchens. Priced similarly to other historic bed and breakfasts near Duval Street, the mid-range Duval Inn offers a free daily happy hour and breakfast. Be aware that parking is limited.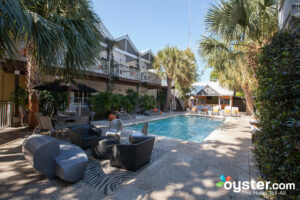 The 35-room, mid-range Truman Hotel is a trendy boutique property located in Key West's Old Town, two blocks from Duval Street's nightlife, restaurants, and shops. The Truman is one of Key West's newest hotels, standing out from the many genteel Southern inns with its modern decor and bright pops of color. There's a pretty courtyard pool where guests can relax, and the free breakfast includes French pastries. Rooms are bright, clean, and funky, with zebra-striped rugs, platform beds, and beautifully tiled bathrooms with huge walk-in showers.