Best La Fortuna, Costa Rica Lodges
La Fortuna is the gateway to Arenal, one of the country's most active volcanoes, and a haven for eco-tourists wanting to see the area's beautiful rainforest landscape, rich diversity of flora and fauna, and breathtaking cloud forests. Small, lodge-like properties with lush grounds and impressive views of the Arenal Volcano are common throughout the area, and these are the best of the bunch.
See All La Fortuna de San Carlos Hotels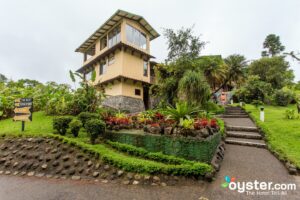 From young backpackers to elderly birders, the Arenal Observatory Lodge & Spa attracts nature lovers (especially birders) from all over the world who want to be surrounded by the rainforest. This 864-acre, 48-room all-inclusive on a mountain has some of the best views in the area of both the lake and the volcano, and allows guests to be immersed in the rainforest, with its birds, monkeys, and snakes. The spacious, homey, slightly rustic rooms have commanding views of the surrounding trees -- which may help guests forget that there are no TVs or ACs. The hotel's the only one in the area actually inside the national park, and is also among the most remote from La Fortuna, though there is local shuttle service. It's hard to find comparable properties in the area, but it may be worth considering Arenal Lodge, which also has great views and a rainforest setting.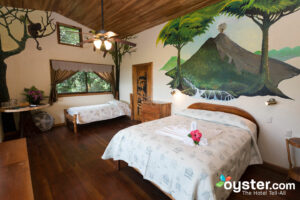 The nine-room Leaves and Lizards Arenal Volcano Cabin Retreat is a quirky and cheery place that's all about bringing guests closer to the rainforest; in fact, the eco-hotel is one of the most remote options in the Arenal region (only Finca Luna Nueva Lodge -- which, like Leaves and Lizards, has a working farm -- can compare in terms of seclusion). Off-the-wall, unique rooms range from wood cabins perched over the rainforest to the truly unusual Hobbit Hole. They may not come with modern conveniences such as TV and AC, but they have marvelous views. Every morning, guests are welcome to visit the hotel farm and milk the cow or collect their own eggs for breakfast. The breakfast is included in the rate, and the Lava Lizard also offers truly farm-to-table fare for lunch and dinner. There are also 20-some horses guests can hire to ride the trails nearby. (The hotel also organizes a number of rides and workshops.) But the main draw here is the feeling of being all alone in the rainforest.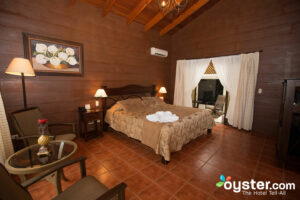 A collection of bungalows linked by tree-shaded paths illuminated by mushroom-shaped lights, the 20-room Hotel El Silencio del Campo is frequented by Americans and Canadians, as well as a hefty contingent of Costa Ricans on long weekends. They're mostly families with young children and well-traveled couples, including some regular guests who've been coming here for years. This is one of the better mid-range options in the area (though an ugly high-rise looming overhead ruins any illusion of seclusion), with extra-hot hot springs and a hotel bar that stays open later than most others nearby. Its wood-bedecked bungalows arguably have more charm than the more modern hotel rooms found at Arenal Manoa or Arenal Volcano Inn, but it's not as rustic as Hotel Kokoro Arenal (where critters regularly creep into the rooms through unscreened windows).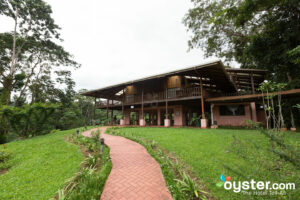 This 13-room farm-hotel is in a league of its own for Arenal-area agrotourism, and is well-suited to travelers interested in sustainable organic farming amid the rainforest. It's at least a 30-minute drive away from La Fortuna, making it inconvenient for those looking to explore off property. Rooms are large but relatively spartan, without TV and air-conditioning, but the guests who love birding and farming often don't seem to mind. Hotel El Silencio del Campo also has a working farm, but nicer rooms with TV and AC -- though it lacks Fina Luna Nueva's secluded rainforest setting.
Arenal Volcano Inn is a solid mid-range option on the road between La Fortuna and Arenal Volcano National Park. The 25 rooms are clean and modern, with subtle touches of local charm, but not all have views of the volcano, and traffic noise is more noticeable the closer you get to the road. The hotel offers a quality restaurant with wood-oven pizza, attractive pool and hot tub, free Wi-Fi, and a free quality breakfast with hot items. All in all, it's one of the top options for the area in this price range. But those who want hot springs on-site, lusher surrounds, and rooms with a bit more personality will prefer Hotel El Silencio del Campo.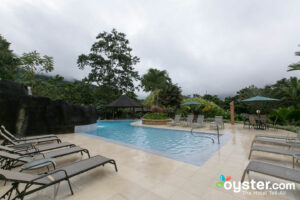 Made up of 47 terraced bungalows at the foot of Arenal volcano, this mid-range gated resort has a worm's eye view of the peak. The big-windowed but dimly lit wooden cabins seem to climb up the side of the volcano, but they don't always have stunning views, though each one has two private decks. Bungalows are decorated with artwork of local fauna -- a painted frog stood guard over one bed we viewed. Property features include a swimming pool and hot tub. Like Arenal Volcano Inn, Hotel Lomas del Volcan offers free breakfast, but no hot springs; for that, consider Hotel El Silencio del Campo.
This 42-room, upper-middle-range spa resort on the west side of the Arenal dam is a bit farther out from La Fortuna than most area hotels (about a 45-minute drive) but offers a stunning Bali-inspired spa building and large, well-appointed rooms overlooking the rainforest. The property also offers private trails in the rainforest as well as a pool and a big hot tub with swim-up bar -- but no hot springs (for those, consider the similarly priced Arenal Kioro Suites and Spa).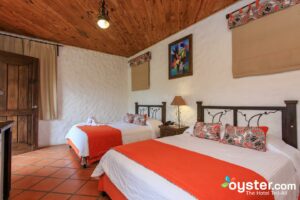 Far enough away from La Fortuna to avoid its touristy hustle and bustle, but still close enough to be only a few minutes' ride into town, the 36-room Casa Luna Hotel & Spa is a tiny gated community that feels away from it all. The mid-range property is compact relative to others in the region, with not a whole lot to do aside from lounging at the pool with swim-up bar, walking along the hotel's private rainforest trail, or hitting up the hotel bar's two-for-one daily happy hour, but the grounds are well-manicured and wildlife-rich. Clean, adobe-style rooms have air-conditioning and TVs (not a given for the area) in two-story buildings that are screened off from everything else by towering vegetation. This is a perfectly adequate home base for those planning to spend their days on excursions around the region who want to come home to clean accommodations on lush grounds.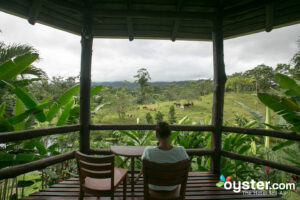 Sprawling and immaculate, the 27-acre Arenal Manoa Hotel & Spa feels almost like a gated community in Florida, complete with van and golf cart guest transportation throughout the grounds. The surroundings are lush, to be sure, but this is a good fit for guests who don't want to rough it too much in the rainforest -- the property features and rooms are all decidedly modern (and all have terraces with volcano views). The large freshwater and hot springs pools are the hub of the resort, though some may prefer the more natural feel of the hot springs at Arenal Kioro. The pools here feel like they could belong at any tropical resort -- and like at many resorts in warm regions around the world, the swim-up bars are where many guests congregate. The hotel's working dairy farm is a highlight -- it supplies the hotel with milk, and guests are welcome to milk the cows. Those who want a similar experience that's closer to town may prefer Arenal Volcano Inn (if they don't need as much privacy).
Located at the base of Arenal Volcano, Arenal Kioro Suites and Spa offers upscale relaxation and sophistication, but no pretense. The pool is a bit small and there's nothing within walking distance, but the long list of amenities -- hot spring pools, an all-day restaurant with free breakfast, multiple bars, and a full-service spa -- means most guests won't ever need to leave the property anyway. All 53 rooms feature virtually identical spacious layouts, plus free Wi-Fi, in-room hot tubs, minibars, and two balconies (one with volcano views).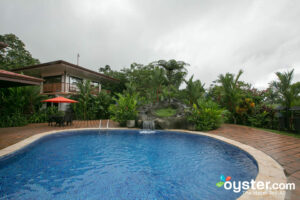 Volcano Lodge & Springs is a family-oriented property that proudly displays reminders of La Fortuna's pre-tourism history. The 11-acre resort -- located 10 minutes north of town on the way to the Arenal National Park entrance -- has 68 rooms with wood ceilings and photographs of old La Fortuna; all have outdoor space and most have a private hot springs pool and volcano views. (All of the rooms at Arenal Kioro have indoor hot tubs and even better volcano views.) A public freshwater pool with swim-up bar and a hot-spring pool are also available.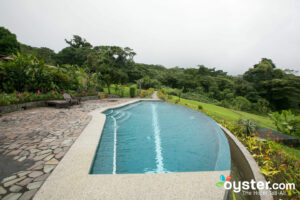 Like a summer camp for jungle lovers, the 50-room Arenal Lodge has a wood-cabin aesthetic, hundreds of acres of hiking trails (plus daily guided tours), and expansive views. Also like summer camp, however, the facilities and rooms are worn and show their age and the ravages of the elements, and the hotel is located just far enough away from the local population centers to make it inconvenient for quick pops into town. Hotel Kokoro also offers a rustic rainforest stay but with on-site hot springs and a location much closer to the town of La Fortuna -- however, its views aren't as impressive.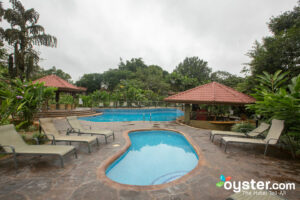 This suburban-like bungalow property keeps the wilderness at arm's length, and lacks the rainforest feel of many area properties, like Arenal Kioro and Arenal Lodge. But it does have a terrific position for views, and it's easy to enjoy outlooks of the volcano looming above from just about everywhere on the property. The 66 bungalows are close together and offer little privacy. They're also musty and worn bungalows, with old tube TVs. The views of the volcano from the grand windows are marred by the swarms of guest cars parked on the lanes outside. Guests looking for a rustic rainforest experience in this price range may prefer Hotel Kokoro Arenal, or the slightly pricier Hotel El Silencio del Campo, which has extra-hot hot springs (some guests feel the ones here aren't warm enough).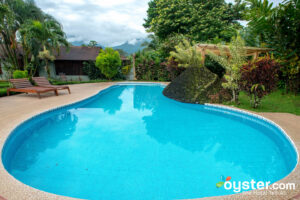 Set in the shadow of Arenal Volcano, Hotel Arenal Montechiari offers quaint, garden-style budget lodging just a 10-minute walk from the shops, restaurants, and tour operators on La Fortuna's tourist-friendly strip. The 21 rustic, cabin-style rooms all include flat-screen TVs, air-conditioning, and mini-fridges, plus private porches with volcano views. A lovely outdoor pool and open-air restaurant help set it apart from dozens of similar hotels in the area. However, the restaurant hours are limited to non-existent in low season, and Wi-Fi is spotty away from the lobby.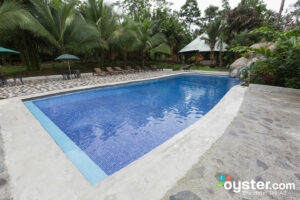 Hotel Kokoro Arenal consists of an array of 24 bungalows (including two "tree houses") set along sloping paths in the rainforest. The dimly lit, rustic bungalows lack Wi-Fi and might be a tad too open to the elements for the truly squeamish (harmless lizards and millipedes sometimes creep through the unscreened windows), but they're reasonably clean and comfortable. The yoga- and eco-friendly property is a 10-minute drive west of La Fortuna; those who want a similar budget bungalow-style property a little closer to town may want to look into the El Silencio del Campo or Arenal Volcano Inn, but it will be hard to beat the rates here for this caliber of property.