Best Aparthotels in Lagos, Portugal
Apartment-style hotel picks for self-caterers in search of Lagos' famously abundant sunshine.
See All Lagos Hotels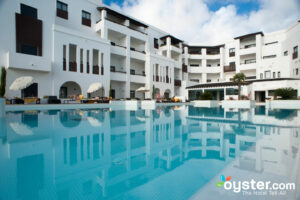 During our time in the Algarve, we saw our share of outdated, drab, and downmarket apartment-style hotels. Given those experiences, our visit to the Belmar Spa & Beach Resort was a real pleasure, as the hotel is one of the sharper apathotels that we found in the region. In addition to style, the size of the apartments are a major draw. They range from studios to three-bedroom units, and all have a sharp, contemporary look that's more upscale than most of the local competition. All apartments include full kitchens with microwaves, ovens, stovetops, toasters, blenders, kettles, and all manner of cook- and dishware. Everything is done in handsome stainless steel, further elevating the look. All units have dining areas and, with the exception of the studios, washer/dryers. Other standard features include air-conditioning, free Wi-Fi, flat-screen TVs, safes, plenty of storage, electronic blackout screens, and balconies or terraces. Some units have two floors, and others have rooftop balconies with excellent views of the neighborhood and sea.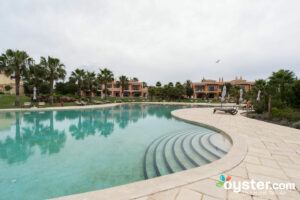 Roughly 10 minutes by car from the heart of Lagos and near several popular beaches, Cascade Wellness & Lifestyle Resort is luxury property set on a cliff over the Atlantic Ocean. The 55 sizable, Moorish-inspired apartments are available in one- and two-bedroom configurations and include full kitchens, dining rooms, and parking. The apartments, plus the hotel's 88 rooms, all come with free Wi-Fi, spacious bathrooms, and balconies. Units here aren't nearly as contemporary and chic as the ones found at Belmar, but they are clean and homey. Sports facilities at the hotel include a roomy gym plus several pools and tennis courts (fees required for some activities). The serene Tainai Spa is another property highlight. Of the two dining options, one is only open for dinner and the other is open seasonally.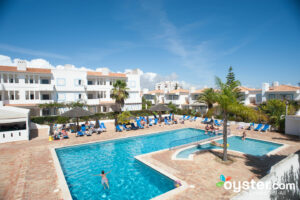 From the outside, Vilabranca Apartments has the look of a traditional Algarve village residence. The squarish, sun-bleached white buildings have terra-cotta tile roofs and light-blue and peach window trimmings. There are two types of apartment-style rooms at Vilabranca: The ones with terraces and the ones with extra-large terraces. Expect a lot of white and cream tile -- floors, walls, countertops, bathrooms -- and contemporary, clean furniture that feels a bit thrown together. The sparseness of the decor and blank walls help the already large rooms feel spacious, but it also lacks a warm and cozy element that some may be looking for in an apartment-style room. The kitchens are full-sized and well-equipped with a full gas stove, oven, microwave, and a good amount of glasses, plates, cutlery, pots, and pans. On-site features include two (non-heated) outdoor pools, a pool bar, a restaurant and bar, and free parking. Unlike Belmar and Cascade however, Vilabranca charges for Wi-Fi.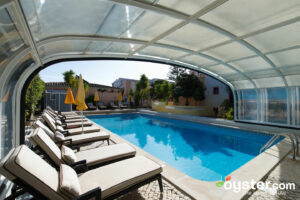 Costa D'oiro is a village-like hotel with a blend of classic and modern styles and lots of Portuguese character. Its rooms range from classic hotel rooms to contemporary apartments with kitchenettes. Standard features include free Wi-Fi, air-conditioning, flat-screen TVs, free safes, and terraces or balconies. Apartments have kitchenettes with sinks, two-burner stovetops, toasters, and empty mini-fridges plus dishes and cookware, though all rooms lack electric kettles or coffeemakers. The hotel features several pools and a great restaurant, where a free breakfast includes a massive spread of locally produced dishes. While Vilabranca is within walking distance of dining options, the beach, and attractions, Costa D'oiro is too far away from Lagos' old town for most to walk.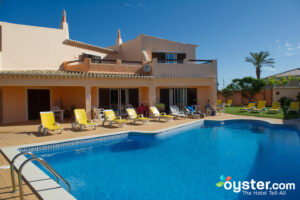 The 35 apartments at Canavial are spread among a series of residential-style compounds, a 10-minute walk from secluded Praia do Canavial. Units are pleasant enough, though the style is undeniably dated and homey (Costa D'oiro has more contemporary options). All rooms feature free Wi-Fi, flat-screen TVs, air-conditioning, and safes, though there's a fee to use the latter (safes are free to use at Costa D'oiro). Kitchenettes also come standard and include electric burners, older microwaves, coffeemakers, kettles, and both cooking and dining ware. Every room opens to some sort of terrace or balcony with furniture, handy for soaking up the abundant regional sunshine -- which we saw plenty of guests doing during our visit. Though Canavial has multiple outdoor pools, it lacks Costa D'oiro's excellent restaurant, which serves traditional Portuguese fare and wine.
Dom Pedro Meia Praia Beach Club is a mid-range apartment hotel that's popular with families. It offers 75 Studios and One- and Two-Bedroom Apartments, all with simple and bright decor and balconies or direct outdoor access. Every unit has a fully equipped kitchenette, complete with toaster oven, toaster, mini-fridge, kettle, and two-burner stove. However, some show minor signs of wear and tear, such as scuffing. Simple bathrooms have shower/tub combos and large marble vanities, but, like the rooms, some show signs of wear and tear, like faded shower curtains and stained grout. Another drawback here is that kitchenettes are set in the middle of apartments, so odors can linger. Hotel amenities are geared toward families and include a large outdoor pool with a separate whirlpool, a game room with pool and foosball, and a grassy outdoor playground. Meals are served at the on-site, privately run Portuguese restaurant.
Accommodations at Apartamentos Turisticos Marsol include studios and one- and two-bedroom apartments. All are simple and a bit dated, with neutral color palettes, tiled floors, and sparse decor. Many previous guests have noted that there's a certain Old World charm about the style, and colorful azulejo tiling in spots does add a touch of personality. Most of the color comes from plaid curtains and sunny bedspreads and sofa covers. All units include tube or flat-screen TVs, kitchenettes, safes, and furnished terraces that overlook either the parking lot or the courtyard. There is no Wi-Fi in the rooms here, unlike Dom Pedro, where Wi-Fi is free throughout the hotel.