Best Hotels On the Beach in Lagos, Portugal
Beaches in the southern Portuguese town of Lagos range from Meia Praia, a long and wide sweep of sand, to the the iconic Praia Dona Ana, wedged between towering sandstone cliffs. Whatever your beach preference, here are the best hotels close to the water.
See All Lagos Hotels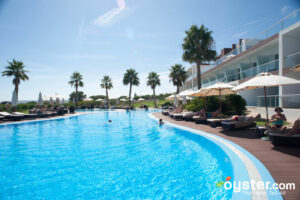 The sharp and contemporary Sensimar Lagos is world's away from Lagos -- literally and figuratively. While the beach is just across the street, the distance from Lagos means plenty of peace and quiet. As such, this is a popular pick with travelers seeking a refined adult-only experience. Interiors are fresh, bright, and modern, with stark white decor and handsome neutral furniture, plus dashes of hardwood and clean minimalist lines. With its U-shaped layout, the hotel opens to two stunning pools and the beach across the road. The hotel's 221 spacious and modern rooms feature air-conditioning, free Wi-Fi, mini-fridges or minibars, kettles for coffee and tea (which are free and replenished daily), and balconies or terraces.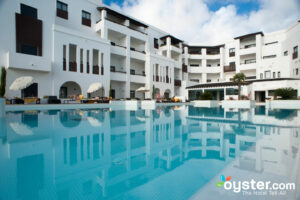 Travelers wanting to walk in and out of Lagos' charming Old Town may want to look elsewhere, but those who want to be within an easy walk of the beach will be happy with Belmar Spa & Beach Resort. The 189-apartment hotel sits on a hill above Praia de Porto de Mos, one of Lagos' larger beaches. There's a good amount to like on-site as well, including multiple pools, high-season dancing and live music, a stylish spa, extensive fitness facilities that include soccer pitches, and an overall quiet atmosphere. Rooms here are contemporary, but not as luxe as the ones at Sensimar. Belmar is a five-minute drive from Lagos' Old Town (unfortunately, neither Belmar or Sensimar offer shuttles), and it takes the same amount of time to reach the stunning clifftop vistas at Ponta da Piedade.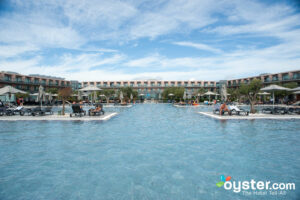 Just across the road from Vile Gale Lagos is Meia Praia beach, a wide swath of relatively uncrowded golden sand with just a few restaurants and cafes set up along its perimeter. The hotel's beachside location, though, means that Lagos' quaint old town is not within walking distance. The hotel has a buzzy vibe, and while its posh spa, clubby lounge, and high-end dining are all geared toward adults, there's plenty for kids as well. The real showpiece, though, is the design-conscious pool that has over 400 sunbeds, so there are never fights for space. Rooms are attractively modern, if simple, and all include balconies, air-conditioning, and mini-fridges. The best have views of the ocean.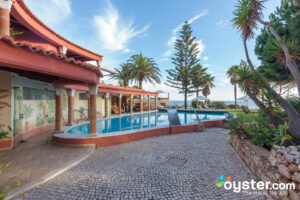 Boutique Hotel Vivenda Miranda is an upscale boutique hotel in southern Lagos, a few minutes' walk from the beach and a short drive from Old Town. The 25 rooms and suites all feature private balconies or terraces, and many have separate living areas with sofa beds that sleep two. On-site features include an outdoor pool with built-in hot tub and gorgeous sea views; a lovely spa that uses natural skincare products from London-based Neal's Yard Remedies; and a restaurant offering Mediterranean fine-dining, with plenty of raw, vegan, and gluten-free options on the menu.
Dom Pedro Lagos a mid-sized apartment hotel located in the north of Lagos, right on the sand and in an area dominated by other hotels and restaurants. Unlike our the other hotels on this list, which are all upscale, Dom Pedro is solidly mid-range. Its 75 apartments come in Studio and One- and Two-Bedroom configurations, and all have small kitchenettes. Units above the ground floor feature furnished balconies and higher-level units often have sea views. It takes just under 10 minutes by car to reach most of the shops, restaurants, and sites of Old Town (or about a half-hour on foot).