Best Value Hotels in Lake Como
Travelers have been drawn to Lake Como's spectacular water and mountain views since the days of ancient Rome. Many of the region's grand converted-villa hotels cater to a well-heeled crowd, but there are many excellent options for those hoping to see the area on a tighter budget. Take a look at the top value hotels in Lake Como.
See All Lake Como Hotels
1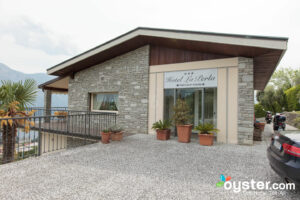 The 20-room Hotel La Perla is a quaint, mid-range hotel set on an Italian hillside overlooking picturesque Lake Como. Hotel owners provide free breakfast, make restaurant recommendations, and go above and beyond when it comes to personal attention and service -- from staying up for delayed travelers to helping families sterilize their baby bottles. It's a favorite hideaway for couples looking for romance and families desiring an authentic Italian experience set in a tranquil garden scene, amongst olive and myrtle trees. Such a secluded spot, however, means a bit of a hike to the town, the lake, and the ferry dock (though there is a free shuttle bus to the dock). Parking and Wi-Fi are both free.
2
Hotel Villa Aurora is a 22-room boutique property located in Lezzeno, a quiet lakefront town nestled on the shores of picturesque Lake Como. Attentive owners provide a free homemade breakfast spread and exceptional service. The best rooms have private terraces with panoramic views of the lake and sun deck. On-site eateries offer a range of finely prepared Italian cuisine. There's no pool, however (Hotel La Perla has a well-maintained -- albeit small -- pool with lounge chairs and lake views).
3
The 13-room Borgovico Hotel is a colorfully painted 19th-century hotel with a charming courtyard, located near Lake Como, the Como Cathedral, and Como San Giovanni train station. Iron bed frames, exposed wooden ceiling beams, and brick walls add character to select rooms, which include flat-screen TVs, safes, and free Wi-Fi. Breakfast is served in a citrus-colored dining room, which has a cafe/bar. Just note that unlike Hotel Villa Aurora, breakfast is not included in the room rates and the hotel is not located right by the water.
4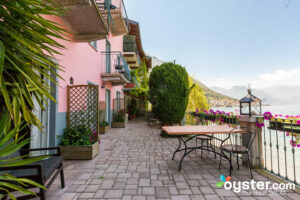 Located in a building dating back to the 1800s, the family-run Nest On The Lake has a traditional Italian charm and incredible Lake Como views from all four of its rooms and its shaded terrace. Interiors are warm and cozy, with stone walls, a fireplace, and wooden ceiling beams in the breakfast room, where a free cold breakfast is offered daily. Rooms feature flat-screen TVs, kettles, and balconies. Some have air-conditioning or mini-fridges, and the apartment features a kitchenette (note that apartment guests don't qualify for the free breakfast). One of the best highlights here is a private rocky beach and free kayaks to borrow. Though there's not much to do in this small village, it's just a 10-minute drive to Bellagio. As an alternative, travelers might want to price the nearby Hotel Villa Aurora which has free parking and a restaurant on-site.
5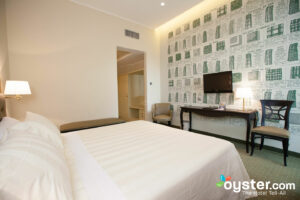 The 94-room Palace Hotel is a mid-range property that combines a 19th-century historic mansion and a modern building in a prime location overlooking Lame Como. In the center of the city of Como, the location is also ideal for exploring on foot. Rooms are quite spacious and decorated in a traditionally elegant style with modern conveniences including a minibar, flat-screen TV, and free Wi-Fi; some have lake views, balconies, and renovated bathrooms. The on-site restaurant, bar, and garden bar all provide convenient options for dining and drinking, and breakfast is free. Travelers looking for a quaint bed-and-breakfast experience will prefer Nest on the Lake, which has homey decor, direct access to a rocky beach, and personal service from the owners.
6
The 40-room, lakefront Hotel Regina offers good value as a base for exploring the region. Situated at the north end of the lake, the hotel is a 10-minute walk to the center of the small town of Gravedona. Amenities include a free breakfast buffet, a small fitness room, and a lovely lake-view pool, but the hotel lacks a proper restaurant and offers little else. Simple, unair-conditioned rooms -- some with furnished balconies and lake views -- are spacious and plain, with free Wi-Fi and small, wall-mounted TVs. If an on-site restaurant and bar and a room with air-conditioning are necessities, consider Palace Hotel instead.
7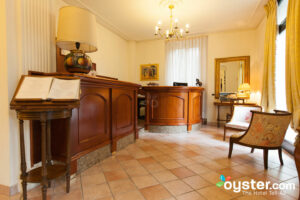 The 10-room Hotel Orso Bruno is a quiet, quaintly charming bed-and-breakfast run by a husband-and-wife team, Antonia and Samuele. It sits on a narrow lakefront street across from Urio Pier, a location that makes it a convenient base for exploring other lakeside towns. Simple, modest rooms come with small flat-screen TVs and private bathrooms, and some have balconies with lovely lake views. In addition to free breakfast, there is an intimate on-site pizzeria, Il Filo d'Olio, with a terrace that overlooks the lake. Free Wi-Fi is available throughout the hotel. Travelers looking for a truly lakefront property might prefer Hotel Regina.
8
Housed in a stone villa just outside Varenna town center, the mid-range Eremo Gaudio offers spectacular views over Lake Como. A quirky system of funicular elevators makes it fun getting around the property's large gardens and terraces. Its 25 rooms are spacious but basic, and amenities aren't exactly state-of-the art (expect to see some tube-style TVs). Still, most offer private terraces and views. An extensive breakfast buffet is included in the rates (though it might start a bit late for some), however dinner, drinks, and snacks are available only in peak season. There are meeting facilities, private outdoor parking, and free Wi-Fi throughout. The property is a challenging uphill walk from the town center, which might make it difficult for those with limited mobility. Those wanting to stay on flat ground closer to the lake should check out Hotel Orso Bruno.
9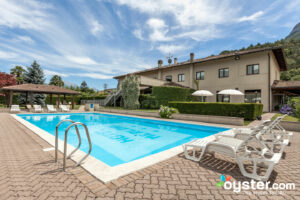 The three-pearl Hotel Merloni is a good option for travelers who are willing to trade a lakeside location for affordable rates and solid on-site amenities. The charming property, located 10 minutes outside Menaggio, is set on a hilltop and surrounded by well-landscaped grounds. There's an outdoor swimming pool situated in a garden with manicured hedges, plus a full-service restaurant and a fitness center, but equipment is dated. The hotel's 80 spacious guest rooms have a hint of elegance, and all come with AC, flat-screen TVs, and free Wi-Fi. However, breakfast isn't included in most rates and guest rooms lack mini-fridges -- compare this with Eremo Gaudio, where an extensive breakfast buffet is included in the rates and mini-fridges are provided in the rooms.
10
The 140-room Hotel Bazzoni et du Lac is a three-pearl property with magnificent views of Lake Como, which is just across the road in central Tremezzina. It's the town's first hotel, and full of history, but the public areas and the 137 guest rooms are dated, with tube-style TVs, stall showers, and no Wi-Fi. (Hotel Merloni's rooms have flat-screen TVs, showers or shower/tub combos, and free Wi-Fi.) For dining, there are quality breakfast and dinners buffets, and the bar is open all day. All-inclusive packages are available, but lunch is not served. Two pleasant pools are open in the summer months and pets are allowed. Note that the hotel closes out of season.
11
The 84-room B&B Hotel Como is a contemporary, budget-friendly property, located about a 10-minute drive from the sites and lake of Como, Italy. The hotel offers the basics guests need -- a clean place to sleep -- but little else. (For example, there is no full restaurant on-site, while Hotel Bazzoni's restaurant serves excellent buffet dinners and has an all-day bar for drinks.) No-frills rooms are contemporary and include flat-screen TVs, safes, and hairdryers, but they lack mini-fridges. Breakfast is available in the lobby, but not included in room rates despite the bed-and-breakfast tag (Hotel Bazzoni serves a free and substantial breakfast buffet for all guests). B&B Hotel Como is pet-friendly, and free parking and fast Wi-Fi are nice perks.