Best Beach Hotels in Langkawi, Langkawi District
Take a look at the best beach hotels in Langkawi.
See All Langkawi Hotels
1
The Danna Langkawi, Malaysia is a luxury property with a lot to love. The elegant atmosphere is created by a stylish blend of British colonial and Malaysian accents. The 125 spacious rooms feature four-poster beds, balconies, and marble bathrooms with separate showers and tubs. With a private beach, three-tiered infinity pool, numerous dining options, a spa, free welcome shoulder massage, and a free breakfast buffet with Champagne, there's little else that guests can ask for. It's located in a quiet, remote area, which is ideal for couples or families who want to get away from the bustle, though it's a trek for those who want to get off the property and explore. For something that's closer to the action, check out the Meritus Pelangi Beach Resort & Spa, Langkawi.
2
Set on a crescent bay beach surrounded by jungle foliage and exotic wildlife, the five-pearl Datai Langawi has built an admirable track record among vacationing couples and families since its opening over two decades ago. In addition to a white-sand beach and two pools, the 121-room resort includes a scenic 18-hole golf course, an enticing open-air spa pavilion, and a variety of casual and fine dining restaurants and bars. Guests can stay in a main-building room or suite, or choose a villa with private plunge pool overlooking the rain forest or beach. All rooms are spacious and include luxurious bathrooms, minibars, and free Wi-Fi. However, a number of guests have reported that rooms are showing their age and need updating -- a fact that hasn't escaped management's attention, since the property will close for an eight-month overhaul in September 2017.
3
The 34-room Casa del Mar is an upscale Spanish-style property on Pantai Cenang beach -- near shops, restaurants, and bars -- offering its guests beachfront picnics and romantic candle-lit dinners. The restaurant and bar serve Mediterranean fare by the beach, outdoor pool, or hot tub. Spa pampering and water sports rentals are available on-site, and the gym offers a shower for guests checking out late. Pleasantly furnished suites include four-poster canopy beds, and some balconies offer sea views. While Casa del Mar is centrally located, the area gets crowded and busy, and travelers seeking a get-away-from-it-all retreat might prefer the Andaman, A Luxury Collection Resort.
4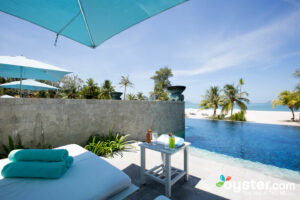 The Four Seasons Resort Langkawi, Malaysia is an unrivaled five-pearl property, an exclusive beachfront getaway on the north side of the island, which offers tours through the Kilim Karst Geoforest Park mangroves. Luxurious Malayan beachfront villas feature lovely wooden designs, outdoor terrazzo bathtubs, verandas, and private pools. The vibe here is harmoniously balanced between romantic and family-friendly -- there are intimate beach dinners, spa pampering in waterside cabanas, and an adult-only pool but also kids' pools, pony rides, rock climbing, and an educational discovery center. The resort is isolated and not near Langkawi attractions, but it is self-contained, with restaurants, bars, pools, and a private beach, and it should appeal to travelers seeking a luxury getaway.
5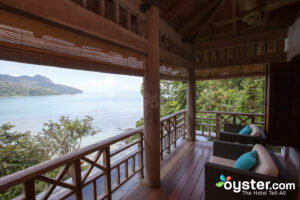 Nestled between the rainforest and Datai Bay on the northwest side of Langkawi, this 178-room luxury resort is geared toward nature lovers, with a beach, coral nursery, and educational nature walks. Simple, elegant rooms have balconies with forest or sea views, and some suites have pools or hot tubs. Tropical foliage surrounds the outdoor pools, and the spa overlooks the sea. The modern gym comes with personal trainers, and a kids' club is also available. Numerous restaurants and bars -- which are pricey -- offer international cuisine and beachfront dining. The resort provides shuttle service to town and Cenang Beach, but guests will need car if they want to explore the attractions from this isolated location.
6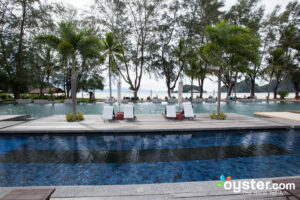 The luxurious 136-room Tanjung Rhu Resort is a gorgeous, peaceful property set on a white-sand beach and surrounded by lush flora and fauna. Sleek, contemporary rooms have minibars, coffeemakers, and furnished balconies -- some with lovely sea views -- plus bathrooms have tubs, separate showers, and bathrobes. Offering a true resort experience, there are a stunning beachfront, three grand swimming pools, a full-service spa with outdoor whirlpool, tennis courts, and water sports. Multiple dining venues and happy-hour specials at the pool bar receive rave reviews, plus all rates include a varied buffet breakfast. Notable downsides include no in-room Wi-Fi, a rather secluded location, and the fact that the resort is undergoing renovations to certain areas -- though guests report it doesn't detract from the serene setting. Eco-minded travelers may want to compare rates with The Andaman, A Luxury Collection Resort.
7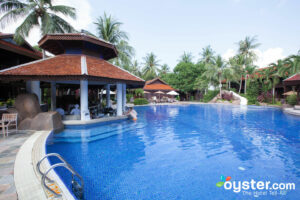 Set on a 35-acre beachfront property, the luxury Meritus Pelangi Beach Resort & Spa, Langkawi has 355 rooms housed in traditional wooden Malay chalets with modern amenities and lovely porches overlooking the sea or gardens. The resort offers beachfront dining and cocktails alongside two lagoon pools, plus a swim-up bar, and there are plenty of family-friendly amenities like a kids' pool with slides and mini-golf. The resort has a modern gym with sea views and a full-service spa. The grounds, however, could be better maintained, and planes can be heard landing and taking off. Travelers seeking more isolation and quiet might want to check rates at Andaman, A Luxury Collection Resort.
8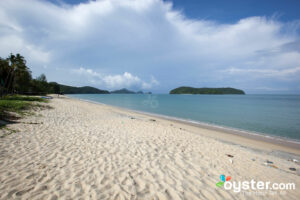 The 25-room, budget-friendly Tropical Resort is located in a peaceful part of Langkawi that's close to the beach, as well as the restaurants, shopping, and nightlife of Pentai Cenang. The rooms are no-frills but contemporary, outfitted with small flat-screen TVs, mini-fridges, and tea- and coffee-making facilities, plus free Wi-Fi and bottled water. On-site amenities include an outdoor pool, restaurant serving a free basic breakfast, and a rental car and scooter station in front of the hotel. It provides a good value for travelers looking to spend their days by the water and evenings out, but note that there are no loungers offered at the beach. Travelers may prefer the Sunset Beach Resort, which has beach loungers and a more central location, though it lacks a pool and free breakfast.
9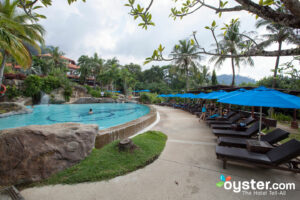 The 412-room Berjaya Langkawi Resort - Malaysia is an upscale property with a private beach and tropical landscaping surrounding the outdoor pools and swim-up bar, hot tub, and full-service spa. The bustling atmosphere extends throughout several international restaurants and bars, and family-friendly features include a playground, PlayStation room, and games room. The secluded forest location is near the Langkawi Cable Car, with access to mangrove paths, sports facilities, and various outdoor activities. Chalets, Suites, and Studios have earthy decor and balconies overlooking the forest or sea, and some have whirlpool tubs. The property is significantly less expensive than others in its class, though many rooms and facilities could use a refresh. For more historic surrounds, guests could consider the Temple Tree at Bon Ton, where the carved villas range from 70- to 110-years-old.
10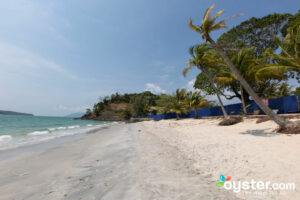 The Sunset Beach Resort's charming chalets and tropical gardens just off a quiet stretch of private beach make this budget hotel a bargain. There are just 19 spacious, clean rooms with furnished patios, tea- and coffee-making facilities, TVs, and mini-fridges. Free Wi-Fi and safety deposit boxes are available at reception. Although there's no restaurant on-site, there are ample restaurants and bars within easy walking distance. Additionally, the popular (and often crowded) Cenang Beach is just a five-minute walk away. This is an excellent value option, though travelers may want to compare rates with Langkawi Lagoon Resort, which has multiple restaurants, outdoor pools, and wellness facilities.
11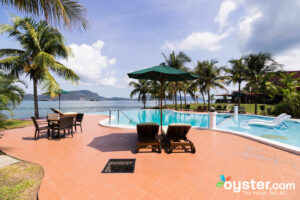 The Ocean Residence Langkawi is a mid-range, family-friendly resort property overlooking the sea, in an area surrounded by mangroves, a short drive from Kuah. The 30-unit hotel offers a wide variety of room types, including suites, villas, and shipping containers that have been converted into lodging. Many units have terraces (some with direct pool access) and/or kitchenettes. Facilities include a spa, a restaurant where a free breakfast of continental and Asian dishes is served daily, three pools (one with a kids' wading area and another that fills up with sea water during high tide), and free Wi-Fi and parking. Travelers looking to stay somewhere within walking distance of Cenang may prefer the Frangipani Langkawi Resort & Spa, another three-pearl, family-friendly property.
12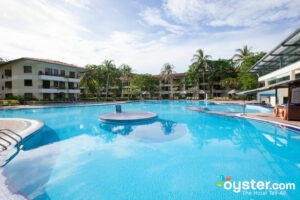 The 258-room, mid-range Holiday Villa Beach Resort & Spa Langkawi is an expansive property along peaceful Pantai Tengah beach. There are loads to do on-site, but furnishings are dated throughout and some are worn. Multiple swimming pools consist of an indoor women-only pool, an outdoor pool with a whirlpool, and an infinity pool, though the latter requires a fee. A kids' club and playground are available for children, while adults may enjoy the spa and sports facilities. There are several restaurants and bars on-site, including one 24-hour eatery and a poolside bar. Note that some guests have complained of unpleasant smells in rooms and common areas. Travelers looking for more attractive, modern rooms should consider the Meritus Pelangi Beach Resort & Spa, though rates are higher.
13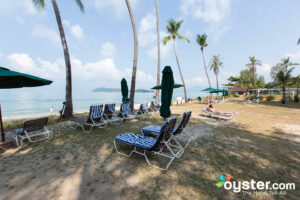 The 115-room, mid-range Frangipani Langkawi Resort & Spa is a family- and eco-friendly hotel along quiet Pantai Tengah beach. While a bit removed from the action, it's a quick 10-minute walk to Cenang's restaurants and shops. Rooms are contemporary if a bit underwhelming, equipped with flat-screen TVs, kettles, mini-fridges, and bathrobes. A solid list of on-site facilities includes multiple swimming pools, spa offering indoor and outdoor treatments, and a restaurant serving free hot and cold breakfast spreads. There is a gym, but it's tiny, and Wi-Fi is limited to public areas. Daily free eco-walks around the property are available to learn of the hotel's sustainable practices. It's worth comparing rates with Berjaya Langkawi Resort - Malaysia, which offers more activities and dining options.
14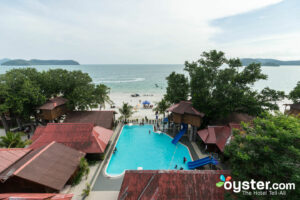 Beachfront settings are attractive at the Malibest Resort, which offers little more than its 61 rooms and outdoor pool. Low-frills decor and amenities are reflective of the two-pearl rating and budget rates, and complaints range from dated decor, noise issues, and maintenance issues. Further drawbacks include a lack of a restaurant, bar, and parking, plus Wi-Fi is unreliable. Still, rooms have kettles, flat-screen TVs, and air-conditioning, plus many offer sea views. Stand-alone cabins and tree house units are also directly on the sand. It's worth considering the Tropical Resort, which offers dining and parking on-site.
15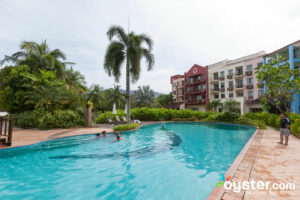 Langkawi Lagoon Resort is a mid-range conglomeration of hotels right on the Andaman Sea. The 217 rooms come with free Wi-Fi and flat-screen TVs, and many offer sea views. Guests have expressed major confusion over what facilities they are allowed to use depending on where they are booked in the hotel, and issues with housekeeping and maintenance are rampant despite the hotel's initially grand appearance. The property is a 10-minute drive from Cenang Beach, and features include a private beach, two swimming pools, numerous outdoor activities, and several restaurants. For something with a lot more charm and an intimate vibe at slightly higher prices, travelers should consider Temple Tree at Bon Ton.