Best All-Inclusive Resorts in Costa Teguise, Lanzarote
Take a look at the best all-inclusive resorts in Costa Teguise.
See All Costa Teguise Hotels
1
The upscale Barcelo Teguise Beach is one of Lanzarote's most stylish adult-only properties. Its 305 rooms are contemporary and well-equipped, with quality beds, espresso machines, and free Wi-Fi. Most units offer views of the sea, and many have a hot tub, either indoors or on the balcony. The atmosphere is quiet and relaxing, in particular around the pools, one of which is heated year-round and offers panoramic views of the ocean. Food gets great reviews for quality and variety, though some past guests have complained that it is usually lukewarm, and the cocktail bar is popular among guests and non-guests alike. Travelers wanting something cheaper may want to compare rates at the neighboring Be Live Experience Lanzarote Beach, though it is not adult-only.
2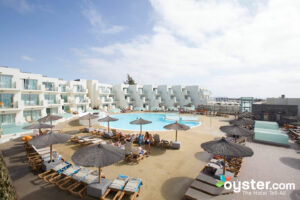 HD Beach Resort is an all-inclusive hotel directly on Las Cucharas Beach, a short walk from area shops and restaurants. Rooms are spacious and clean and come with terraces or balconies with mountain or sea views. In-room amenities include microwaves, refrigerators, and seating areas with sofas, and dining options include a buffet restaurant, an Italian restaurant, and a poolside snack bar. There are two freshwater pools, both of which are heated in the winter months; one is designed for quiet relaxation while the other is geared towards more activity. This hotel is a good choice for couples and families looking to be right on the beach at an all-inclusive hotel.
3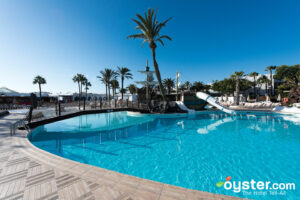 H10 Suites Lanzarote Gardens is one of the best upper-middle-range options for families in Costa Teguise. Its 241 apartments are clean and spacious enough for at least two adults and two kids, and all feature kitchenettes, sofa beds, and balconies or patios. Bungalows have fully equipped kitchens, and some units have bunk beds for children. The kids' club is one of the hotel's biggest selling points, with full entertainment programs for babies, toddlers, children, and teens. One of the hotel's three pools features a pirate ship complete with five waterslides, and the buffet restaurant has a cute separate section for children. The location a short walk from the beach and the heart of the action in Costa Teguise is convenient, but the Lanzarote Gardens is not for those seeking a quiet, relaxing vacation. Families on a tighter budget may want to compare rates at Santa Rosa.
4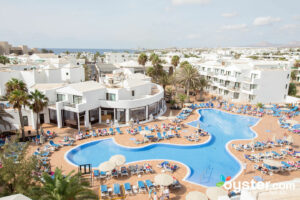 The 237-room Be Live Experience Lanzarote Beach is a modern upper-middle-range all-inclusive with a central location right off the main drag and across the street from sandy Las Cucharas Beach. Rooms are contemporary and stylish, with neutral tones, large LCD TVs, nice walk-in showers, and balconies, some with sea views. Adult Club Rooms offer great extras such as free Wi-Fi, espresso makers, and sound systems. The pool is mostly quiet during the day, and there are daily entertainment program, a squash court, and a tiny fitness center for those seeking a more active vacation. Food is varied and tasty (especially dinners) but the main restaurant is located in a basement and some guests complain that tables are too close together. There is a cute kids' club with plenty of activities, but families looking for a hotel with more kid-friendly amenities may want to compare rates at the H10 Lanzarote Gardens.
5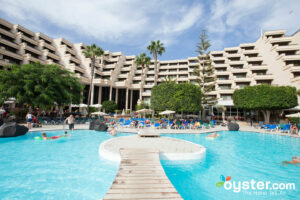 The 372-room, upper-middle-range Occidental Lanzarote Playa is an all-inclusive catering to families and couples, with big pools, a kids' club, and an active entertainment program for all ages. Rooms are clean and fresh, with simple contemporary decor, flat-screen TVs, free Wi-Fi, and balconies -- some with sea views. The property is starting to show its age, however, and its location about a half-hour walk from Costa Teguise isn't ideal. Nevertheless, food generally gets good reviews and the all-inclusive package is comprehensive. The hotel offers shuttle service to both the city center and sandy Las Cucharas Beach, but travelers wanting to stay closer to the action may prefer the Be Live Experience Lanzarote Beach.
6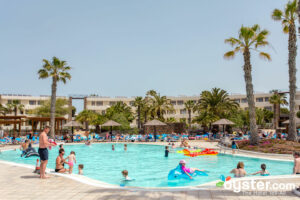 The 324-room Los Zocos Club Resort is a mid-range hotel with a bustling atmosphere and convenient location a short stroll from two beaches and the city center. Clean, comfortable apartments were redecorated in 2016 and are outfitted with kitchenettes, sofa beds, and furnished patios, offering good value for families and groups. The main pool is loud and busy, with entertainment, a kiddy area with water features, and music, but there is also a quieter pool with an adult-only bar and lanes for swimming. Buffet meals get good reviews, as does the Italian restaurant, and the hotel offers a wide range of meal plans, from breakfast-only to a two-tiered all-inclusive rate with solid extras such as turndown service and imported drinks. H10 Suites Lanzarote Gardens is a tad more expensive but offers better value overall.
7
The 442-room Occidental Lanzarote Mar is an upper-middle-range, all-inclusive property located in a quiet area a short drive from both the beach and the city center. Most rooms have been refurbished and feature solid amenities such as LCD TVs, free Wi-Fi, and air-conditioning, but others could use an update, and there are fees for safes and mini-fridges. The entertainment program offers tons of activities for guests of all ages, and there are five outdoor pools, including adult-only, lap, and kiddy options. Food generally gets good reviews at the buffet and a la carte eatery, and snacks are offered all day. A gym has tons of modern machines and different areas for cardio and strength training. Sister property Occidental Lanzarote Playa is a carbon copy of this resort, but rooms tend to have better ocean views there.
8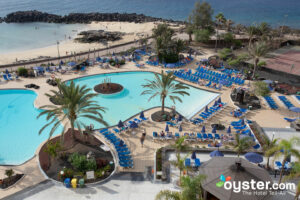 The Hotel Grand Teguise Playa is an all-inclusive mid-range resort right on Las Cucharas Beach in Costa Teguise's lively tourist district. The 314 rooms are a bit of a mixed bag; some higher-category rooms have pleasant, modern decor, while lower-category rooms are dated and have features like old tube TVs. A buffet restaurant serves a range of cuisines, while the hotel's Mexican-Spanish a la carte restaurant is popular with guests. The heated saltwater pool takes center stage, offering a prime vantage point to watch the sunrise, while a kids' pool, kids' club, and playground make this a family-friendly choice. For a comparable resort with more intimate, bungalow-style rooms, guests might want to check out the Jardines del Sol.
9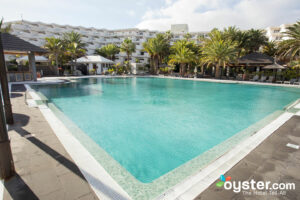 Tucked away in a quiet part of Costa Teguise, the beachfront Melia Salinas is an upscale adults-recommended hotel known for its beautiful gardens and iconic architectural style. Fully renovated in 2018, the 270 rooms and suites are stylish and contemporary, with a wide range of great amenities such as free Wi-Fi, Dreamax beds, rainfall showers, and minibars. For something even more special, Villas have private pools and classic decor style. Though in need of a refresh, the main pool is big and charming, and there is a separate exclusive pool for guests of The Level. The hotel offers an array of meal plans -- from breakfast-only to all-inclusive -- but food gets mixed reviews, especially dinners at the buffet. Travelers seeking something more luxurious may want to compare rates at the H10 Timanfaya Palace, located in Playa Blanca.
10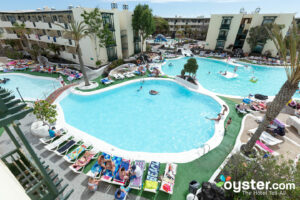 For families with kids looking for a beach getaway with a lot of activity at a low price, El Trebol is a good fit. There's programming from the morning to the late-night hours, as well as lots of families, so a person in the market for a quiet vacation may want to look elsewhere. Rooms have twin beds pushed together, plus pull-out sofas in the living rooms, as well as kitchens with microwaves and stoves. The resort is located in a busy area near plenty of shopping, dining, and entertainment options, though because El Trebol is an all-inclusive resort, it's easy for guests to stick around. Decor is dated and guests report the resort could be cleaned up in both public areas and rooms.
11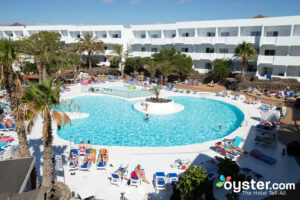 Ficus is a lively budget-friendly all-inclusive located a little away from the central tourist area in Costa Teguise. Its 109 apartments are clean and spacious, and feature kitchenettes, sofa beds in the living room, and furnished terraces or patios. Air-conditioning, though, is not available, and there are extra fees for Wi-Fi, safes, and many TV channels. The hotel's buffet restaurant gets good reviews for quality, taste, and variety, and snacks are available between meals at the pool bar. The saltwater pool is the heart of the action during the day, but loungers seem to be a scarce commodity in peak season. While the hotel might fit the bill for guests looking for a bustling family-friendly property, Apartamentos Sol down the street is better suited for those seeking some R&R on the cheap.
12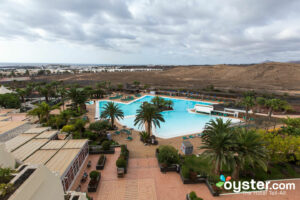 Known for its big meeting rooms and event services, the mid-range Hotel Beatriz Costa & Spa is one of the largest properties in Costa Teguise. Although the hotel has a slight corporate feel at first glance, its 20,000 square feet of traditional Canarian gardens, two large outdoor pools, and full daily entertainment program make it a solid pick for a family-friendly resort-style vacation. Spacious, clean rooms have balconies, flat-screen TVs, and air-conditioning, but decor is in need of an update, and there are several pesky fees, including for mini-fridges, WI-Fi, and safes. The spa offers a wide array of treatments and massages, and access to the thalassotherapy area is free for all-inclusive guests. The hotel's location away from the ocean allows for competitive rates, but those looking to stay directly on the beach may want to consider the slightly pricier Hotel Grand Teguise Playa.
13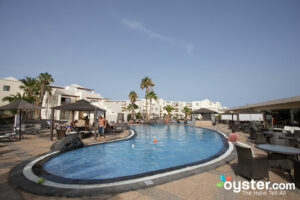 The 150-room Vitalclass Lanzarote is a mid-range resort with a quiet atmosphere and secluded location about a 25-minute walk from the city center. Big, sunny apartments have full kitchens, large living areas, and terraces -- some with loungers. Decor, however, is dated throughout and in need of an update, and Wi-Fi, while free, is unreliable. The kids' club offers daily activities for children 4 to 12 years old, and adults can join the soft entertainment program, which includes activities such as archery, water polo, and table tennis. The buffet restaurant serves a small, tasty spread, while snacks and drinks are available at the pool bar. The gym is great for a hotel in this category, but there is a fee for the indoor pool (except for all-inclusive guests). Families wanting a more bustling vacation may prefer Los Zocos.
14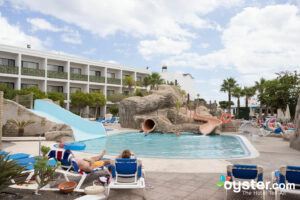 The 236-room Blue Sea Costa Bastian is an older mid-range property located on the outskirts of Costa Teguise. Rooms come equipped with decent amenities such as air-conditioning, mini-fridges, ceiling fans, and twin-size sofa beds, but most haven't been updated in years and are worn and dated. Children are well-catered to with a kids' club and kiddy pool with a slide, while adults are kept busy with an entertainment program that includes pool games, fitness classes, and evening shows. Though some guests have complained that food is only lukewarm, the buffet gets good reviews for taste and variety, and there is a range of snacks available at the pool bar in between meals. All-inclusive packages are available. Be Live Experience Lanzarote Beach is a great alternative in this price range for couples wanting something closer to the city center and beach.
15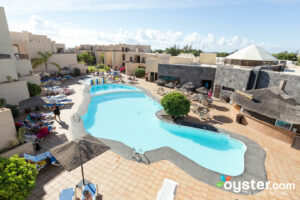 Blue Sea Costa Teguise Gardens is a basic property catering to budget-oriented couples, families, and groups of friends. Its 138 spacious apartments feature kitchenettes, sofa beds, and outdoor seating, but they lack air-conditioning, and decor is dated. The pool is pleasant and generally quiet, and there is some entertainment on-site, including live music in the evening. Dining options include a main buffet restaurant and snacks at the pool bar, but many past guests have found food underwhelming at both. Rates are rock-bottom, yet extra fees -- including for in-room Wi-Fi, hairdryers, most TV channels, and many kitchen utensils -- can add up. In this price range, sister property Blue Sea Costa Teguise Beach is closer to the beach.