Best Business Hotels in Los Angeles
A team of Oyster reporters spent weeks exploring 59 top hotels in Los Angeles. We slept in the beds, ate in the restaurants, tested the service, and scoped out the neighborhoods, all with an eye toward selecting the most distinguished properties. Here's a list of our favorite business hotels.
See All Los Angeles Hotels
1
Built by Conrad Hilton in 1955 in the heart of Beverly Hills, the stately Beverly Hilton is a Los Angeles icon and a top pick for business travelers. In addition to its enormous conference rooms, it also has a slew of amenities -- two business centers (including a special events technology center), blazingly fast Internet in the rooms (for a fee, though), an enormous fitness center, and the largest heated pool in Beverly Hills.
2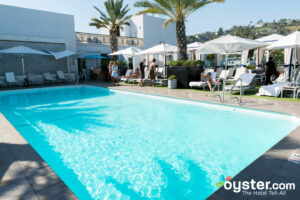 Understated West Hollywood glamour at its best, the London offers the business set massive rooms with enormous marble-topped workspaces, a Gordon Ramsay restaurant popular for power breakfasts, free Wi-Fi, and first class service without an attitude. Just one example of what they can make happen: During our visit, within 45 minutes, the concierge tracked down the daily rental rates of a Bentley and a Ferrari.
3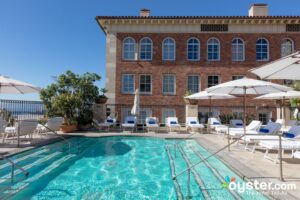 One of only two Los Angeles hotels located right on the beach, it's not any specific amenity that draws business travelers, but rather the whole package -- the phenomenal location, the opulent rooms, the discrete service, and especially the second floor Veranda dining room, a favorite spot among filmmakers, advertising execs, and other creative types who cut business deals right there in front of the 20-foot-high oceanfront windows. The bonuses though? Wi-Fi is free, a rarity in LA, and some rooms come with fax machines.
4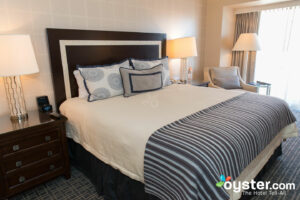 Located near the Walt Disney Concert Hall, Staples Center, and Museum of Contemporary Art in the financial district of downtown Los Angeles, this 453-room luxury hotel caters largely to business travelers thanks to its spacious standard rooms, fancy fusion restaurant, heated lap pool, and well-equipped fitness room. The lobby is chock full of fantastic works by blue-chip artists like Frank Stella, Lita Albuquerque, and Norman Sunshine, making this a great place to hobnob with clients. Plus, Wi-Fi comes free if you sign up for Omni's rewards program (free to join).
5
With a plum location on Rodeo Drive and a reasonable room rate, this 86-room boutique attracts traveling execs who'd rather not trek across town for that 9 a.m. breakfast meeting. Rooms are on the small side, but the hotel throws in some impressive freebies and services like nightly turndowns and a 24-hour concierge. Plus, with free in-room Wi-Fi, free HBO, a free daily newspaper, a voucher for a free glass of wine or cappuccino, and free use of the business center, this is an outstanding choice for business travelers with value in mind.
6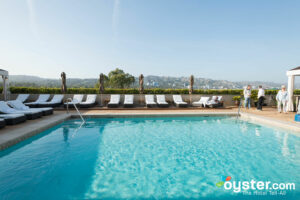 This secluded, 119-room hotel in Beverly Hills attracts celebs and business execs alike seeking utmost privacy and above-and-beyond service. Highrolling tycoons will find L'Ermitage particularly attuned to their needs, going so far as providing personalized business stationery, in-room fax machines with direct lines, and in-room Wi-Fi and printing all for free. A rare, relaxed check-in/checkout policy allows guests to come or go at any time, and a Mercedes Benz shuttles guests anywhere within a three-mile radius of the hotel for free.