Most Romantic Hotels in West Hollywood, Los Angeles
Take a look at the most romantic hotels in West Hollywood.
See All West Hollywood Hotels
1
The five-room Garden Cottage is a serene bed and breakfast in the quiet, residential neighborhood of West Hollywood. It is within walking distance of many shops, restaurants, bars, and neighborhood attractions. The Victorian house is filled with antiques and has a style that mixes English manor with country escape. Rooms are fairly large, bright, and very welcoming. Some have shared bathrooms, while others are en-suite.
2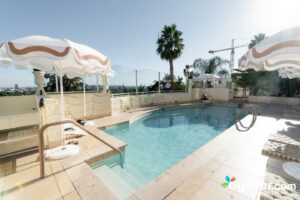 A 74-room Sunset Strip landmark, the Art Deco Sunset Tower draws A-list celebrities and treats everyday guests like stars with impeccable service and a vibe that channels the glamorous history of Hollywood. Despite its small pool, the Tower is still a great value. For an Art Deco icon overlooking the ocean, consider the Hotel Shangri La Santa Monica.
3
Ideal for business travelers because of its West Hollywood location, the Élan Hotel is a boutique, mid-range property with 49 rooms and a courteous, helpful staff. It's within walking distance of many shopping and dining options, including the Beverly Center, but has few on-site amenities. Rooms are small and don't have impressive views, but they are comfortable and comparable to other similar style properties.
4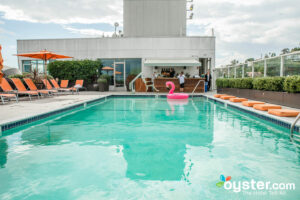 It's no longer as hip or famous as its West Hollywood neighbors (the Chateau, Sunset Tower, and Mondrian), but there's plenty to like about the Andaz, which was once (in)famously known as the "Riot Hyatt". The hotel boasts rotating art exhibits, a lovely rooftop pool, free Wi-Fi, and sleek rooms with sweet views and free snacks and drinks.
5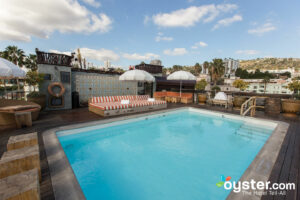 The 80-room, upscale Petit Ermitage is an exercise in off-beat but high-end bohemianism. Artistic and international flair is everywhere: hand-trowled Venetian plaster covers the walls, and Moroccan and South American tiles and hand-woven Turkish rugs line the floors. The boutique hotel's best feature is its private rooftop area, with a heated saltwater pool, quirky cocktail bar, stylish fireplace deck, and peaceful garden, where guests can enjoy breakfast, brunch, lunch, and dinner. Large suites (most with working fireplaces and pull-out sofas, and some with kitchenettes) feature 50-inch flat-screen TVs, minibars, beds with bamboo mattresses, and loads of ornamental touches. Travelers who prefer a trendy, contemporary aesthetic may want to compare rates with the Andaz West Hollywood and Mondrian Los Angeles nearby -- though neither have in-room kitchenettes or fireplaces, and rooms are larger here.
6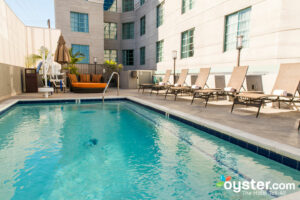 A location right on Third Street, one of L.A.'s best stretches of trendy shops and restaurants, is this mellow boutique hotel's most notable feature. Its 95 rooms are large and comfortable but not quite luxurious, and there's no party scene. There is a small pool, 24-hour fitness center, and two saunas on site. For a centrally located base for shopping or business, the stylish and affordable Orlando is a solid pick.
7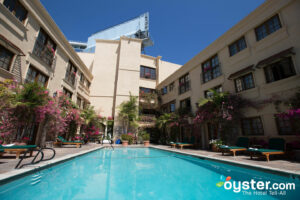 This Best Western right on West Hollywood's Sunset Strip may not have the pedigree or the frills of its fancy neighbors (the Mondrian, Andaz, and Sunset Tower Hotel), but it's still a notch above a typical mid-range chain. Prices reflect this, as upscale hotels in the area are often not that much more expensive. The outdoor pool in a flowering courtyard, the big rooms with microwaves and mini-fridges, and the charming Mediterranean decor are all draws. There are plenty of music clubs nearby, and the designer boutiques at Sunset Plaza are a 10-minute walk away.
8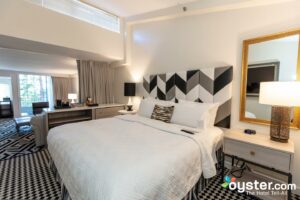 The all-suite Chamberlain West Hollywood is an upscale hotel with glitzy interiors set in a '70s apartment block in a residential neighborhood. While the immediate surroundings are pretty sedate, the location is just a five-minute walk to the buzzing nightlife of Sunset Strip. The 114 suites feature marble bathrooms, gas fireplaces, and decent tech amenities -- though some are dark and lack views. While small, the rooftop pool does provide some superb panoramas. The nearby London West Hollywood has a larger pool and even larger rooms, though rates are higher.
9
Massively renovated in 2006, this 295-room outlet of a French chain on the border of West Hollywood and Beverly Hills combines Continental elegance and Hollywood trendiness, with luxurious rooms, a trendy bar and restaurant, and a gorgeous spa and fitness center. Too bad the tiny pool is plagued by street noise and an unsightly view of the mall next door.
10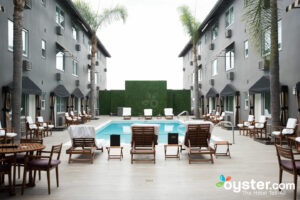 Located right on L.A.'s famous Sunset Strip, this upscale hotel has a rock-and-roll edge and includes popular local destinations like Oliver's Prime Steakhouse and glam Bar 20. The 108 contemporary rooms are modern and bright, with a rocker sensibility plus flat-screen TVs, and the hotel has a 24-hour fitness center. The clientele is mostly couples, though a good number of families are drawn to the saltwater pool, one of the largest in the area. It could be worth comparing rates with the nearby Le Montrose Suite Hotel, which has a rooftop saltwater pool plus a tennis court.