Best Business Hotels in Los Cabos
Oyster knows what travelers look for in their hotels. When we review properties around the world, we evaluate how every feature stacks up against the competition, from the rooms to the pools to the restaurants. So if you're planning a posh trip and need a place to start, you've come to the right place. Take a look at our top business hotel picks in Los Cabos, and get inspired!
See All Los Cabos Hotels
1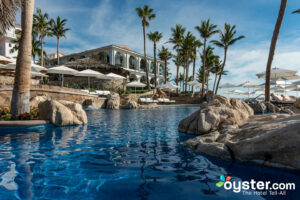 The One & Only Palmilla is easily one of the most luxurious resorts not only in Cabo, but in Mexico. A great spot for business, the hotel features an upscale boadroom and ballroom, as well as a business center. And when it comes to impressing (and entertaining) finicky clients, you'll have no problem; the One & Only has wonderful restaurants helmed by a Michelin-starred chef, a golf course, a top-notch spa, a beautiful infinity-edged pool, and an exclusive yacht available for excursions and entertaining. Plus, rooms come with high-tech amenities such as flat-screen TVs and free Wi-Fi, as well as a 24-hour shared butler service and an unpacking service so you can head straight to your meetings after arriving at the resort.
2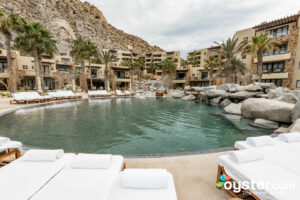 It may not have its own yacht and golf course, but the Capella Pedregal rivals the One & Only as one of the best business hotels in Los Cabos. With three meeting rooms and a location jsut a short drive from the marina and downtown, the hotel attracts a handful of business travelers. It also features amenities such as a library, which is open 24/7 (and is staffed from 7 a.m. to 11 p.m.), where free snacks and drinks are served. 24-hour room service is also available in the 66 rooms, all of which come with fireplaces, private terraces, and plunge pools, along with beautiful views of the Pacific Ocean and rocky cliffs. Interior design is nearly flawless, with Spanish-Colonial-inspired touches such as beautiful dark wood French doors and beamed ceilings; and the service is impeccable -- expect thoughtful extras such as afternoon deliveries of beer, chips, and guacamole to the rooms. And as far as on-site amenities go, it's tough to top the Capella Pedregal's impressive list: an infinity pool overlooking the coast, the organic Auriga Spa, and a restaurant situated on a cliff with killer views.
3
The peaceful location of the Fiesta Americana is away from the main party atmosphere of Cabo San Lucas, so business travelers need not worrying about getting a good night's sleep or being interrupted while doing work. The resort features nine banquet halls, each with gorgeous ocean views, as well as several restaurants large enough for big groups. All 249 rooms and suites are spacious, with relaxing, neutral tones and interesting touches such as Mexican art and sculpture accents. Luxurious features include large bathrooms with soaking tubs and walk-in showers. The gorgeous infinity pool is a real perk here, along with the above average, plush lounge chairs and cabanas, both at the pool and on the beach. Plus, the location is excellent for access to Cabo's two championship golf courses -- and we all know some important deals have gone down on the links.
4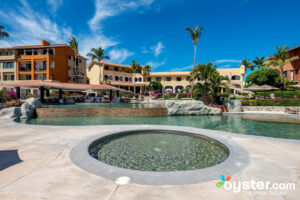 The luxurious Zoetry Casa Del Mar Los Cabos is not your typical beach resort. Here, guests won't find children scurrying around or wild spring breakers; rather, Zoetry's guests are treated to the tranquility of the Pacific Ocean in a resort that focuses on relaxation and overall wellness -- great for an office retreat. The 42-room, hacienda-style property features yoga, tennis courts, dance classes, a walking path, wine tastings, and an on-site nutrition expert; and the restaurant menus are geared toward organic and gourmet cuisine intent on promoting health. Plus, it features three meeting rooms and a business center, and it's just a short drive from several golf courses.
5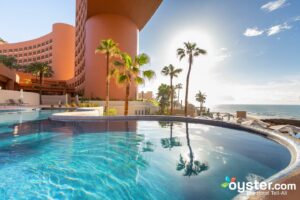 Located along the secluded Tourist Corridor between Cabo San Lucas and San Jose del Cabo, The Westin Resort & Spa has a quiet, retreat-like feel while still being less than a 30-minute drive from the airport. Business-friendly amenities include ten large meeting rooms, as well as 24-hour room service and a sufficient fitness center for those who like to run off their stress. Plus, there's a small putting green and an attractive spa. Rooms are large and sleek, and there are numerous gorgeous infinity pools with ocean views. Use of in-room Wi-Fi requires a hefty fee, but otherwise this Westin is a good choice for business travelers.
6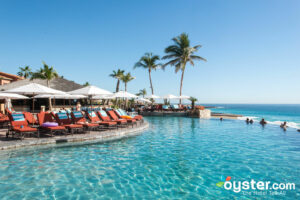 The 270 rooms of the Sheraton Hacienda are spread out in colorful buildings across pristine grounds. With eight meeting rooms and typical Sheraton services -- such as a well-equipped business center, a fitness center, and 24-hour room service -- this hotel is a good choice for business travelers. The room decor itself may not be that exciting (tiled floors, rare pops of color, and local artwork attempt to create an authentic vibe) but everything is modern, including flat-screen TVs and crisp white linens. Every room has a private terrace, many with gorgeous ocean views. And the hotel also has three pools, one with a swim-up bar. Plus, golf courses and downtown Los Cabos are less than a 15-minute drive away.
7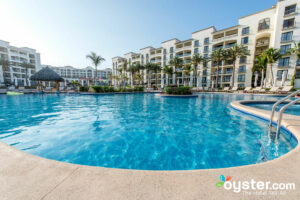 The 619-room all-inclusive-optional Barcelo Los Cabos Palace Deluxe offers guests a variety of activities, so business travelers can bring their families along without worrying about them being entertained. The resort features a large banquet room, as well as numerous rooms for meetings. After meetings, co-workers can wind down at one of the eight on-site restaurants or hit up the luxurious spa. Plus, rooms are spacious and luxurious, and echo the hotel's overall vibe -- big, clean, and modern -- so it's easy to get work done. They also come with marble bathrooms, soaking tubs, and patios or balconies.