Best Value Hotels in the Maldives
"Value" probably isn't the first thing that comes to mind when one thinks of a Maldives vacation. After all, the Maldives is home to some of the priciest and most luxurious resorts found anywhere. However, while a trip here probably won't be cheap by most standards, it is possible to find properties delivering true bang for your buck — offering better amenities and nicer rooms at prices lower than the competition. These resorts offer particularly competitive prices for their respective calibers, especially for what you get.
See All Maldives Hotels
1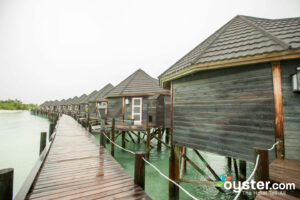 Stretching just over a mile in length, Kuredu is one of the largest resort islands in the Maldives. It's loaded with restaurants and bars (14 in total) and has plenty of space for large amenities like a soccer field, golf course, two spas, and three pools. Kuredu isn't as intimate as some smaller resorts, and it's a pricey, 45-minute flight from Male. Still, affordable rooms and impressive food make Kuredu an outstanding overall value; travelers will be hard-pressed to find a better upscale resort -- especially one offering all-inclusive packages that include alcohol -- at these rates.
2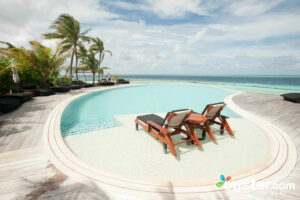 Popular among European couples, this adult-only resort is small, romantic, and a great value for this level of luxury (which isn't to say cheap). Highlights include a beachfront infinity pool, nice on-site reef, excellent food, and plenty of free perks. Many of the rustic-chic villas have direct access to the sand or ocean, as well as big jetted tubs. Komandoo's biggest drawback is its location (a 45-minute flight from Male Airport), which occasionally translates into long layovers; however, it's significantly less expensive than competing resorts near Male, such as Cocoa Island.
3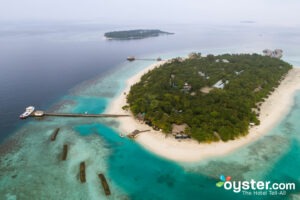 Located on a private island in Baa Atoll, Kihaad stands out for its rich marine life, good food, beautiful beaches, and family-friendly amenities. Built in 2012, the resort grounds feel upscale and new, but some rooms are beginning to lose their luster. Kihaad's biggest drawback is its location (a 30-minute flight from Male Airport, plus a boat transfer), but it's often half the price of similar, more accessible resorts, making it on of our top value picks. In addition, all-inclusive packages (with alcohol!) are available here -- not always the case at upscale resorts in the Maldives.
4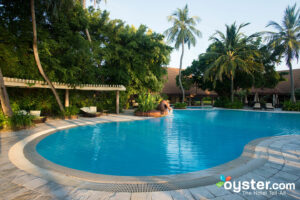 This upscale, 180-room resort is the oldest in the Maldives; it opened circa 1972 on a former coconut plantation surrounded by white-sand beaches. An easy jaunt from the airport -- just 10 minutes by boat -- Kurumba is not the most peaceful locale, nor does it have the most attractive views due to a protective man-made barrier. Despite these two shortfalls, the resort has a lot to offer, including eight restaurants, three bars, two swimming pools, and a modern spa. It appeals to families, thanks to the kids' club with babysitting services, and to couples, thanks to offerings such as wine tastings and sunset jazz. All in all, this is a great deal, especially when you take ease of access and cheaper transportation costs into account.
5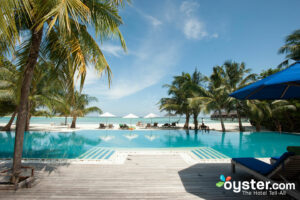 With plenty of on-site activities, beautiful beaches, and above-average food, Olhuveli Beach & Spa Resort is a solid value for the Maldives. Its 164 rooms range from basic beachside units to upscale water villas, and connecting rooms are available for families. Those interested in flying in a seaplane should also consider Kuredu Island Resort, which has even more amenities and free in-room Wi-Fi.
6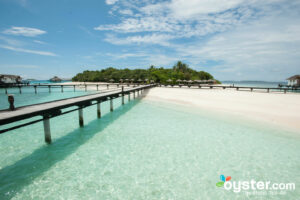 Built in 1998, this 160-room resort stands out for its reasonable rates (among the lowest for this caliber in the Maldives), above-average food, and plentiful restaurants and amenities. The rooms are a bit basic (with no minibars or Wi-Fi), and the additional flight from Male can be inconvenient, but Reethi Beach is an excellent upper-middle-range choice overall. Rooms here are nicer than at the similarly priced Sun Island Resort, but those seeking a good all-inclusive value might consider the pricier and more upscale Kuredu Island Resort.
7
Open since 2013, this well-managed resort close to the airport has 140 rooms, either along the shore or overwater on stilts (reached via a lengthy jetty). Thailand-based Centara has two properties in the Maldives, both known for offering luxury accommodations at competitive prices, and this particular one is aimed at young couples (no guests under the age of 12 are allowed). It's not the prettiest island or best house reef for snorkeling, but its service is exceptional, a rarity at this price point. The buffet serves a wide mix of European and Asian cuisines, while three a la carte restaurants (Thai, Italian, and Middle Eastern) and three bars keep the mainland fun and lively; both half-board and all-inclusive rates are on offer. All rooms have flat-screen TVs, DVD players, bathrobes, and 24-hour room service, but no umbrellas on the private villa decks -- and it will get hot in the afternoon sun. Luckily there are tons of water-based activities including an outstanding dive center for newbies. Wi-Fi is free.
8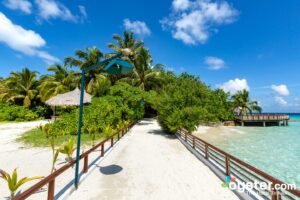 This small rustic resort attracts mostly European couples who take up residence — sometimes for three weeks at a time — in the 36 bungalows spread out over six acres of sand. Locals opened the property in 1982, and it is one of the oldest resorts in the Maldives; many guests have been coming for years (40 percent are repeat visitors). Other special distinctions: There is no Wi-Fi anywhere (!) and there are no TVs -- both intentional choices to keep guests relaxed and unplugged. Most will spend their days exploring the turquoise sea (scuba and snorkel are big here!). Half-board and full-board packages are available -- just make sure to fill up on lunch, since dinner isn't served until 8 p.m.
9
Built in 2009, this 112-room luxury resort is an exceptional value for the Maldives. Room rates are competitive compared to other high-end properties, and few offer the all-inclusive perks of Centara. Alcoholic drinks, a la carte meals, daily 30-minute massages, water sports rentals, supervised kids' activities, Wi-Fi, and excursions are covered in the all-inclusive rates, making this resort stand out from the crowd. The resort's biggest drawback is its out-of-the-way location, at least 30 minutes from Male Airport by plane. The slightly less luxurious sister property Centara Ras Fushi is adult-only and offers a range of meal plans, for couples hoping to spend a bit less.
10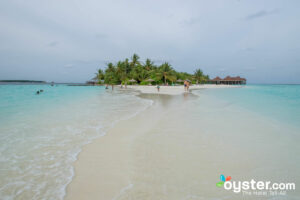 If you are looking for a no-frills, super-casual stay in the Maldives with a touch of local vibes, the South Ari Atoll's Ranveli Village is an ideal spot. All 56 rooms are basic, but comfortable (though buggy) and have either beachfront backyards or balconies with views, stocked minibars, and vanity desks. Since rooms lack TVs and Internet, those not looking to truly unplug may find the analog escapist style here hard to manage, though others will argue that the spa, table games, TV lounge, huge beach, pool, water sports, three bars, and weekly activities suffice just fine.