Best Manuel Antonio Beach Hotels
The majority of hotels in Manuel Antonio — a small peninsula on Costa Rica's Pacific Coast — are built on the hillside off of the highway. Almost all of them have sweeping views of the Pacific Ocean and Manuel Antonio National Park (one of the most popular national parks in the country), but few have easy beach access. These hotels are the few exceptions.
See All Manuel Antonio Hotels
1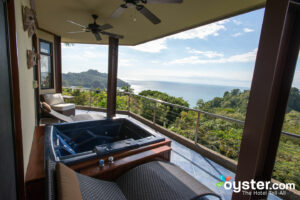 Tulemar Bungalow & Villas is number one on our list due to its private access to a gorgeous and isolated sandy beach -- a rarity in Manuel Antonio. The beach's natural cove setting means that waves don't get too rough (watch the flags for changing water conditions) and both ends of the beach are flanked by lush tropical rain forest. Dedicated staff provide free kayaks and boogie boards, plus full drinks and food service. The hotel also runs one of the only beach-facing restaurants in Manuel Antonio. A beach shuttle is on call for those who don't want to walk. All this, and the fact that this pristine, 33-acre property manages to combine the privacy of luxe bungalow living and the convenience of full hotel services, without any sense of pretension.
2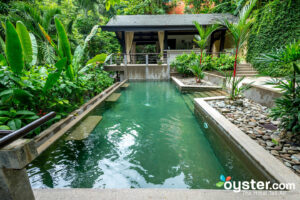 Tulemar Resort's killer combo of stunning, panoramic views and a solid beach is rare in Manuel Antonio, where few hotels have on-site beach access. But there's a tradeoff: It's the size of the property, and the steep incline, that make the combo possible. So to get to the pools, reception area, or beach from one of the bungalow-style villas dotting the grounds, you'll either have to be an excellent hiker or be prepared to wait a few minutes for the hotel van. Tulemar Resort shares all of the facilities with Tulemar Bungalow & Villas -- it's essentially just a different rental company for the units.
3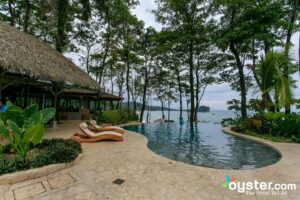 Arenas del Mar Beachfront & Rainforest Resort offers access to two serene beaches, with beach chairs available at both. Drink service is provided at Playitas Beach, where palm trees extend onto the sands and provide ample natural shade. Playitas Beach is suitable for swimming at low tide. Playa Espadilla is accessed via a short walk through a jungle path. Ideal for surfing, bird-watching, and walking, this wide, mile-long beach stretches into Manuel Antonio National Park. The resort's 38 attractive guest rooms feature free minibars filled with local snacks; many units come with wraparound decks. For a more luxurious stay, travelers might want to check out Los Altos Beach Resort, which offers huge three-bedroom condos, but the beach there is rocky.
4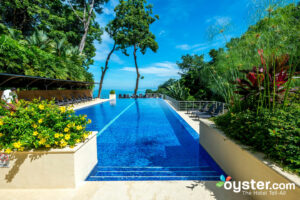 The Preserve at Los Altos has the biggest and best rooms in Manuel Antonio, but it's ranked lower on this list because its rocky beach might not be worth your sand time. Still, every single condo at Los Altos is a gigantic, 2,300-square-foot, three-bedroom unit, and the level of luxury is pretty hard to beat. The level of convenience can't be topped, either: Unlike sprawling properties like Arenas del Mar and Tulemar, here, all of the units are in two connected buildings and accessible by elevator. But the downside is that guests will get less of a sense of being surrounded by nature. Sure, Los Altos' grounds are lush, but they're not nearly as preserved and wildlife-rich as those of its competitors. The prettiest part of the grounds can be experienced on the way to the beach (you'll need to take a golf cart ride on a bumpy, unpaved road).
5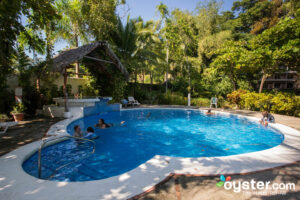 For beach lovers, Karahe Hotel is one of the best mid-range bets in Manuel Antonio, as its one of the few properties with direct, private access to Playa Espadilla. It's best to think of this hotel as two properties, with the cheaper rooms, Bungalows, and lobby built on a steep hillside, and the more expensive rooms, tiered pool, and restaurant located in front of the beach across the street. Jungle grounds are lush and natural, with iguanas, monkeys, and sloths as regular visitors. Remember, you get what you pay for with room decor and location -- accommodations here aren't nearly as nice as the ones at Tulemar, Arenas, or Los Altos.
6
For those arriving from San Jose via bus, it doesn't get any more convenient than Manuel Antonio Hotel, which is located at the dead end of Route 618, the highway that winds through Manuel Antonio and ends where the national park and beach meet in a roundabout. The beach is directly across the street (there, guests can rent chairs, take surf lessons, parasail, and buy snacks and beer from vendors) and the entrance to the park is a five-minute walk away. The hotel has an on-site restaurant and bar with beach views, but no swimming pool. Some rooms include a balcony and views of the beach; all have air-conditioning and flat-screen TVs. If you're looking for nicer digs and beach access, check rates at Karahe Hotel -- but expect to pay more.