Best Hotel Spas in Manuel Antonio
Just about every imaginable outdoor activity is available in or near Manual Antonio, a beach and rain forest destination in Costa Rica: hiking, snorkeling, scuba diving, water sports, boating, horeseback riding, waterfall rappelling, canopy safaris…the list goes on. To counter all that recreation, a little rest is in order. And where better to rest up than at one of these excellent area hotel spas? (OK, the area's beautiful white-sand beaches are good for that, too.) Below, our picks for the top hotel spas in Manual Antonio.
See All Manuel Antonio Hotels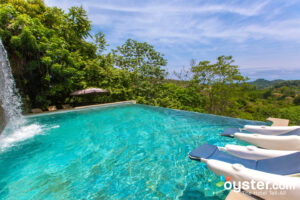 Gaia Hotel and Reserve is a four-and-half-pearl property located a 10-minute drive from the entrance to Manuel Antonio National Park. Its on-site spa, Terra Spa, is small but outstanding, with six treatment rooms, a dry sauna, a steam room, and a hair salon. Terra Spa's serene design incorporates stone, wood, and plant-life, with the main treatment room featuring dramatic rain-forest vistas. Body wraps, scrubs, and facial treatments incorporate organic local ingredients like honey, coffee, volcanic clay, and coconut. A choice of three different 20-minute treatments is included in the room rate (as are breakfasts and tours of the hotel's reserve). The tiny but modern fitness center is open 24/7, and offers cardio equipment, free weights, and Apollo 5 multipurpose work stations.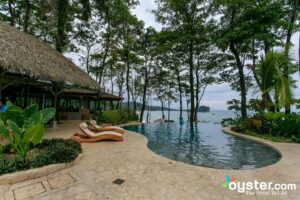 The upscale Arenas del Mar is among Costa Rica's finest examples of sustainable tourism. The resort was built around the existing rain forest, with few trees felled to make way for its construction. The resort's minimal environmental impact comes with the added bonus of preserving the area as a habitat for wildlife. White-faced monkeys scamper across rooftops, sloths laze in trees, iguanas scurry around the pools, and hundreds of bird species can be seen flying through the trees. A network of trails wind through the surrounding forests, offering additional opportunities to see local wildlife. Add to this Arenas' direct access to two scenic beaches and spa with spectacular ocean views from floor-to-ceiling windows, and the hotel is all the more impressive. Its Las Brisas Wellness Center offers massages and body and facial treatments, as well as energy work and healing; the spa doesn't offer a selection of free treatments, like Gaia, but it does offer free yoga classes throughout the week.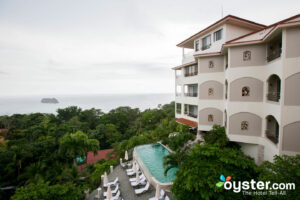 Parador Resort and Spa is an upper-middle-range resort located on the outskirts of Manuel Antonio National Park. The hotel's pleasant spa -- with a plunge pool, steam room, and modern gym -- is just one of the hotel's many features, which include three ocean-view pool and five restaurants and bars. Pacifica Spa has a vaguely Mediterranean feel, with yellow walls, floor mosaics, and arched windows. Treatments include a variety of massages, wraps, body scrubs, and facials, as well as hairstyling and makeup application. In addition to its plunge pool and steam room, the spa offers a Swiss shower and areas for yoga and relaxation. The large fitness center has light wood flooring, a stone accent wall, and big windows showing views of the surrounding rain forest, and a decent range of cardio machines, free weights, and mats. The property also encompasses a tennis court and a mini-golf course, and there's almost a mile of great trails, one of which leads up to a set of cliffs overlooking the ocean. Sadly, there are no wellness freebies here, like the free mini spa treatments at Gaia or free yoga classes at Arenas.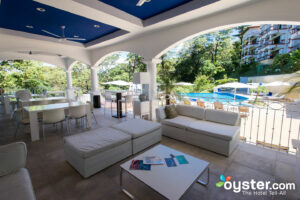 With a blue and white color scheme, hilltop setting, gorgeous Pacific Ocean views, and sophisticated outdoor pool with chic furniture and drink service, the upscale Shana By The Beach looks straight out of Santorini. Its spa is one of the nicest in Manuel Antonio and offers a huge range of treatments: There's everything from chocolate massages and gemstone facials to grape wraps and coffee-honey scrubs. However, this spa is missing some of the perks found at our first three picks, such as the sauna and free treatments at Gaia, the free yoga and rooms with ocean views at Arenas, or the steam room and plunge pool at Parador.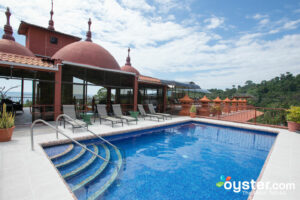 For those who want fast access to both Manuel Antonio National Park and the town's public beach, it doesn't get any closer than three-and-a-half pearl Hotel San Bada, built directly next to the park's entrance and a two-minute walk from the sand. The hotel is large enough to provide separate facilities for families and couples, including a wonderful adult-only rooftop bar and small pool that provides a sunset happy hour and food service. Sana Spa offers couples' massages, mini-facials, and nail services -- all using native ingredients -- along with a steam room, sauna, and a glassed-in relaxation atrium. With its sconce-lit stone walls, wood-plank ceilings, glossy white floors, and floor-to-ceiling windows overlooking the rain forest, Sana Spa is more appealing-looking than Shana's spa (which is more plain in comparison), but Sana's treatment list isn't as extensive as the one at our number-four pick. And while fitness centers aren't a common feature in this part of the world (Arenas and Shana lack one), Hotel San Bada has a basic facility with weights and cardio equipment on the fourth floor.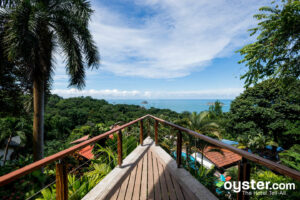 Among area resorts, the three-and-a-half-pearl Hotel Si Como No is one of the most accessible in both atmosphere and price. It's not on the beach, but the hillside location grants beautiful water views. The long list of features ensures guests don't have to leave the property -- this includes two pools with swim-up bars and a charming, full-service spa/salon. The relaxed Cala Spa offers a full menu of massages, wraps, scrubs, and beauty treatments. Like the spas at Gaia and Hotel San Bada, it incorporates ingredients native to Costa Rica wherever it can. There's no gym (typical of area hotels) or steam room, though; travelers looking for those features will prefer Gaia Hotel and Reserve, Hotel San Bada, or Parador Resort and Spa.