Best Business Hotels in Marrakech
Oyster knows what travelers look for in their hotels. When we visit properties around the world, we evaluate how every feature stacks up against the competition, from the rooms to the pools to the restaurants. So if you're planning a trip and need a place to start, you've come to the right place. Take a look at our top hotel picks for business in Marrakech, and get inspired!
See All Marrakech Hotels
1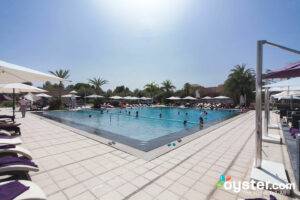 There's a little bit of everything going on at the all-inclusive, five-pearl Pullman Marrakech Palmeraie Resort and Spa. The resort shines in its activities for children, while adults can chill out in the spa and traditional hammam. Spacious and contemporary rooms include furnished patios or balconies. Large grounds are family-friendly with a big pool, but quiet and relaxing enough for couples or business travelers attending on-site conferences. The food is surprisingly good, though service can be slow and inattentive. Guests can opt for room-only rates, but high food and drink prices make the all-inclusive rates a better deal, especially since there's not many places to eat in the area, and the resort is about a 20-minute ride into town.
2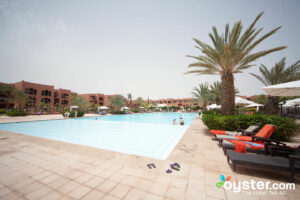 Located just outside Marrakech's old city walls, a 15-minute drive south of the Medina's heart, the Sentido Kenzi Menara Palace is a serene, modern luxury hotel. It has all the facilities of a full-service resort, including lush grounds with several sports facilities, a palm-fringed pool, a spa with a traditional hammam, and there are four different gourmet bars/restaurants. . With 236 rooms, the building itself resembles a Moroccan fortress, and the interiors are filled with traditional decor accents, from inlaid furniture to carved domes. Rooms are modern and understated, each with a private balcony. A free shuttle runs regularly to and from the Medina. Breakfast is included and the myriad business-friendly amenities attract conferences and business travelers, while the understated luxury attracts couples and older families.
3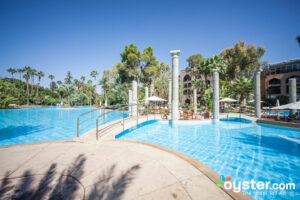 The 92-room Es Saadi Gardens & Resort - Palace is quite luxurious; an historic property with a famous casino that was once a celebrity playground, with attention still paid to every visual and sensory detail, it mixes modern amenities with exquisite traditional decor and handcrafted furniture. The spa is a high-end destination with gorgeous private hammams and a slow-food restaurant. Rooms are individually decorated with care and exquisite taste, and have private balconies. Some can get noisy, though. There's a business center and 14 meeting rooms on-site.
4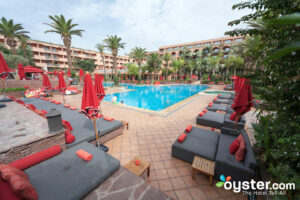 One of the snazziest hotels in Marrakech, the luxurious Sofitel has 163 elegant rooms and suites, and is located in Hivernage, in the new town, about a 20- to 25-minute walk to Jemaa el-Fna square in the medina. Its wide range of facilities and proximity to both the convention center, historic sights, and night life draws both business and leisure travelers. The numerous amenities include a huge pool, multiple conference rooms, a variety of restaurants and bars, and plenty of family-friendly amenities. All rooms come with king beds, furnished balconies, and bathrooms with high-end toiletries and shower/tub combos. Wi-Fi is available throughout the hotel, but only for a fee, which might make some guests feel a bit nickel and dimed.
5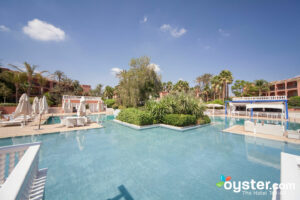 The Palmeraie Palace is a sprawling, self-contained village that comes with a plethora of kids' activities and plenty of pampering to indulge parents in between rounds of golf or games of tennis. Marble-decorated rooms are large and have a few Moroccan touches, but cracks in the infrastructure are hard to dismiss at a four-and-a-half pearl property. There's several themed restaurants, but they pretty much ignore the local cuisine. This resort is a golfers' paradise, and there's tons to entertain the kids, but travelers more interested in exploring the local culture will likely be lining up to get on the free shuttle into town.
6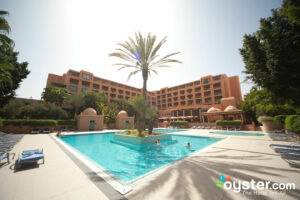 The Atlas Medina & Spa is an upscale property with airy Moroccan-influenced interiors and two beautiful pools in Hivernage, which is in the "new town" near Gueliz. The 237-room hotel is well-situated for business travelers, as it's a five-minute walk to the Palais des Congres Conference Center. Guest rooms are modern and bright, decorated in pale gray, and come with balconies and minibars. The two restaurants and poolside bar are all elegantly decorated, but serve Western-style food.
7
Part of a luxury Moroccan chain hotel, the 277-room, 13-acre Le Meridien N'Fis features Moorish designs, trellis pathways, a chef's vegetable garden, and more greenery around a tennis court and lagoon pools. Services include a 24-hour front desk, currency exchange, laundry facilities, and a spa. For business travelers, four large, contemporary meeting rooms can fit between 15 and 140 people. Spaces have lighting, sound systems, stages, and Wi-Fi. A stylish business center offers three PCs. Rooms are sleek and contemporary (but not particularly luxe) in black, gray, and white with flashes of color; amenities include coffeemakers, flat-screen TVs, and balconies. Wi-Fi fees are a common complaint from guests.
8
The Suite Novotel Marrakech is an all-suites business hotel located in the Hivernage, not far from the convention center. The 112 rooms have such conveniences as microwaves, mini-fridges, plenty of work space, and free Wi-Fi but lack the Moroccan flourishes found in other Marrakech properties. There are also an outdoor pool, a bar, and a tiny fitness center with cardio machines (but no weights), and a deli-style shop. The all-suites hotel is aimed toward business travelers and has a cookie-cutter feel that makes it less than ideal for leisure travelers seeking a more quintessentially Moroccan hotel.